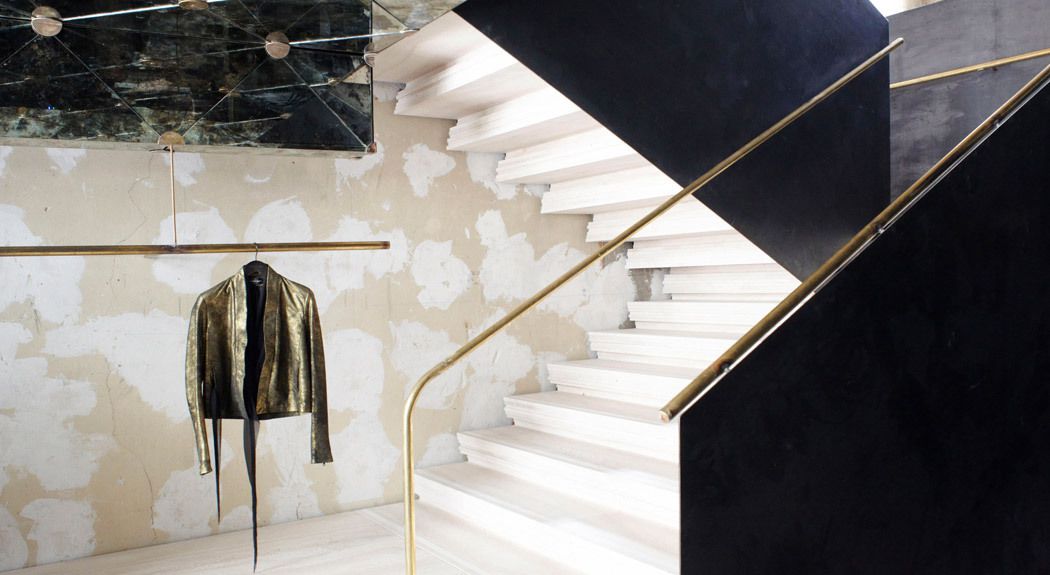 The fashion designer Damir Doma commissioned Rodney Eggleston ( March Studio - Melbourne ) to design the first store in Paris. A strong aesthetic with a mixture of raw and refined materials for a new space, a step, making the evolution of the brand into a new luxury sphere with this new concept store. Black, white and earth tones with mirrors, and some unfinished surfaces decorates the parisian boutique of 200m2 in a discrete courtyard in the heart of the prestigious Parisian shopping district at 54 Rue du Faubourg Saint-Honoré.
Damir Doma was working with the idea of "layers of materiality" at the time, that's the reason why this idea became the start point for the store concept. Rawness and purity , using marble in its natural slab form, multi-layered, simple and extremely textured, we like. "We went to a marble yard on the outskirts of Paris together, and that visit really started to inform the staircase, just seeing all that marble stacked on top of each other, one slab after the other, rough cuts and raw," says Eggleston, the architect.
With special and unique mirrors they solve the issue of the ceiling's low height, with some brass accents and raw steel. The treated / aged mirrors were all handcrafted by Outlines, a Custom Mirror Finish company based in South Melbourne founded in 2003 by Helen Macfarlane. They are specialise in producing hand-made 'antiqued' and 'contemporary' mirrored glass finishes for walls, splashbacks & ceiling canopies through to framed external mirrors, cupboard fronts etc.