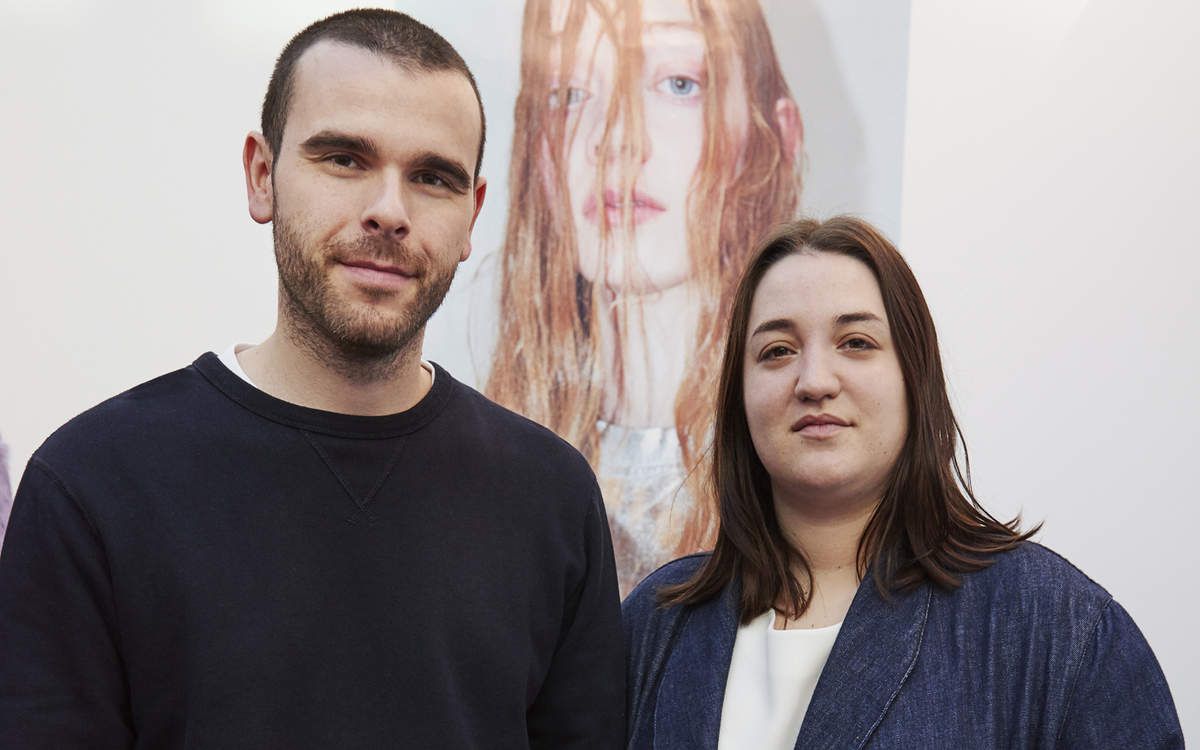 Paulo Almeida & Marta Marques
Part of the 8 finalists, Marques'Almeida win LVMH Prize 2015. Chosen by a panel of prestigious fashion names as J.W. Anderson (Loewe), Nicolas Ghesquière (Louis Vuitton), Marc Jacobs (Marc Jacobs), Karl Lagerfeld (Fendi), Humberto Leon and Carol Lim (Kenzo), Phoebe Philo (Céline), Raf Simons (Dior), Riccardo Tisci (Givenchy), and Delphine Arnault (Executive Vice-President of Louis Vuitton), Jean-Paul Claverie (advisor to Bernard Arnault) and Pierre-Yves Roussel (Chairman and Chief Executive Officer of the LVMH Fashion Division). The award was presented by Natalie Portman at the Fondation Louis Vuitton, and comes complete with a 300,000 euro prize in addition to a year-long mentorship from the LVMH Group.
Marques'Almeida is a portuguese and London based womenswear brand started by portuguese designers Marta Marques and Paulo Almeida. They first met during their BA at CITEX fashion school in Porto-Portugal before both acquiring work experience individually, Marta at Vivienne Westwood and Paulo at Preen before meeting again during their MA at Central Saint Martins. They launched Marques'Almeida in April 2011 and showed their first two seasons at ModaLisboa (Lisboa fashion week) and under Lulu Kennedy's platform – Fashion East. They have been awarded the NEWGEN sponsorship from the British Fashion Council/Topshop and have shown all their collections after SS13 on schedule at LFW.
They were discovered by Opening Ceremony and Joyce after their first collection and were nominated for the Emerging Talent/Womenswear Award at the British Fashion Awards 2013 and went on to win it in 2014 as well as being shortlisted for the LVMH Prize 2014 that they finally win this year : LVMH prize 2015 ! Take a look at Marques'Almeida fall winter 15/16 collection that we posted here. They work denim with transparencies, a 90's grunge spirit, with asymmetrical shapes worked in a minimal and sober line and keeping it "casual". They use fabrics in their natural state, reworking the denim with a sens of rebellion and a certain modernity. Congratulations also to Jacquemus by Simon Porte Jacquemus, "Special prize 2015". See Jacquemus fall winter 15/16 collection presenting during the last Paris fashion week.
www.marquesalmeida.com / www.lvmhprize.com
Ils faisaient partie des 8 finalistes en competition, Marques'Almeida remportent le prix LVMH 2015. Choisi par un jury prestigieux dont faisaient partie: JW Anderson (Loewe), Nicolas Ghesquière (Louis Vuitton), Marc Jacobs (Marc Jacobs), Karl Lagerfeld (Fendi), Humberto Leon et Carol Lim (Kenzo), Phoebe Philo (Céline), Raf Simons (Dior), Riccardo Tisci (Givenchy ), et Delphine Arnault (vice-président exécutif de Louis Vuitton), Jean-Paul Claverie (conseiller de Bernard Arnault) et Pierre-Yves Roussel (président et chef de la direction de la Division de LVMH Fashion). Le prix a été remis par Natalie Portman à la Fondation Louis Vuitton, et est accompagné d'une bourse de 300.000 euros en plus d'un mentorat d'un an par groupe LVMH afin de developper leur marque. Marques'Almeida est une marque portugaise de prêt-à-porter féminin basée à Londres créée par deux stylistes Portugais, Marta Marques et Paulo Almeida. Ils se rencontrent pendant leurs études à CITEX ( école de Porto ) puis font leurs armes chez Vivienne Westwood pour Marta et chez Preen pour Paulo, avant de se retrouver à Central Saint Martins. C'est durant cette période qu'ils décident d'associer leurs talents de stylistes et de présenter un projet commun. Ainsi, Marques'Almeida voit le jour en Avril 2011 et ils présentent leurs premières collections à Lisbonne durant ModaLisboa (Lisboa fashion week) et en même temps dans le cadre de Fashion East, la plateforme de Lulu Kennedy. Ils ont remporté le NEWGEN sponsorship du British Fashion Council/Topshop et présentent désormais toutes leurs collections pendant la semaine de la mode à Londres. Ils sont repérés par Opening Ceremony et Joyce après leur première collection, sont nominés pour le Emerging Talent – Womenswear Award aux British Fashion Awards en 2013 puis le remportent en 2014 en plus de faire partie des demi-finalistes du Prix LVMH 2014, prix qu'ils remportent cette fois ci en 2015! Félicitations à Marta et Paulo que nous aimons, suivons depuis leur débuts à Lisbonne. Vous pouvez revoir leur dernière collection Marques'Almeida automne hiver 2015/16 que nous avons posté. Félicitations aussi à Jacquemus par Simon Porte Jacquemus qui remporte le prix spécial 2015. jetez un coup 'oeil à sa collection Jacquemus automne hiver 2015/16 que nous aimons beaucoups.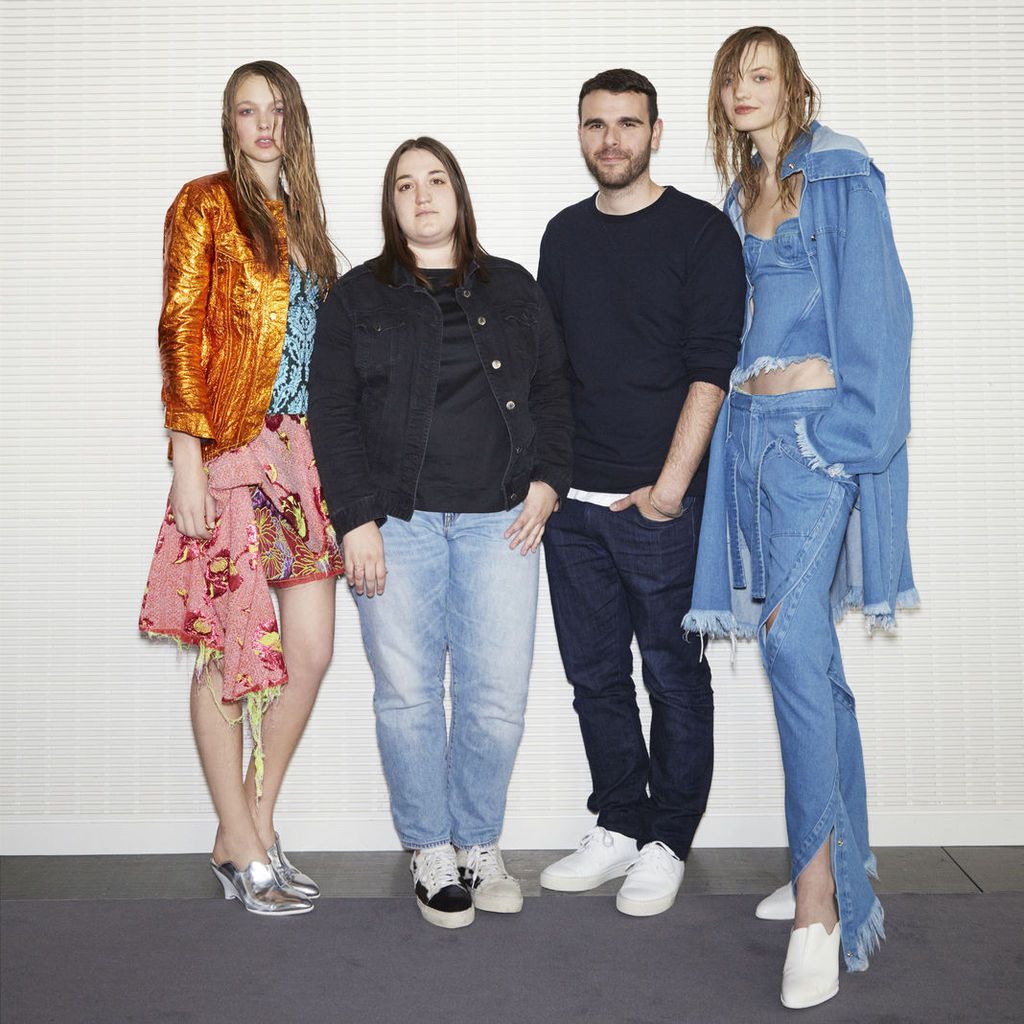 Marques'Almeida / LVMH Prize 2015

Jacquemus by Simon Porte Jacquemus / Special Prize 2015