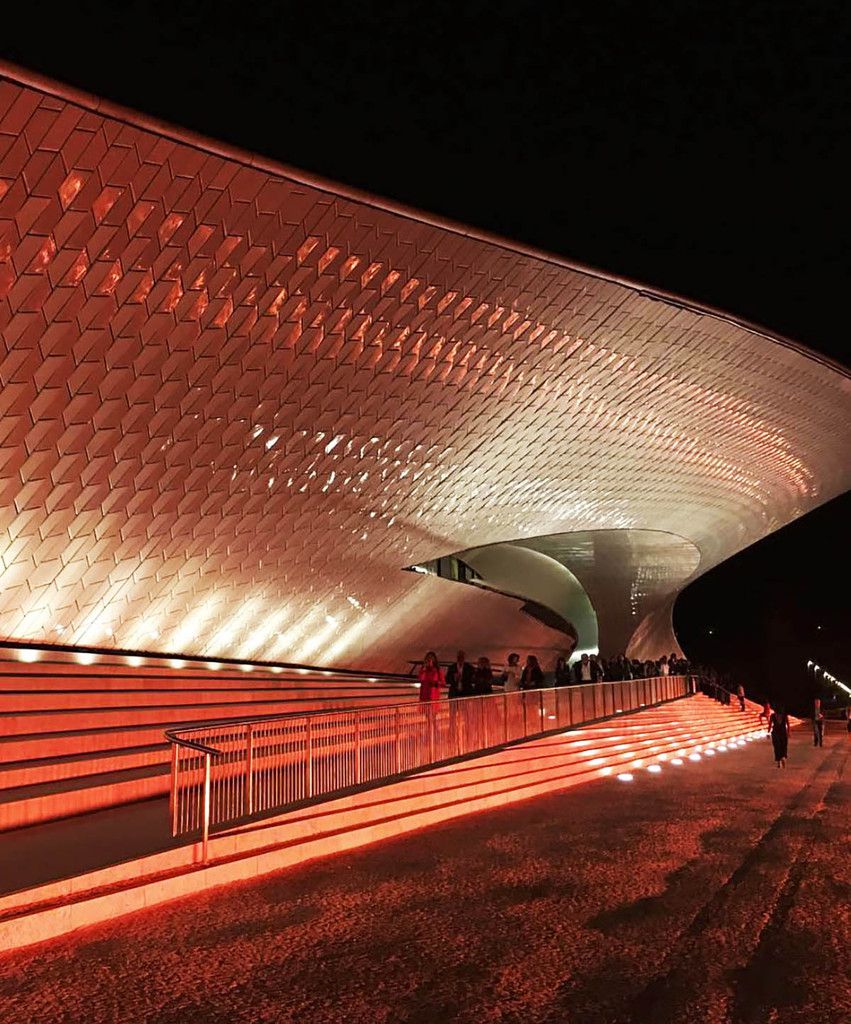 Grand Opening of Maat : Museum of Art, Architecture & Technology in Lisbon_Portugal. The Maat Museum is set to open in October 5, with the start of the Lisbon Architecture Triennale. The building was designed by British architect Amanda Levete ( www.ala.uk.com ) with the collaboration of the portuguese architects Aires Mateus. AL_A is the award-winning architecture and design studio founded in 2009 by the RIBA Stirling Prize-winning architect Amanda Levete with Directors Ho-Yin Ng, Alice Dietsch and Maximiliano Arrocet. The practice won the competition to design and implement the highly anticipated expansion of the Victoria & Albert Museum in London. On completion in 2017 the V&A project will see AL_A realise a new entrance for the V&A, with the world's rst porcelain courtyard above a new underground gallery housing spaces for headline exhibitions. The project will be the V&A's largest expansion in over 100 years and will be completed while the museum remains open to the public.
Ongoing commissions around the world include Central Embassy, a 1.5 million sq ft mixed-use development on the former grounds of the British embassy in Bangkok, Thailand; The Lisbon Museum of Art, Architecture and Technology in Portugal, commissioned by EDP, one of the world's foremost energy companies; the 2015/16 MPavilion, a public pavilion for the Naomi Milgrom Foundation in the Queen Victoria Gardens, Melbourne, Australia and a new centre for the cancer care charity Maggie's in Southampton in the UK.
Check the Maat instagram account here to be informed of the last news and exhibitions there. Watch below the video of Pedro Tavares about this new building in Lisbon.
Architect: AL_A / Amanda Levete
Project director: Maximiliano Arrocet
Team: Fernando Ruiz Barberan, Mirta Bilos, Alex Bulygin, Grace Chan, Sara Ortiz Cortijo, Alice Dietsch, Ciriaco Castro Diez, Yoo Jin Kim, Ilina Kroushovski, Michael Levy, Cristina Revilla Madrigal, Stanislaw Mlynski, Ho-Yin Ng, Giulio Pellizzon, Raffael Petrovic, Chloe Piper, Filippo Previtali, Maria Alvarez-Santullano, Joe Shepherd, Paula Vega, Konstantinos Zaverdinos
Local architect: Aires Mateus e Associados
Civil, structural & building services engineering: Afaconsult
Landscape: Vladimir Djurovic Landscape Architecture
Restaurant and shop lighting: SEAM Design
Site supervision: Technoplana
LEED consultant: Edifícios Saudáveis
Main contractor: Alves Ribeiro
Sub contractors: Ceràmica Cumella, Disset
Video by Pedro Tavares / Shot with DJI Phantom and GoPro / Song by Rodrigo Leão - Florestas Submersas.