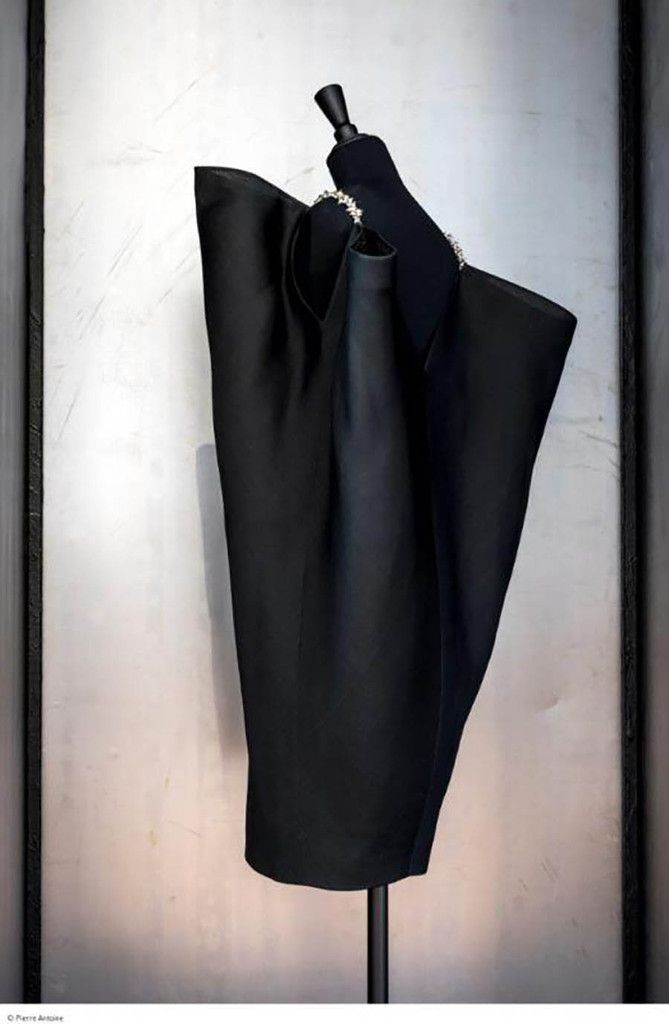 Balenciaga, L'Oeuvre au Noir : An exhibition from march 8th to july 16th at Musée Bourdelle in Paris.
The Palais Galliera is paying homage to the couturiers' couturier, Cristóbal Balenciaga (1895-1972), with an exhibition at the Musée Bourdelle entitled: Balenciaga, l'oeuvre au noir ('Balenciaga, working in black'). The exhibition resonates with the black tones of an alchemist of haute couture. Balenciaga pieces are displayed alongside the plaster casts in the Great Hall and there are more in Bourdelle's studios and in the contemporary Portzamparc wing of the museum. Balenciaga's work sets up a powerful, black-on-white dialogue with the great, late 19th-and early 20th-century sculptor. Variations of black repeated in over a hundred pieces from the Galliera collections and the archives of Maison Balenciaga.
Black for Balenciaga's inspiration: the spiritual underpinnings of his work were the folklore and traditions of his spanish childhood. Black for the ascetic taste of this extraordinarily skilful tailor who gave us: the barrel line (1947), the balloon (1950), the semi-fitted (1951), the tunic dress (1955), and, of course, the sack dress (1957). Black – for the monastic influence on the master, of whom Dior once said: 'Clothes were his religion'.
En hommage à Cristóbal Balenciaga (1895-1972), le couturier des couturiers, le Palais Galliera présente au musée Bourdelle : Balenciaga, l'œuvre au noir résonnant des sonorités noires d'un alchimiste de la couture. Du grand hall des plâtres, jusqu'à l'extension contemporaine de Portzamparc, en passant par les ateliers de Bourdelle, les pièces du couturier établissent un dialogue tranchant, noir sur blanc, avec ce grand maître de la sculpture du tournant du XXe siècle.
Noire, l'irrigation de Balenciaga puisant les racines de son œuvre dans l'Espagne folklorique et traditionnelle de son enfance. Noir, le goût de l'épure de ce technicien hors normes avec ses lignes tonneau (1947), ballon (1950), semi-ajustée (1951), tunique (1955), sa célèbre robe-sac (1957)... Noires, les inspirations monacales du maître dont Dior disait : « Le vêtement était sa religion ».
Cette première partie du parcours de l'exposition « silhouette & volumes » est suivie de « noirs & lumières » et « noirs et couleurs ». Car chez Balenciaga, le noir, plus qu'une couleur ou même une non couleur, est une matière vibrante, tour à tour opaque ou transparente, mate ou brillante, tout en jeux de lumière qui doit autant à la somptuosité des tissus qu'à l'apparente simplicité de ses coupes. Un rehaut de dentelle, une composition de broderie, une guipure, un épais tombé de velours de soie et c'est une jupe, un boléro, une mantille, une cape réinventée en manteau, un manteau taillé en pèlerine... Ici, des pièces de jour, tailleur, veste... et là, des ensembles du soir, aussi des robes de cocktail doublés en taffetas de soie, bordés de franges, ornés de rubans de satin, de perles de jais, de paillettes... et des accessoires, noirs bien sûr... D'un noir conjugué à travers une centaine de pièces issues du fonds Galliera et des archives de la Maison Balenciaga.