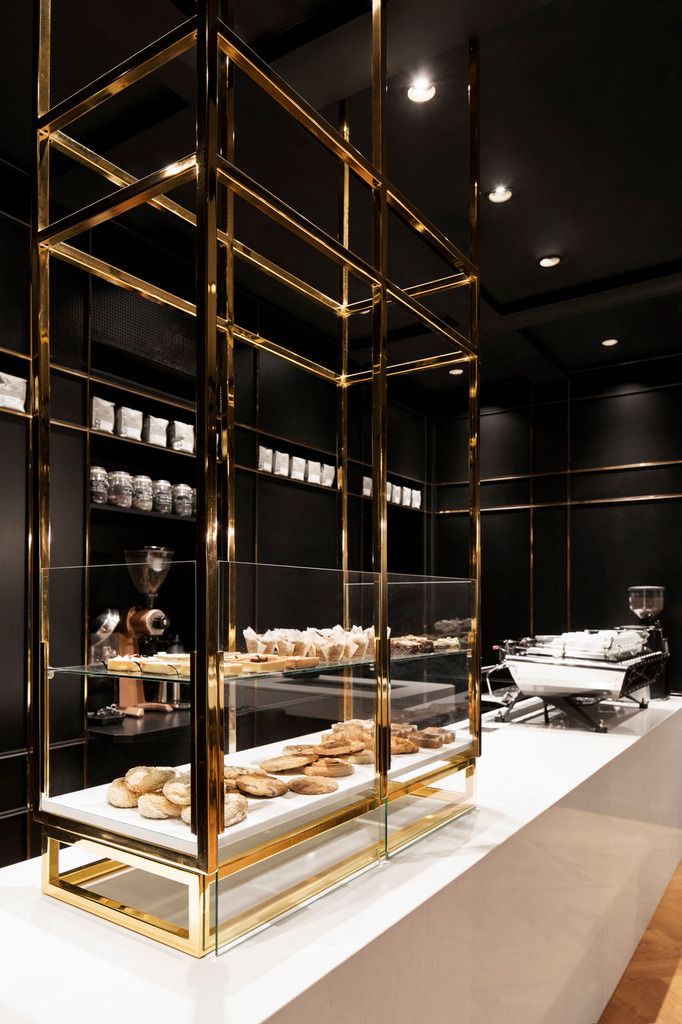 The Project: Jean de Lessard Créatifs has designed for Westmount's café The Standard, a space of symmetry where the minimalistic narrative blends in subtly with the sophisticated look of a period café, thus redefining the codes of such a venue where varieties of Grand Cru coffee and gourmet pastries are served.
After an intense drawing phase, as a result, the design is focused on the straight line, the balance of proportions and the alignment of the architectural elements with the brass finish wall profiles. These profiles are creating the illusion of wainscoting and the false beams of the ceiling, that of caissons. Such a subterfuge brings a sense of spaciousness and classicism to the small café. Positioning of the custom furniture including the seemingly free-floating pastry showcase is keeping with the notions of horizontality and verticality. There is also similarity in the degree of angularity that both the armrests of the armchairs and the coffee tables present. For an even more stylish effect, a pony hair-like fabric has been mixed with the ever classic herringbone pattern of the fabric on the low-legged armchairs and that of the hickory floor.
In this deep ebony shell at the heart of which stark lighting enhances the luster of brass, the interior design firm wanted to shake the prevailing order a bit; the slight displacement of the imposing white quartz worktop, a strong element in the project, thus gives rhythm to this refined place smoothly.
The Designers: Under the direction of principal designer Jean de Lessard, who's combining more than 25 years of design practice in various sectors, the firm is designing a diversity of vocational spaces, including restaurants, hotels, offices and boutiques. The firm's approach is intuitive and relies on singular deconstruction principles that are breaking usual codes and freeing spaces and their occupants from trivial concepts.
The firm is a laureate of Las Vegas A.R.E. Gold Award, of the Interior Design's Best of Year Awards in New York and a finalist of the Restaurant & Bar Design Award in London. The firm's projects have also won in Chicago, Munich and many times at the Grands Prix du Design in Montreal. Their work is widely published internationally.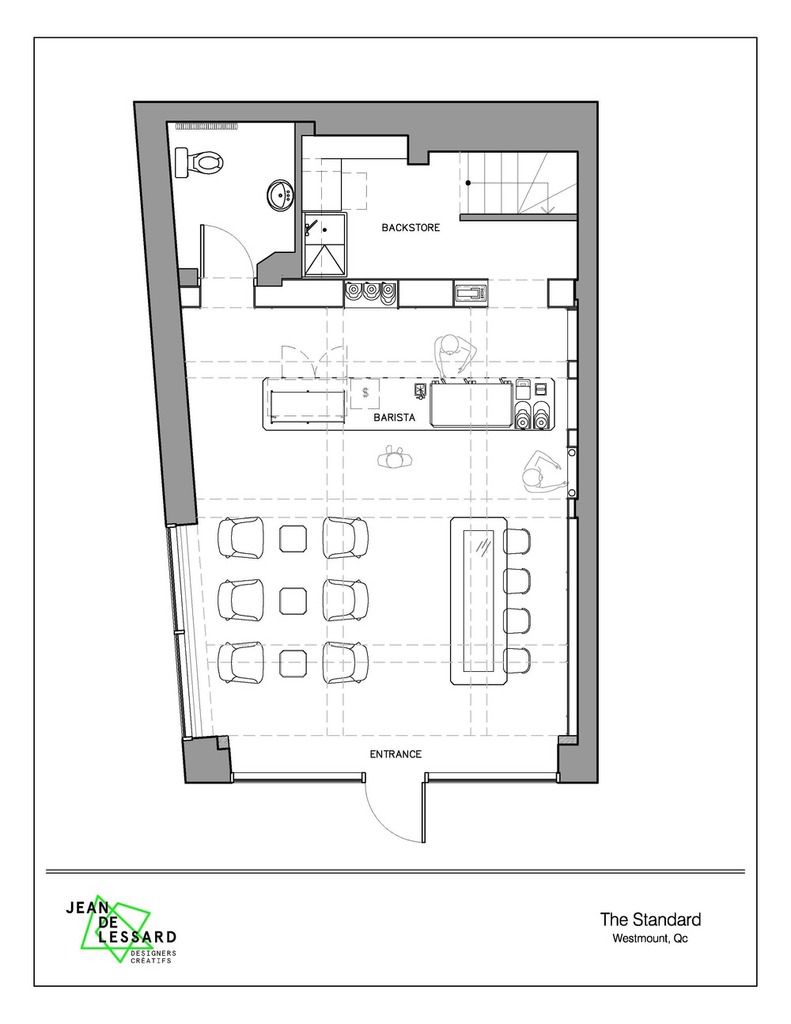 Technical Specifications

Client: The Standard
Design: JEAN DE LESSARD CRÉATIFS
Project coordinator: Alexa Adam Designer
Flooring: Plancher Mirage; Amélie Bolduc Monette
Lighting: Lambert & Fils
Materials: hickory, white quartz, brass finish metal
Parameters: floor surface of 600 square feet