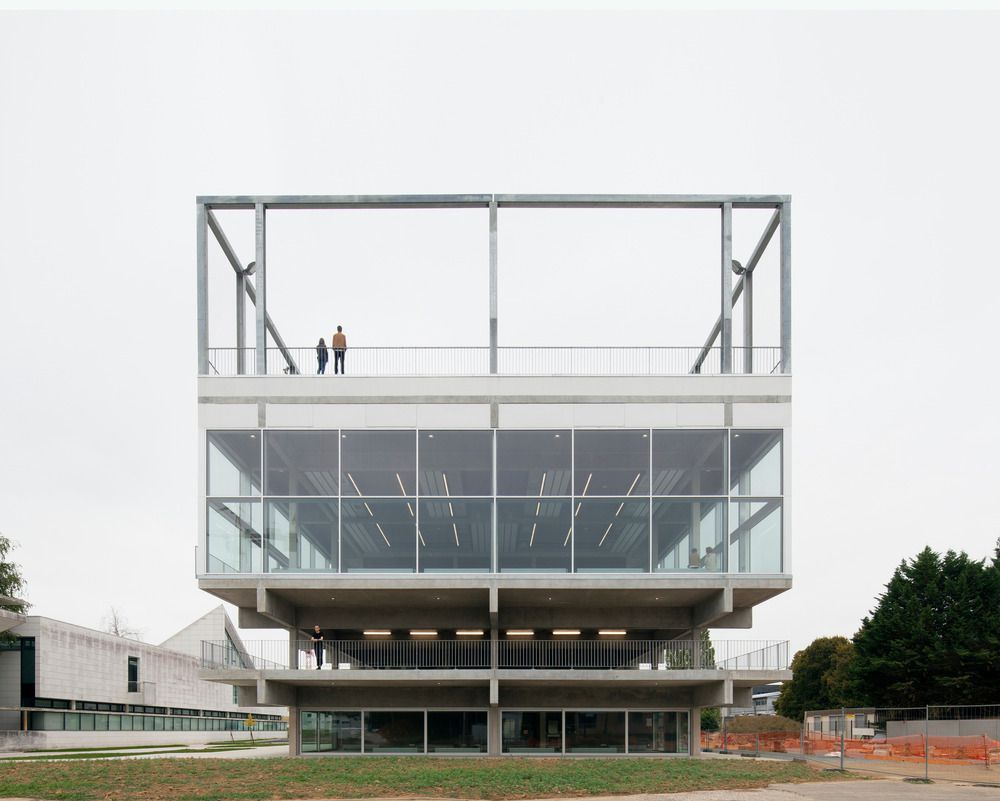 Paris, France, 13-06-2017
Public Condenser, at Paris-Saclay University Campus.

The project is a public facility, situated on the new campus of Paris-Saclay. The building hosts a mix of activities including indoor and outdoor sports facilities, a restaurant, cafeteria, and various public spaces: a pedestrian square, street terraces, park areas for deliveries, bikes and cars. The building is organized vertically with its different activities superimposed on one another, using the roof as a panoramic playground for football and basketball games. The different areas are linked by an open staircase that allows independent accesses. The building takes the form of an urban shelf, a vertical public space, accessible to all campus visitors, day or night.
It is a shared facility, encouraging the encounter of various populations living close to one another, but rarely meeting. The Restaurant, cafeteria and sports activities are made accessible to students, company employees, teachers, and researchers. It aims at creating a meeting point for everyone by mixing activities that are usually separate.
The building has been conceived as a minimal structure, using rough materials, robust and long lasting techniques. Technology is used minimally to provide a place that will last in time, without need for complicated maintenance.
In response to the low construction budget, detailing has been kept to a minimum. This economical approach has allowed for the inclusion of a generous public square in the construction price, ensuring a planted pedestrian connection with the existing academic buildings next to the site. The vertical configuration of the building provides a minimal footprint.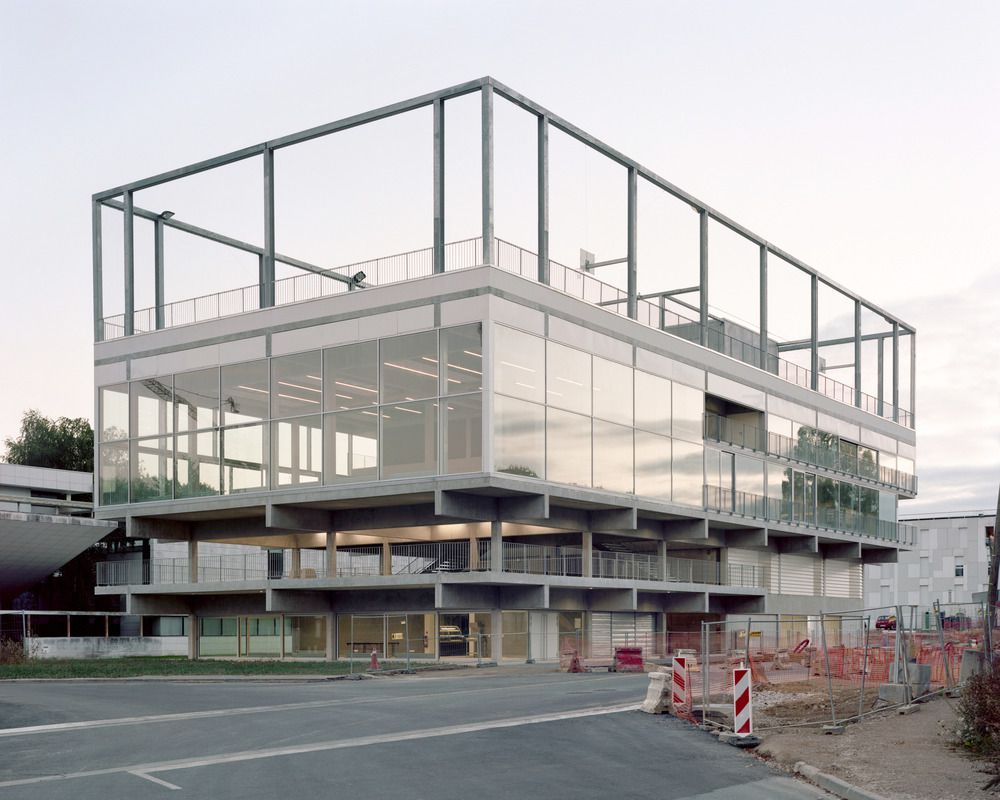 (c) Muoto Architects / technical drawings
Program: Restaurant, cafeteria, indoor and outdoor sports facilities and various public spaces: a pedestrian square, street terraces, park ares for deliveries, bikes and cars
Client: Etablissement Public d'Aménagement Paris Saclay (EPAPS)
Area: 4097 m²
Budget: 6.500.000 €
Architect: Muoto
Consultants: Y Ingénierie, Bollinger & Grohmann, Alternative, Novorest
Year: 2011 – 2016
Muoto is an architectural firm that was founded in Paris 2003. The firm combines scientific and artistic skills that allow it to cover different fields: architecture, urbanism, environmental design and scientific research. Muoto means "form" in Finnish. / www.studiomuoto.com
---
FR/ Lieu de vie – Plateau de Saclay L'équipement se situe sur le nouveau campus universitaire de Paris-Saclay, qui a vocation à devenir un site scientifique associant écoles, université, centres de recherche et entreprises. Le bâtiment préfigure l'avenir actif et urbain du campus en accueillant une variété d'activités. Il comprend des espaces sportifs intérieurs et extérieurs, un restaurant, une cafétéria, ainsi que plusieurs espaces publics : une place piétonne, des terrasses, une aire de parking et de livraisons. Le bâtiment est conçu comme une structure minimale et robuste. Il s'organise verticalement comme un empilement d'activités. Le toit accueille un terrain de sport panoramique ouvert sur le grand paysage du plateau. Les activités sont connectées entre elles par un double escalier ouvert qui leur permet de fonctionner de manière simultanée ou indépendante. Cet escalier extérieur est conçu comme un véritable espace public. Depuis les paliers, on domine la grande salle du restaurant, la rue et le parvis. Le bâtiment prend la forme d'une «étagère urbaine»: un espace public vertical accessible à tous les visiteurs du campus 24/24h.
(c) Maxime Delvaux / Muoto Architects