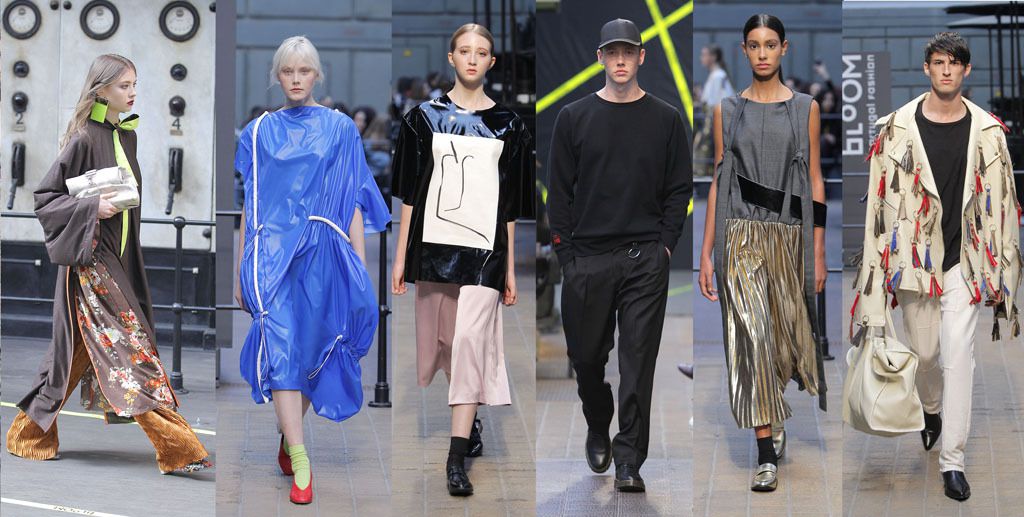 The PortugalFashion week started with the 'BLOOM' presentation of graduate collections in Porto. The platform 'bloom' aims to promote the young fashion creation, due to a collaboration between the organization and the different fashion schools of the country. Young designers have the opportunity to present their work to the national and international press during the northest Portuguese fashion week aka 'PortugalFashion'. You will find below those who caught our attention.
For the SS18 edition of PortugalFashion, the fashion schools and respective graduates were:
- EMP (Escola de Moda do Porto): Patricia Shim + Mariana Serra ('untitled' collection),
Filipe Cerejo ('nomads of the future' collection)
- CENATEX ( Escola Profissional Cenatex ): Ana Catarina Lemos, Carla Bessa.
- IPCB/ ESART ( Instituto politécnico de Castelo Branco / Escola superior de artes aplicadas ): Joana Branco, Edgar Silva
- FAUL ( Faculdade de arquitetura UT Lisboa ): nc
- ESAD ( Escola superior de artes e design de Matosinhos): Ana Sousa + Ana Sarmento
- MODATEX (centro de Formação Profissional da Indústria Têxtil): Patrícia Brito, Artur Dias
The location was "Museo do Carro Electrico" in Porto. Discover just below our favorite collections.
CENATEX ( Ana Catarina Lemos collection )
EMP ( Filipe Cerejo collection )
ESAD ( ana sousa + ana sarmento )
FAUL ( finalists collections )
IPCB / ESART ( Joana Branco, Edgar Silva, collections )
MODATEX ( Artur Dias collection )