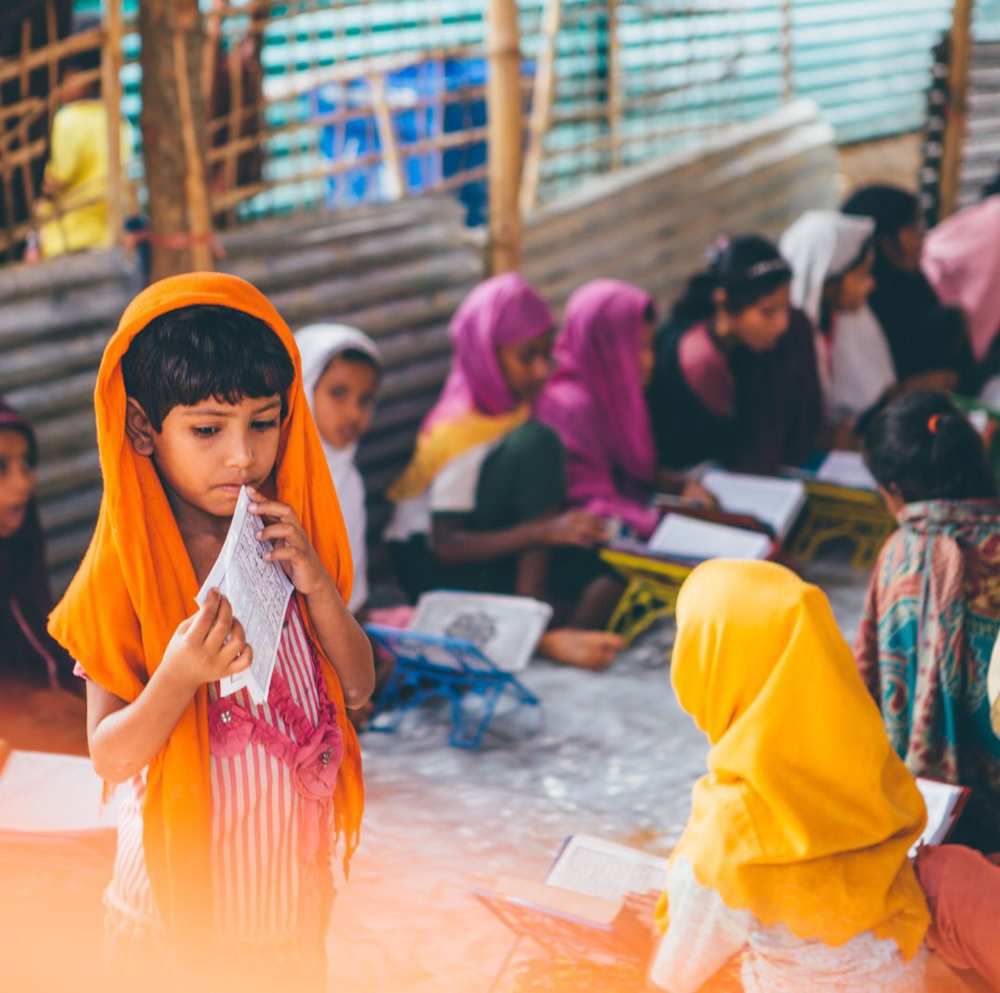 "Hi, this is Sebas, Juanita, Juan, Omar, DJ Snake, Grand JD, Jhon Rachid, Yvick, Seb & Jerome. Rohingyas are often called the most persecuted minority in the world, unable to claim citizenship in a country that refuses to recognize them. The atrocities inflicted on the Rohingyas at the hands of the Myanmar government are staggering. Over the past week, Amnesty International and the international news media have reported stories of beatings, villages set on fire, rape, and murder.
The ethnic cleansing of Myanmar's Rohingya population over the last two months has been the most severe. Stranded, stateless, and unwanted. 600,000 people have been forced out of Rakhine state by the Myanmar army and Buddhist extremists. This means 1.3 million Rohingya exist in limbo without a place to call "my country." Myanmar's army makes one thing clear to every Rohingya they aren't raping, murdering, burning, or shooting: "Get out and don't come back." So they flee from their villages until they reach Bangladesh.
The government of Bangladesh is overwhelmed by the refugee crisis. The refugees arrive having eaten little if anything in days, and with just the clothes on their backs. Children are especially vulnerable to human trafficking, servitude, and abuse, as many have become separated from their families. Once they arrive in the tent cities (without any sanitation), the daily struggle continues to access clean water and food. We are on the ground in Cox's Bazar, Bangladesh - working with local volunteers to deliver vital aid to these refugees.
Together, we can make a difference. 100% of your donation goes directly towards filling the urgent need of food, clean drinking water, and other critical supplies. 100% of your donation goes directly to the Rohinghyas refugees ! So please, be part of it !
In order to support the movement, we asked our friends from TshirtLovers.Fr to create together a special t-shirt #LoveArmy for the occasion ( Top quality and supreme print results, fair & sustainable production with durable fabrics ) with a portion of profits that would be reversed to the crowdfunding campaign > 5 euros on each sale. The t-shirt cost 29 euros and exist in 3 different colors, white grey and black. Grab Yours HERE and spread the word !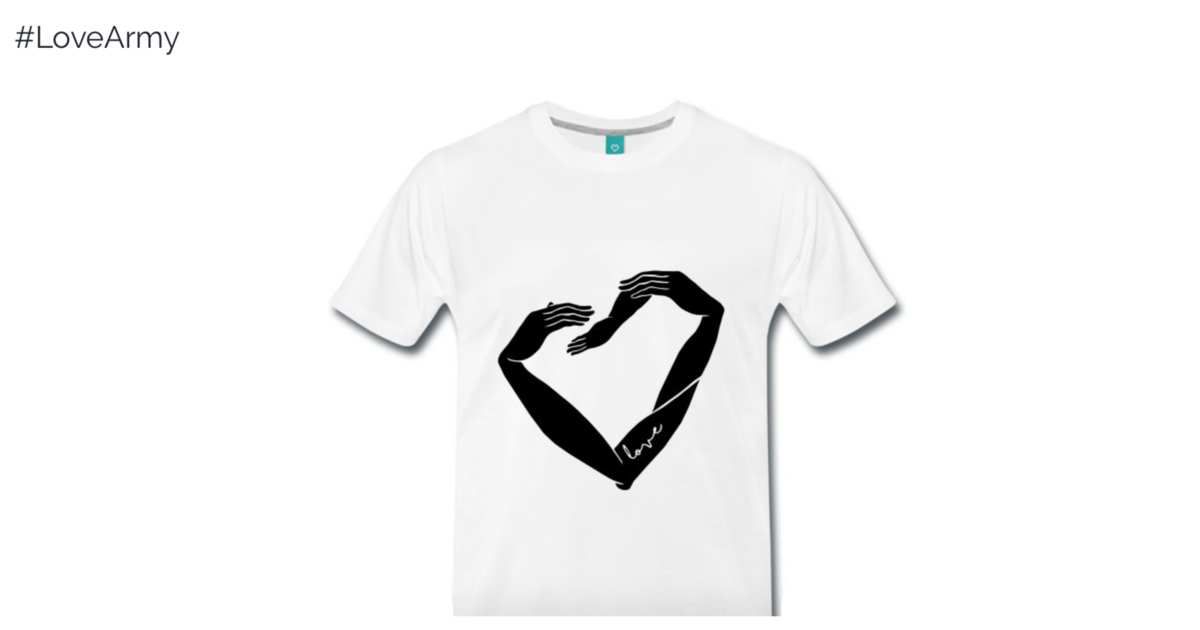 Afin de soutenir le mouvement, nous avons demandé à nos amis TshirtLovers.Fr de créer ensemble un t-shirt spécial pour l'occasion (qualité premium, avec une production équitable et durable ) et dont une partie des bénéfices seraient reversés à la campagne de crowdfunding > en claire sur chaque vente, 5 euros vont à la campagne #loveArmyforRohingya. Le t-shirt coûte 29 euros et existe en 3 couleurs différentes, blanc gris et noir. Passez le mot ! merci
FR / "Salut, c'est Sebas, Juanita, Juan, Omar, DJ Snake, Grand JD, Jhon Rachid, Yvick, Seb et Jérôme. Les Rohingyas sont souvent qualifiés de minorité la plus persécutée au monde, incapables de revendiquer la citoyenneté dans un pays qui refuse de les reconnaître. Les atrocités infligées aux Rohingyas par le gouvernement du Myanmar sont stupéfiantes. Au cours de la semaine dernière, Amnesty International et les médias internationaux ont rapporté des cas de passages à tabac, de villages incendiés, de viols et de meurtres.
Le nettoyage ethnique de la population rohingya du Myanmar au cours des deux derniers mois a été le plus sévère. Échoué, apatride et non désiré. 600 000 personnes ont été chassées de l'État de Rakhine par l'armée du Myanmar et des extrémistes bouddhistes. Cela signifie que 1,3 million de Rohingyas existent dans les limbes sans endroit pour appeler «mon pays». L'armée du Myanmar fait clairement comprendre à tous les Rohingyas qu'ils ne violent pas, n'assassinent pas, ne brûlent pas ou ne tirent pas: «Sortez et ne revenez pas. "Alors ils fuient leurs villages jusqu'à ce qu'ils atteignent le Bangladesh.
Le gouvernement du Bangladesh est submergé par la crise des réfugiés. Les réfugiés arrivent après avoir mangé peu ou rien en quelques jours, et avec juste les vêtements sur le dos. Les enfants sont particulièrement vulnérables à la traite des êtres humains, à la servitude et à la maltraitance, car beaucoup sont devenus séparés de leur famille. Une fois arrivés dans les villes de tentes (sans aucun assainissement), la lutte quotidienne continue d'avoir accès à de l'eau potable et à de la nourriture.
Nous sommes sur le terrain à Cox's Bazar, au Bangladesh - en travaillant avec des volontaires locaux pour apporter une aide vitale à ces réfugiés. Ensemble nous pouvons faire la différence. 100% de votre don sert directement à combler le besoin urgent de nourriture, d'eau potable et d'autres fournitures essentielles. 100% de votre don va directement aux réfugiés Rohinghyas."
THANK YOU / MERCI
GRACIAS
OBRIGADO
DANKE
谢谢