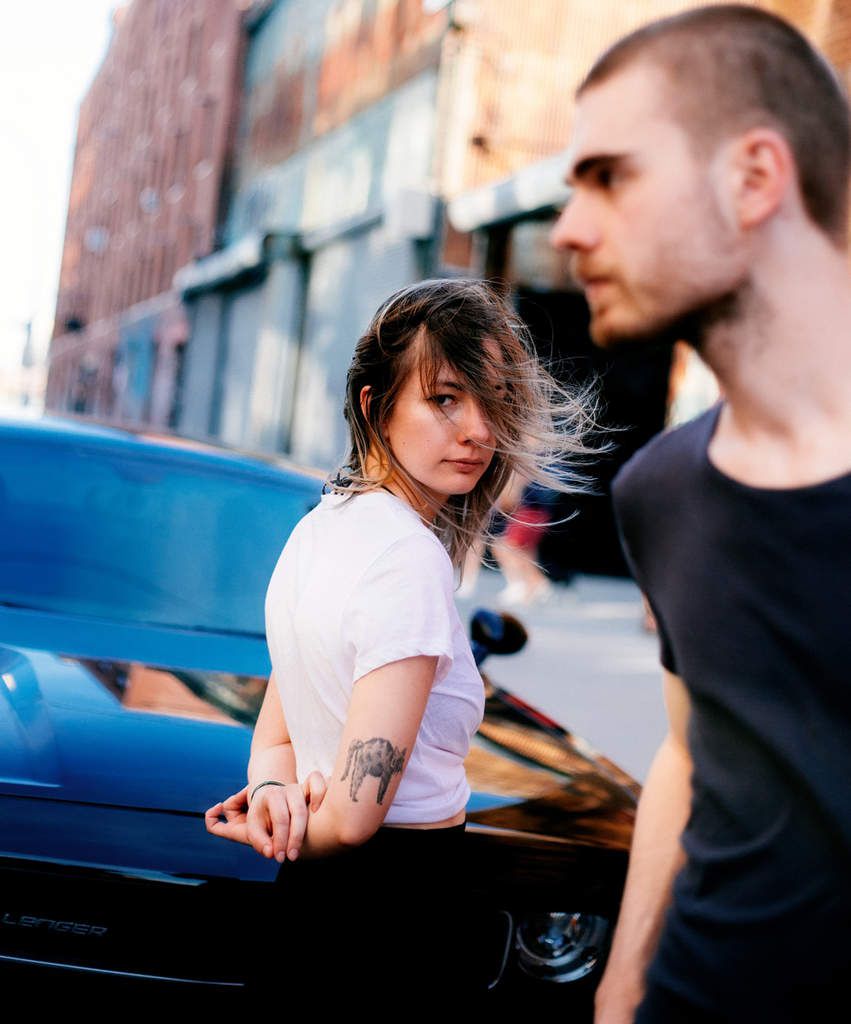 ​​​​​Check this brand new track 'Drumsolo' from Indie-pop duo Leyya. With her soft toned voice layered over synth pads, saxophones and complex bass patterns which correspond with drummer Marco Kleebauer's concise, yet playful approach to percussion, this awesome track fits perfectly together. Austrian indie-pop duo LEYYA announce with this new single 'Drumsolo' the upcoming album Sauna via Las Vegas Records. This follows the success of their previous singles 'Oh Wow', and 'Zoo' which received vast support. Sophie Lindinger and Marco Kleebauer (the duo) have been on a high streak of victory - which has seemingly jolted to life on it's own accord. Their debut album Spanish Disco was the catalyst - creating a cause and effect whirlwind of huge festival performances and radio play, as well as television and film appearances. Hit single "Superego" quickly racked up over 3 million plays on Spotify and had over 550,000 Youtube views.
These many triumphs resulted in tastemaker recognition including European festivals and performances at The Great Escape (Brighton, UK), Liverpool Sound City (Liverpool, UK), Tallinn Music Week (Tallinn, EE), PrimaveraSound (Barcelona, SP) and Electronic Beats at Reeperbahn Festival (Hamburg, DE) - before finally headlining Popfest (Vienna, AT) back home, where they played to a crowd of 20,000 in front of the famous Karlskirche in Vienna's beautiful City Centre. LEYYA's performance at Iceland Airwaves was called one of the "most exciting" on display by Consequence of Sound; while Musikexpress was similarly enthusiastic about their show at Eurosonic Nooderslag, calling it "The best concert of this year's Eurosonic Festival." Such acknowledgement led LEYYA to embark on their next tour, including London and Brighton dates.
With Austria's most esteemed music prize - an Amadeus Music Award under their belts, they went on to New York's Indie Week where they cemented their status as a force to be reckoned with. LEYYA proved that they don't rely on tried and tested patterns, but always develop their sound in order to stay fresh, modern and relevant.
'Drumsolo' rolls in with a steady beat set amid spirited atmospheres as Sophie Lindinger's delicate, yet fiery vocal work fills the air in excitement. Animated bass lines and vibrant synthesizers paint a perfect portrait of LEYYA's striking ascent, worthy of utmost attention. Layered synth pads, saxophones and complex bass patterns correspond with drummer Marco Kleebauer's concise, yet playful approach to percussion, fills and of course, drum solos, bridging the gap between studio experiments and standard radio production.
Speaking of the single 'Drumsolo' Leyya comments: "Drumsolo is one of our favourite tracks of the new album - on the one hand it's very complex (at one point it doesn't even make sense music-theoretically) but on the other hand the melody is very catchy so you don't notice its quirkiness - that's what we always wanted our tracks to be like - different layers to discover depending on the listeners mood."
> stay tuned via: facebook.com/Leyya.Music
> More incredible tracks to discover on our specific section > MUSIC-TRACKS