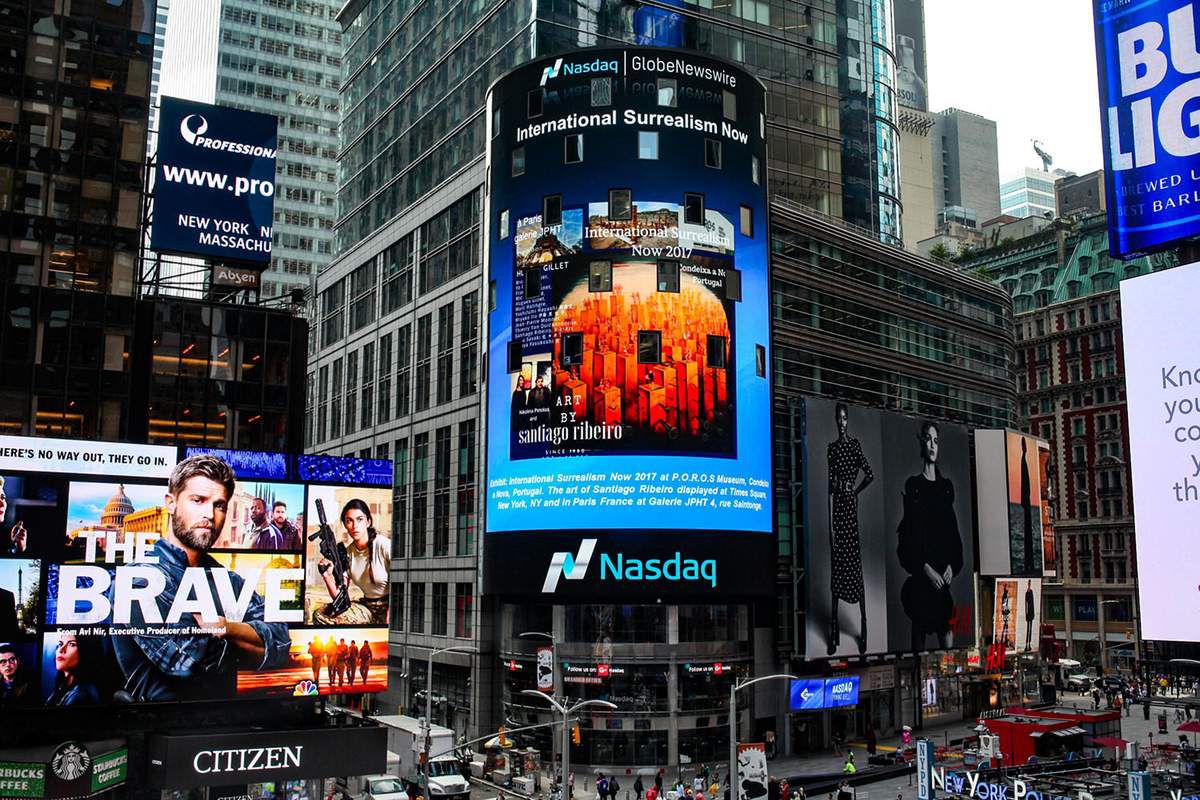 In an attempt to take art to the people en masse and promote the largest group exhibit of surreal art this winter Portuguese surrealist painter Santiago Ribeiro is teasing the public with flash images of his work in the most famous intersection of the world: Times Square. Ribeiro's vivid, colorful paintings will be shown sporadically – flashed on random days at random times -- on the Nasdaq OMX Group screen in New York City until Dec. 31, 2017. They will be up for three whole minutes on the Reuter's screen for each appearance – ample time for tens of thousands of pedestrians to catch a glimpse.
The pieces are part of the International Surrealism Now exhibit, which is to open at the multimedia POROS Museum in Condeixa-a-Nova this October. Billed as the largest world exhibition of contemporary Surrealism art in Europe – with more than 100 artists from 48 countries participating – the exhibit of paintings, drawings, digital art, photographs and sculpture is also expected to be shown, at least in part, at several monuments and public spaces throughout Portugal.

"As always I´m doing something different and the idea to exhibit in Times Square in New York shows how the mass media are our modern means to show our art," Ribeiro said.
Ribeiro's work has been featured at the U.S. embassy in Lisbon, in the Portuguese American Journal, in Digital Meets Culture, Praad in Portuguese and many other publications. His sponsors include Bissaya Barreto Foundation, Condeixa a Nova House Mayor and MagicCraftsman Studio. He conceived the International Surrealism Now movement in 2010 in Coimbra with a major exhibit organized by Bissaya Barreto.
Artists
Achraf Baznani, Morocco / Agim Meta, Spain / Aissa Mammasse, Algeria / Alvaro Mejias, Venezuela /Ana Araújo, Portugal / Ana Neamu, Romania / Ana Pilar Morales, Spain / Andrew Baines, Australia / Asier Guerrero Rico (Dio), Spain / Brigid Marlin, UK / Bien Banez, Philippines / Can Emed, Turkey / Carlos Sablón, Cuba / Cătălin Precup, Romania / Cristian Townsend, Australia / Conor Walton, Ireland / Cynthia Tom, China / USA / Dag Samsund, Denmark / Daila Lupo, Italy / Dan Neamu, Romania / Daniel Chiriac, Romania / Daniel Hanequand, France / Canada / Daniele Gori, Italy / Delphine Cencig, France / Dean Fleming, USA / Domen Lo, Slovenia / Edgar Invoker, Russia / Efrat Cybulkiewicz, Venezuela / Egill Eibsen, Iceland / Erik Heyninck, Belgium / Ettore Aldo Del Vigo, Italy / Farhad Jafari, Iran / France Garrido, USA / Francisco Urbano, Portugal / Graça Bordalo Pinheiro, Portugal / Graszka Paulska, Poland / Gromyko Semper, Philippines / Gyuri Lohmuller, Romania / Hector Pineda, Mexico / Hector Toro, Colombia / Henrietta Kozica, Sweden / Hugues Gillet, France / Isabel Meyrelles, Portugal / Iwasaki Nagi, Japan / James Skelton, UK / Jay Garfinkle, USA / Jay Paul Vonkoffler, American / Argentine / Jimah St, Nigeria / João Duarte, Portugal / Keith Wigdor, USA / Konstantin Krok, Belarus / Leo Wijnhoven, Netherlands / Leo Plaw, Germany / Liba WS, France / Lubomír Štícha, Republic Czech / Ludgero Rolo, Portugal / Lv Shang, China / Maciej Hoffman, Poland / Magi Calhoun, USA / Marnie Pitts, UK / Maria Aristova, Russia / Mario Devcic, Croatia / Martina Hoffman, Germany / Mathias Böhm, Germany / Mehriban Efendi, Azerbaijan / Naiker Roman, Cuba / Spain / Nazareno Stanislau, Brazil / Nikolina Petolas, Croatia / Nipon Jungkina, Thailand / Octavian Florescu, Canada / Oleg Korolev, Russia / Olesya Novik, Russia / Olga Caldas, France / Olga Spiegel, USA / Otto Rapp, Austria / Paula Rosa, Portugal / Paulo Cunha, Canada / Pedro Diaz Cartes, Chile / Penny Golledge, UK / Peter MC LANE, France / Philippe Pelletier, France / Roch Fautch, USA / Rodica Miller, USA / Ruben Cukier, Argentine / Israeli / Rudolf Boelee, New Zealand / Sabina Nore, Austria / Sampo Kaikkonen, Finland / Santiago Ribeiro, Portugal / Sarah Zambiasi, Australia / Serge Sunne, Latvia / Sergey Tyukanov, Russia / Shahla Rosa, USA / Shoji Tanaka, Japan / Shan Zhulan, China / Shia Weltenmenge, Germany / Sio Shisio, Indonesia / Slavko Krunic, Serbia / Snežana Petrović, Serbia / Sônia Menna Barreto, Brazil / Steve Smith, USA / Stuart Griggs, UK / Svetlana Kislyachenko, Ukraine / Svetlana Ratova, Russia / Tatomir Pitariu, USA / Ton Haring, Netherlands / Victor Lages, Portugal / Vu Huyen Thuong, Vietnam / Yamal Din, Morocco / Spain / Yuri Tsvetaev, Russia / Zoltan Ducsai, Hungary / Zoran Velimanovic, Serbia.

The 48 countries represented: Algeria, Argentina, Australia, Austria, Azerbaijan, Belarus, Belgium, Brazil, Canada, Chile, China, Colombia, Croatia, Czech Republic, Cuba, Denmark, Finland, France, Germany, Hungary, Iceland, Indonesia, Iran, Ireland, Israel, Italy, Japan, Mexico, Morocco, Netherlands, New Zealand, Nigeria, Pakistan, Philippines, Poland, Portugal, Romania, Russia, Serbia, Slovenia, Spain, Sweden, Thailand, Turkey, United Kingdom, United States, Ukraine, Venezuela, Vietnam.
FR/ Le peintre surréaliste portugais Santiago Ribeiro trouve à chaque fois des nouvelles et inhabituelles initiatives pour montrer son art et promouvoir l'exposition artistique internationale. Dans une tentative d'amener l'art à la population en générale et de promouvoir le plus grand groupe surréaliste de cet hiver, le peintre surréaliste portugais Santiago Ribeiro taquine le public avec des clichés de son travail à l'intersection multimédia la plus célèbre du monde : Times Square (Carré de Temps) à New York, USA. Les peintures vivantes et colorées de Santiago Ribeiro seront exposées sporadiquement -jours et heures aléatoires - sur les écrans géants de Nasdaq OMX Group et de Thomson Reuters à New York jusqu'au 31 décembre 2017. Chaque apparition de son oeuvre aura une durée totale de 3 minutes, suffisamment longue pour être vue ou au moins aperçue par des dizaines de milliers de piétons. Ces pièces font partie de l'exposition International Surrealism Now qui ouvrira ses portes au musée multimédia POROS à Condeixa-a-Nova, Portugal, cet hiver. Considérée comme la plus grande exposition d'art contemporain du surréalisme en Europe avec plus de 100 artistes de 48 pays participants, l'exposition de peintures, dessins, art numérique, photographies et sculptures doit également être montrée, au moins en partie, dans plusieurs monuments et espaces publics à travers le Portugal.
"Comme d'habitude, à chaque fois, je fais quelque chose de différent innovant et l'idée d'exposer à Times Square, New York, montre comment les média et les nouvelles technologies sont une façon moderne de divulguer notre art «, a déclaré Ribeiro.
Le travail de Ribeiro a été divulgué par l'ambassade américaine à Lisbonne, par plusieurs médias dont le Portuguese American Journal, l'Huffington Post, le Digital Meets Culture, la version portugaise du journal Pravda et par d'autres nombreuses publications. Parmi ses sponsors on cite la Fondation Bissaya Barreto, la Câmara de Condeixa Nova et le studio MagicCraftsman nord-américain. Santiago Ribeiro a conçu le mouvement International Surrealism Now en 2010 à Coimbra avec une grande exposition organisée par la Fondation Bissaya Barreto.