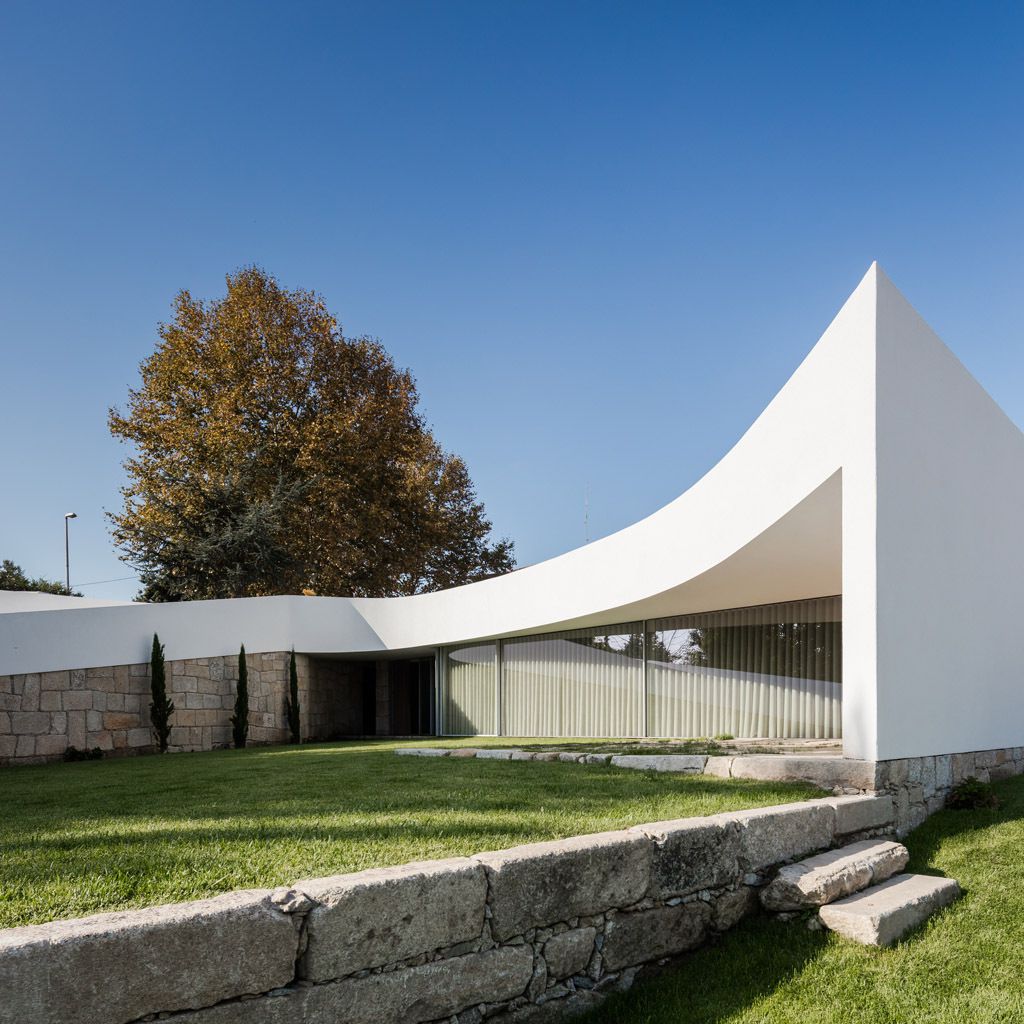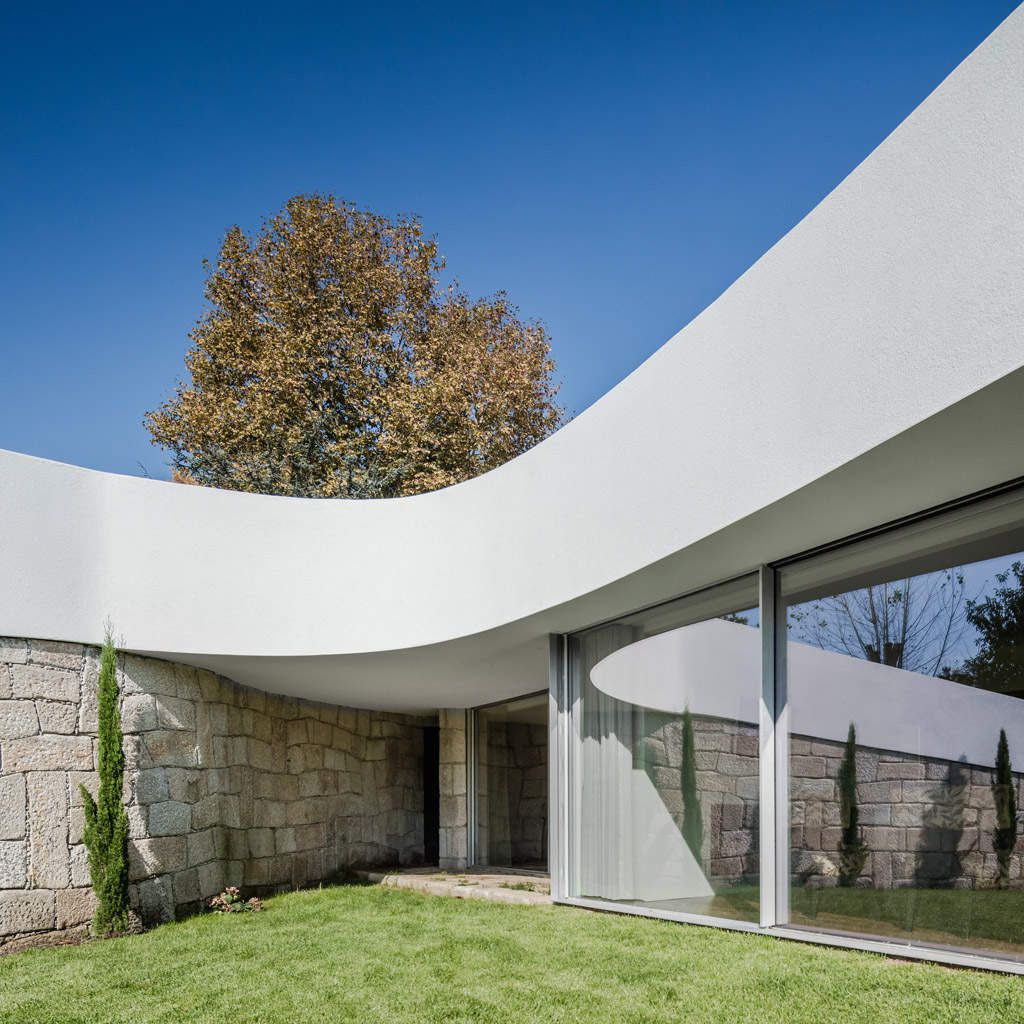 The project was to demolish a single-family dwelling and build another one in its place in the centre of V. N. de Famalicão. The proposal is on a triangular urban plot of land covering an area of 940.80 m2. The topography includes a 7.60 m slope down from west to east, so the elevations in the corner converge with those on the surrounding roads. The building on the site was of poor quality. Everything was demolished apart from the garage, below the elevation of the patio with level access from the road at the lower level. The surrounding walls also held back the earth, below the street level to the west and above street level to the east.

The house has a 367.20 m2 footprint and a gross area of 408.90 m2 on two floors. Floor 0 is 99.30 m2 and it was rehabilitated and expanded, preserving the garage, entrance, vertical access and storage area. Floor 1, at the level of the interior of the plot, is 309.60 m2, and this is where the main structure of the house is – service area, social zone and reserved zone (bedrooms). The land is highly exposed because of the different topographies between the adjoining streets. This is why the house sits 1 m from the western boundary, below the street and does not show any wall or elevation. It is closed to the north for urbanistic and thermal reasons. This is also why the house is open to the east where light enters the kitchen and the whole of the south-facing front is open under a curved shade cover. The illumination of the other rooms comes from small patios cut out of the volume.

– Patio 1, allows access from Rua Vieira da Silva;
– Patio 2, illuminates the dressing room and the bathroom attached to the main bedroom;
– Patio 3, illuminates the 3 bedrooms;
– Patio 4, for service, illuminates the kitchen and laundry;
Client: ED & JO
Location: V. N. Famalicão
Year: 2014-2017
Area: 408,90 m²
Plot area: 940,80 m2
Project: private house
Architecture: José Carlos Nunes de Oliveira ( www.noarquitectos.com )
Coordination: Hugo Araújo (II) + Joana Leite Pinto (I)
Collaborators: Daniel Viana
Constructor: José M. Sampaio & Cª. Lda.
Structures: Afonso Serra Neves
GEPEC – Sérgio Cunha
Hydraulic: GEPEC – Jorge Martins
Electricity, Telecommunications and Security: Artur Mesquita
Gas and Climatization: Luís Felipe da Silva Santos Azevedo
APRO ENGENHARIA – Ricardo Jorge Pereira Vasques
Topography: António Carlos Ferreira
Photography: João Morgado (c)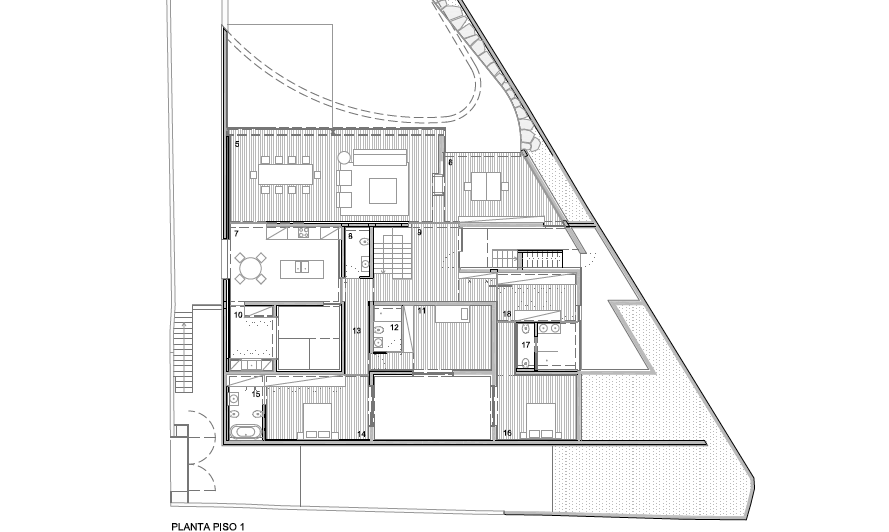 PT / Projeto de demolição de uma moradia unifamiliar e reconstrução de outra em seu lugar, no centro de V. N. de Famalicão. A proposta desenvolve-se num terreno urbano com uma área de 940,80 m2 e configuração triangular. A sua topografia possuía um declive de 7,60 m, de poente para nascente, estabelecendo a concordância de cotas no gaveto de convergência das ruas confinantes. A construção que ocupava o terreno era de qualidade reduzida. Foi demolida à exceção da garagem, abaixo da cota do logradouro, com acesso de nível pela rua à cota mais baixa. Os muros de vedação existentes cumpriam a função de suporte de terras, a poente a baixo da cota da rua e a nascente acima da cota da rua. A casa tem uma implantação de 367,20 m2 e uma área bruta de 408,90 m2 distribuídos por 2 pisos. O piso 0 ocupa uma área de 99,30 m2 e foi alvo de uma operação de reabilitação e ampliação preservando a função de garagem, entrada, acesso vertical e arrumos. O piso 1, ao nível do interior do lote, tem a área de 309,60 m2, onde se desenvolve a estrutura principal da habitação - zona de serviço, zona social e zona reservada (quartos). O terreno encontra-se demasiado exposto em consequência da diferença topográfica entre as ruas confinantes. Razão pela qual a casa se implantou a 1 m do limite poente, abaixo da rua e não apresenta empena ou alçado. Por razões urbanísticas e de comportamento térmico fecha-se a norte. Pelas mesmas razões a casa expõe a nascente, onde se abriu uma entrada de luz para a cozinha e abriu a totalidade da sua frente a sul, sob uma cobertura de ensombramento recortada em curva. A iluminação dos restantes compartimentos é feita através de pequenos pátios subtraídos ao volume.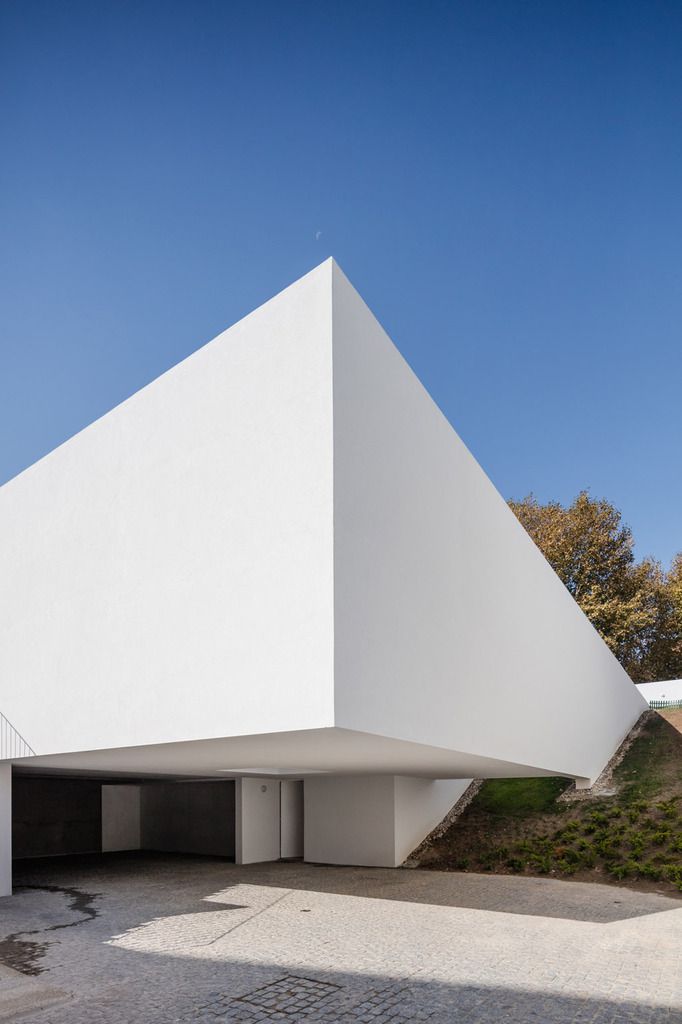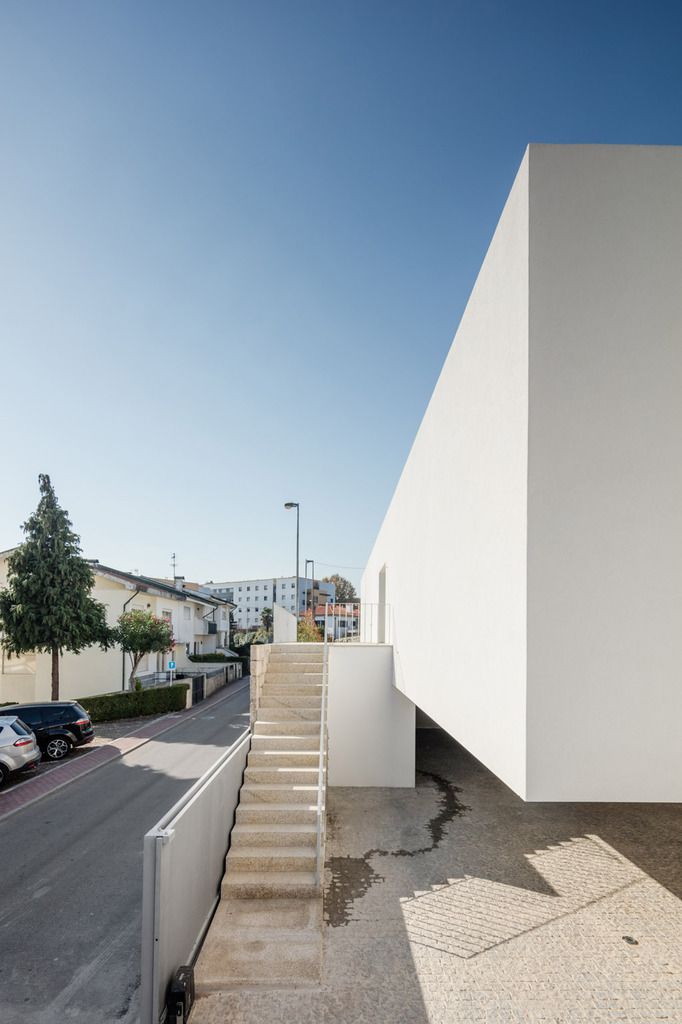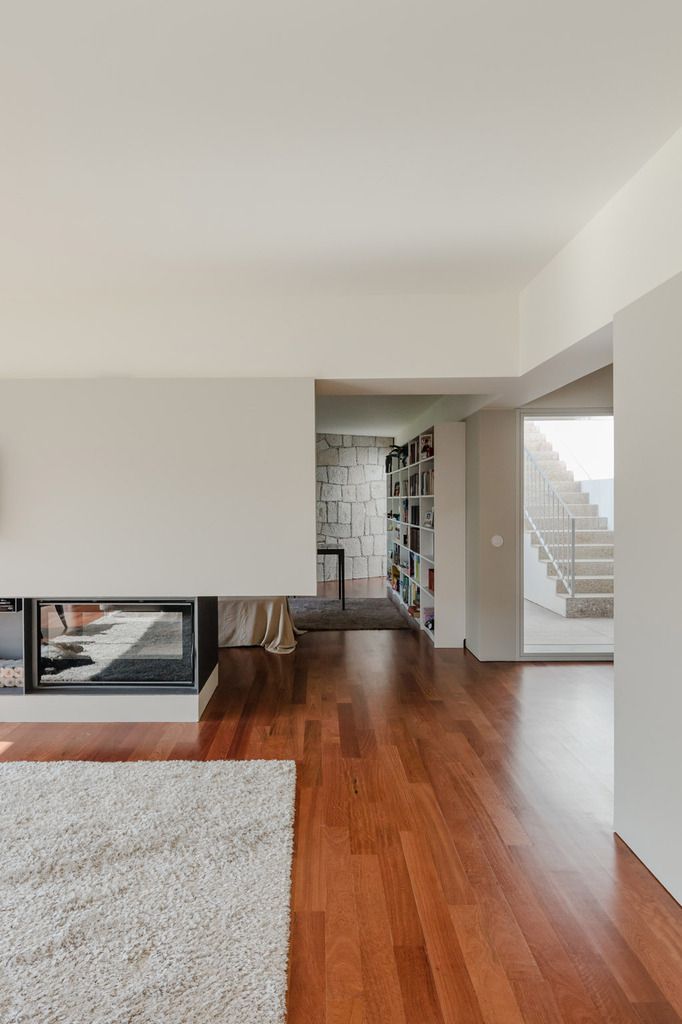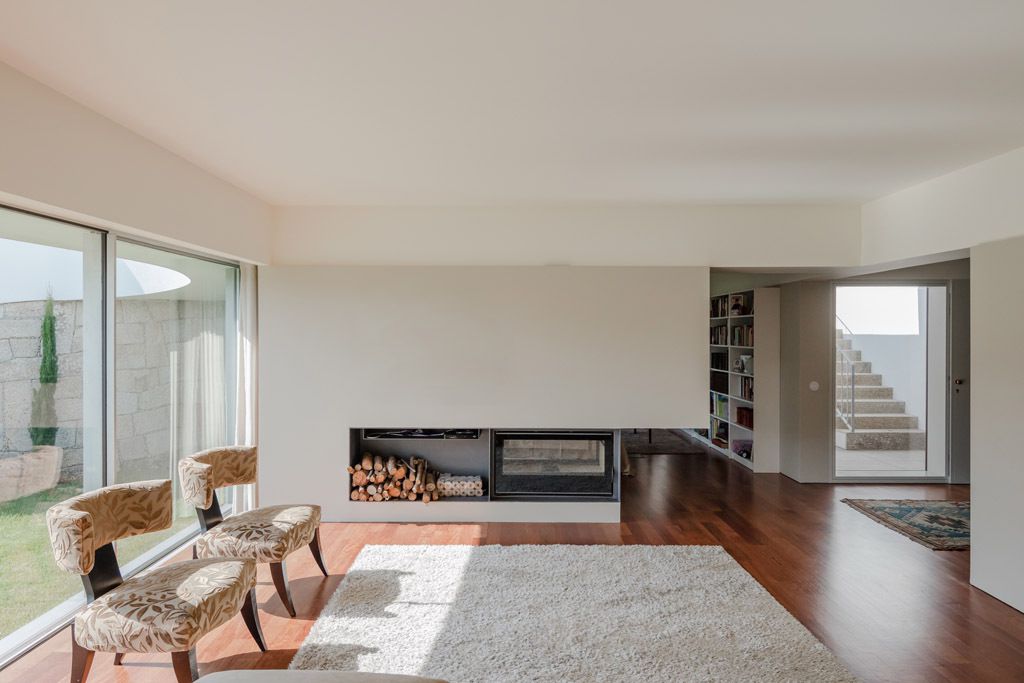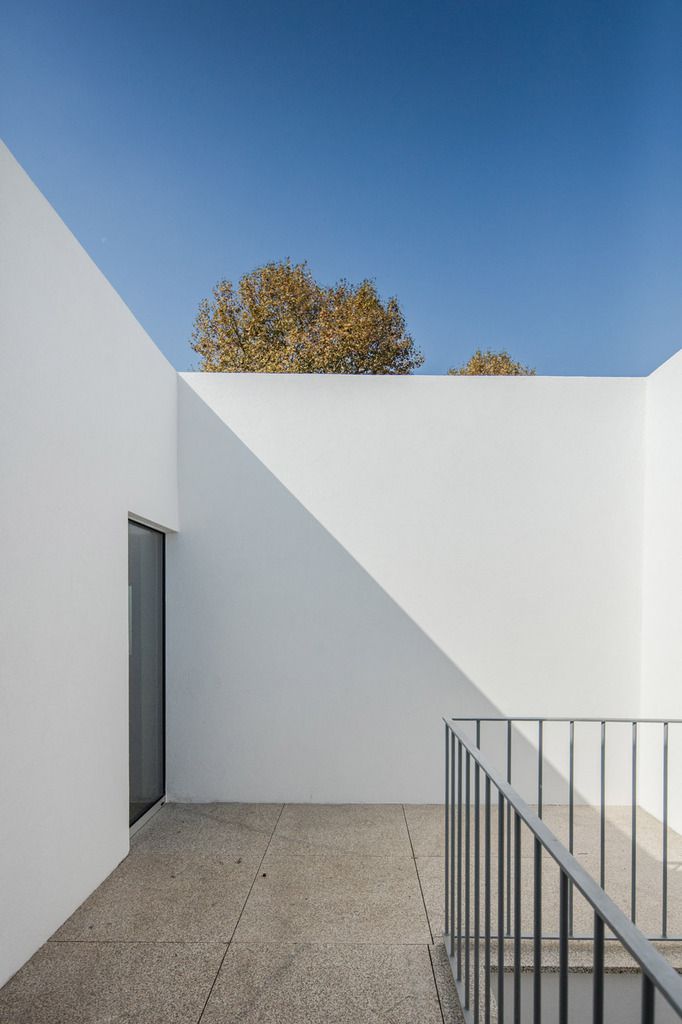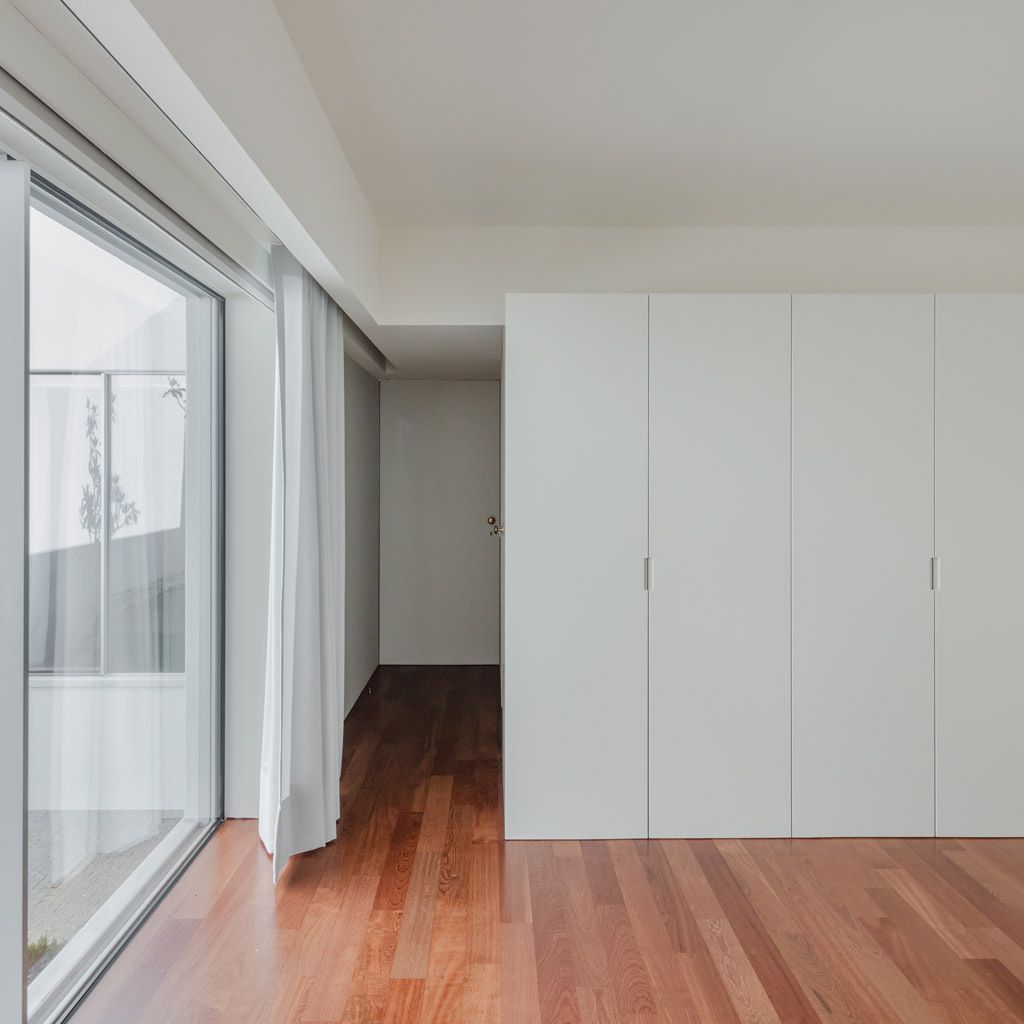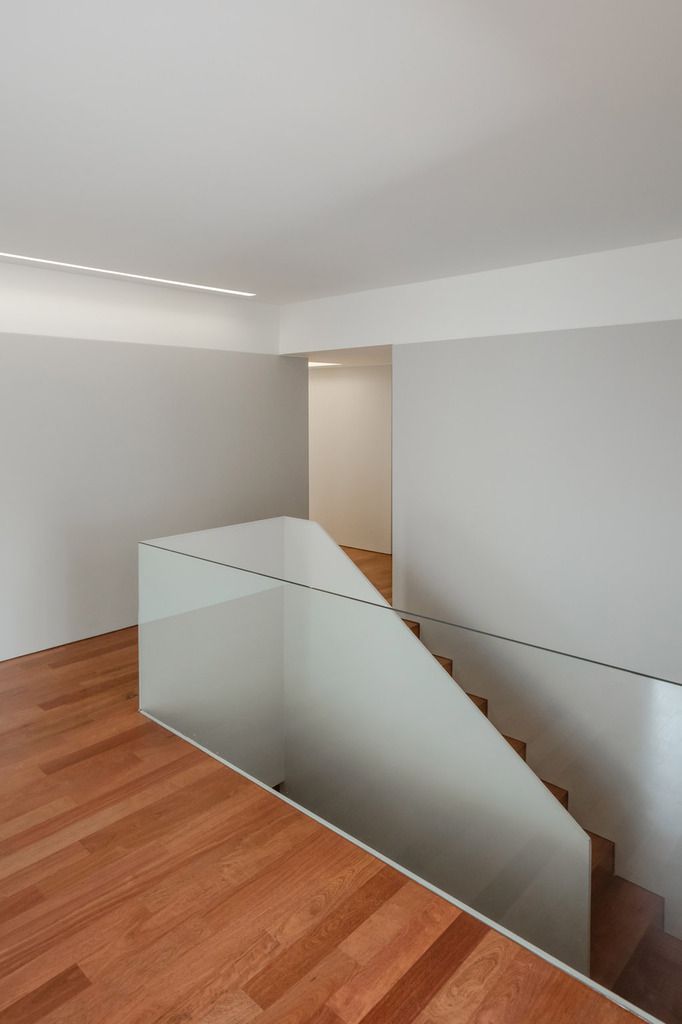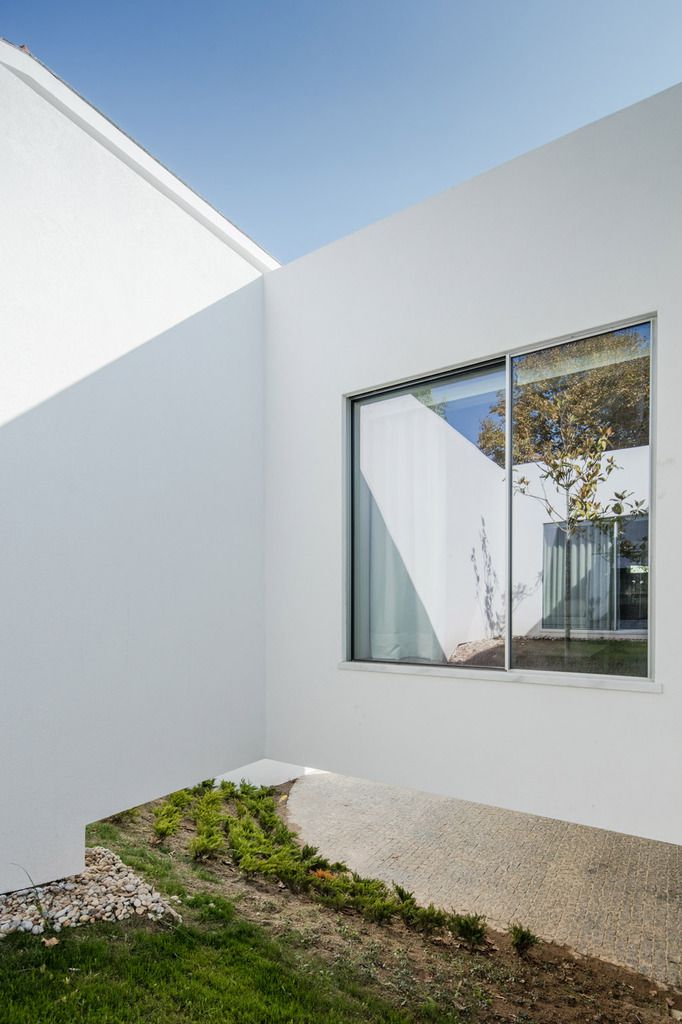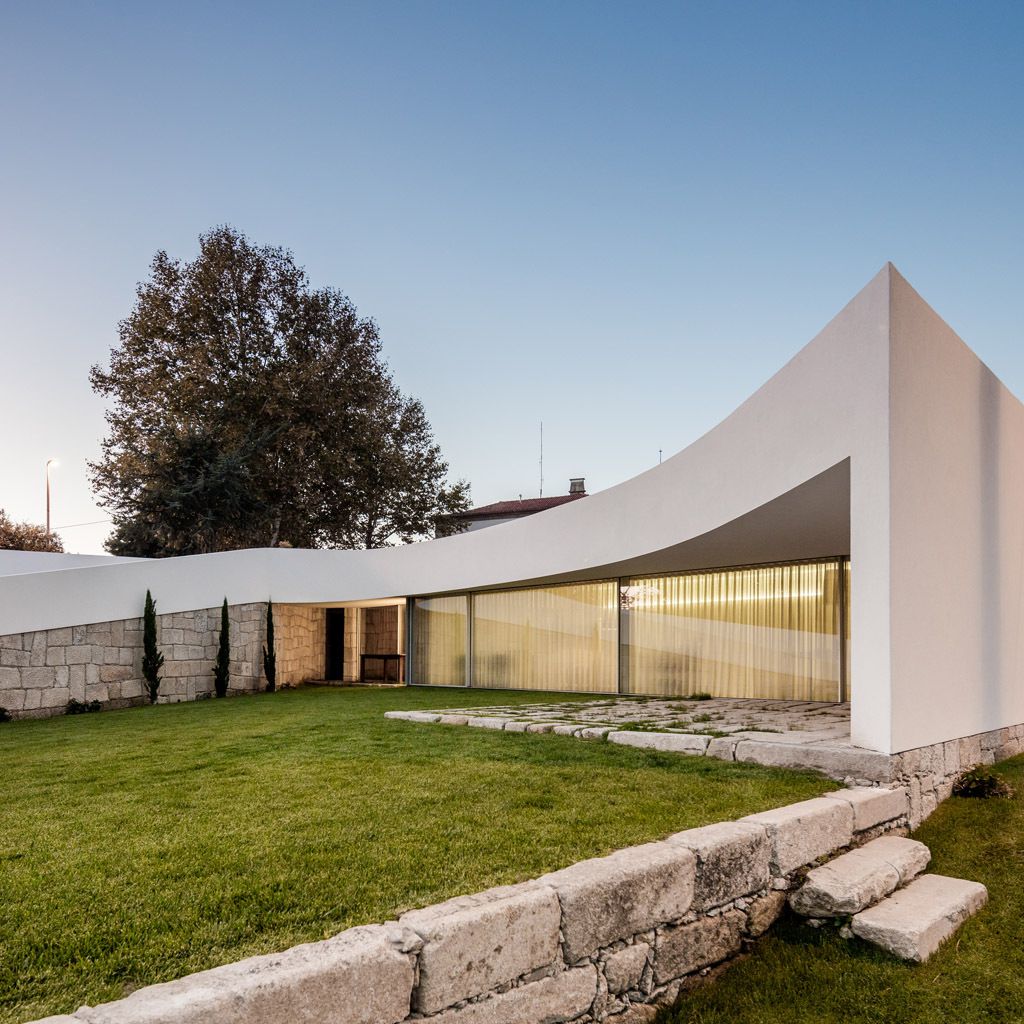 Courtesy of João Morgado (c)