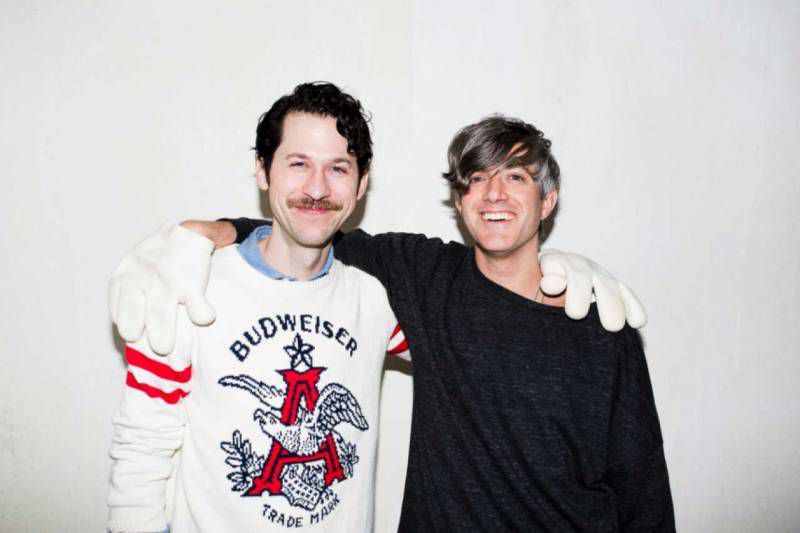 The New York power pop troupe We Are Scientists are back with some big news today, as they announce their 6th album 'MEGAPLEX' with its dazzling first single and ultramodern video clip for teh track 'One In One Out'. Press play and enjoy just below !
"In the past we've used our music to educate, to enlighten, to awaken people to the depth and complexity of moral concerns. This time, we really wanted to drop a fun-bomb. Something to dance or f*** to," states Chris and 'Megaplex' achieves just that. Recorded at Tim Wheeler from Ash's Atomic Heart Studios in NYC and once again produced by Max Hart (ex-Katy Perry), the duo set about honing down a sprawling burst of creativity to make the concise pop beast that is 'Megaplex'.
Album opener and first single 'One In One Out' introduces fans to a new era of We Are Scientists, with its hook-laden indie-electro leanings and ultramodern visuals directed by Jed Mitchell. "When Jed explained the VR aspect to us," says Keith, "we thought it was going to be our chance to step outside of our corporeal bondage, to enter a world where natural laws have no place, where our abilities would be unchecked by physics or even by morality, where we could live like gods and wantonly slake our every unholy thirst. Turns out, he just wanted us to perform our song, which was fun, too."


Since their major label debut 'With Love And Squalor' in 2005 the pair have crafted a formidable repertoire, featuring the celebrated hits 'After Hours', 'Rules Don't Stop', 'Dumb Luck' and 'Buckle'. "At this point in our career, we've written so many songs," explains Keith. "The pool for this record alone was something like 90 songs deep — that we know exactly what we want out of a We Are Scientists record. We want it to be taut, to bang hard, to have a big hook every four seconds or so. We don't have to be precious about which songs make it onto a record; we can listen to the ones that didn't make it at home, on our own time. 'Megaplex' is just the ten most delicious songs that we have — a stacked-up compound of entertainment."
"It takes a lot of hard work, a lot of honing of craft to make it to six records," continues Keith. "I mean, the Velvet Underground never made six albums. The Smiths didn't. Pavement, Guns N' Roses, The Stooges — none of them could do it. So, I guess we're just objectively better than those bands now? It's just a mathematical fact, right? Van Halen made six with David Lee Roth but only four with Sammy Hagar, so I guess we're better than Hagar-era Van Halen but only just as good as Roth-era? Which, saying it out loud, makes total sense, yeah."
TOUR DATES

Wed 28 Mar 2018 Southampton The Joiners (50th Anniversary Show)
Thu 29 Mar 2018 Stoke Sugar Mill
Fri 30 Mar 2018 Milton Keynes Craufurd Arms
Sat 31 Mar 2018 Stockton On Tees Stockton Calling
Sun 01 Apr 2018 Hull The Welly
Wed 02 May 2018 Bristol The Thekla
Thu 03 May 2018 Brighton Concorde 2
Fri 04 May 2018 London O2 Shepherd's Bush Empire
Sat 05 May 2018 Nottingham Rescue Rooms
Sun 06 May 2018 Birmingham Institute 3
Tue 08 May 2018 Leeds Church Leeds
Wed 09 May 2018 Manchester Gorilla
Thu 10 May 2018 Glasgow The Garage
Fri 11 May 2018 Belfast Limelight 2
Sat 12 May 2018 Dublin Academy
Sun 13 May 2018 Sheffield 02 Academy 2
> more great sounds and videos to discover on Music-Tracks