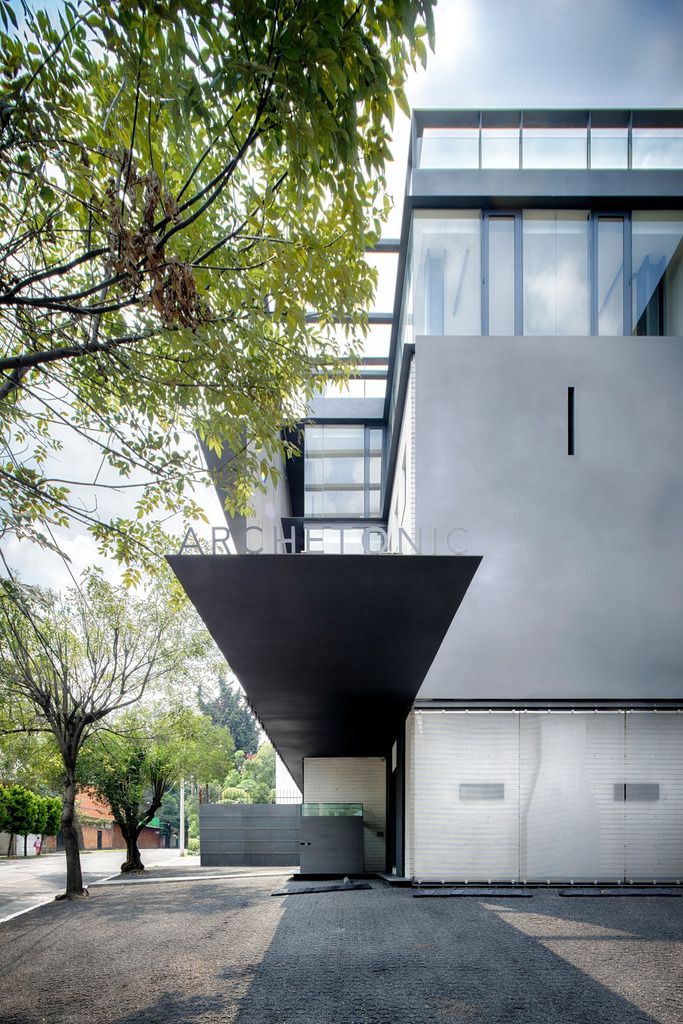 As architects, ARCHETONIC are inspired to make the most of the pre-existing infrastructure of Mexico city. This led them to design U125, which recycles a house located in Lomas de Chapultepec and was originally built in the '50s. They saw the potential of this building and had the vision to convert it into their firm's headquarters. They preserved the house, giving it added value and a cutting-edge look.

The house that originally contained 300 sq. m in 3 levels was intervened, transformed and extended. Today it hosts an office program with 604 sq. m in 4 levels plus a terrace. To consider the heritage value of the house was the guideline for their design process. They respected the proportions, openings, access and volume preserving its original essence, achieving harmony between the pre-existing space and their intervention. Three metal-plate roofs refer to the proportions of the house below, and a metal mesh, tensioned between these roofs, give the building its discrete, clean and elegant look, while at night time, the lighting reveals its more complex characteristic—its history. Inside, at every level, a selection of different pieces of art is concerned with the fact that ARCHTONIC want their workspace to exhibit the talent of several artists, especifically Mexican. In the first level and upper levels they created terraces for the coexistence and recreation of their team. These areas are used daily to eat, live and work in open spaces overlooking the city.

City: Lomas de Chapultepec, CDMX
Country: Mexico.
Client: ARCHETONIC
Completion year: 2016
Architects: Jacobo Micha Mizrahi + Jaime Micha Balas
Design Team: Ernesto Rossell Zanotelli, Jessica Steiner Durán, Désirée Gómez Córdova.
Main Contractor: ARCHETONIC

Credits
Consultants: Montes de Oca Ingenieros Consultores
Suppliers: Interbrax, Kone, Vitro canceles, Vitra-Ofita.
Photo Credits: Rafael Gamo y Yoshihiro Koitani.
ARCHETONIC practice

In their work they consistently apply the same fundamental, governing principle: to improve their projects' surroundings with every single project. They give utmost importance to everyone who lives in, passes through or observes their work. Their job is to offer high-quality spaces for everyone, and to insert projects optimally within its respective contexts.

ARCHETONIC´s design work focuses on reality in every sense: seeking to ensure environmental self-sustainability and offering the best, most profitable and affordable products. They realize that they must increasingly achieve more with less, while always maintaining inspired creativity and high-quality spaces. They develop projects on any scale and types, with a focus on every single part of the process: from a small piece of furniture to an entire building, from the first line drawn to the final construction.

ARCHETONIC is a creative architecture practice that is guided by instinct and trusts in the skills of its entire team, which combines experience with young talent. They have assembled a portfolio of over 80 built residential, commercial, tourist and office projects since their beginnings in 1991, and the firm's national and international prizes attest the quality of our work.
Courtesy v2com (c) Archetonic