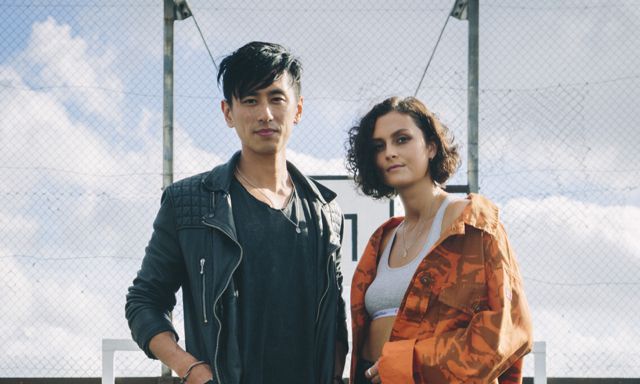 With one hand dipped into the pop world, the other taking from serene electronica, Amberlake create quietly euphoric, vast and expansive alt-pop. Think: the pulsating ambience of Teen Daze and Tycho, the delicate instrumentation of Oh Wonder, and the mountainous choruses of day-time radio, all combined into one hauntingly beautiful sound, lightly touched with subtle variation.
They treat songwriting as a therapy session, using the process to work through different emotions before laying them down on wax. The first of these tracks is debut single "I'll Be Yours", a tender and elegant pop song that slowly builds to an exhilarating crescendo, expertly detailing the rush and warmth of being devoted to someone else. Bringing you into its comforting embrace, it conjures up feelings of coming home to someone you've always loved and being embalmed in their soft glow.
The band say: "'I'll Be Yours' came to our minds as something we felt towards the people closest to us and how we would stand by their side through thick and thin".
The pair met a year or two ago. Nick had been a touring musician for the last decade or so, performing with Grammy winning acts such as Ed Sheeran, The Ting Tings and The Backstreet Boys, as well as writing for Jess Glynne, Nina Nesbitt and AlunaGeorge. Meanwhile, Emma had also been making a name for herself as a solo act, busking on the streets of her hometown in Devon, and had recently moved to London to pursue a proper career in music.
Amberlake believe songwriting is what comes first. Most of their songs form around the piano (which Nick has been playing since he was six years old) and guitar (which Emma picked up in her teens). They both agree that even if you strip the production away, the song has to make sense – that there's an authenticity to it even beneath the production.
Oh, and if you were wondering, Amberlake is a reference to the Chinese takeaway Nick's grandad opened when he moved to the UK. But it's also a fitting representation of their blissful and enchanting music, which has a peaceful and azure tonality. They're hard at work writing songs for their upcoming releases and live shows. All that's left now is for Amberlake to bring you into their world. Press play and enjoy just below, stay tuned !!
More great tracks to discover HERE.