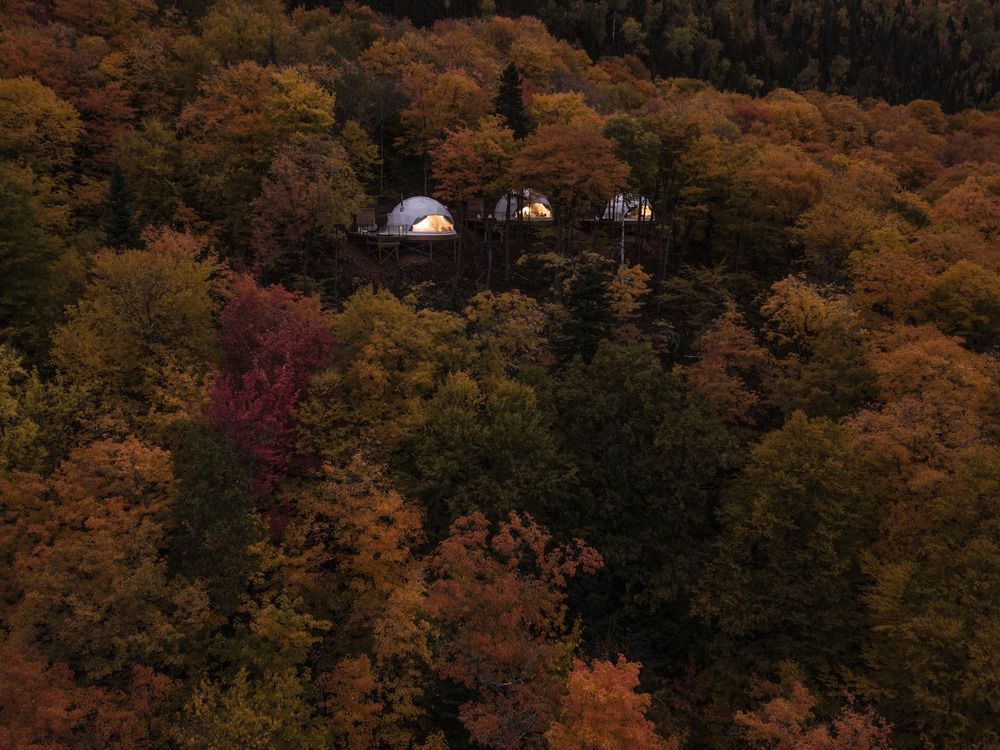 "Dômes Charlevoix" is a new concept of four seasons eco-luxurious accommodations located in Petite-Rivière-Saint-François, next to the Massif de Charlevoix, near Quebec City.
The three domes, the first phase of a larger tourist project, blend in harmoniously with the landscape. Each one is located on the mountain side and perfectly integrated to the landscape. They can be accessed via a path through the trees from a common parking lot at the entrance. The dome is set on a wooden patio and houses a spa overlooking the natural setting. The south-facing windowed area offers a breathtaking view of the St. Lawrence River and maximizes exposure to natural light. The radiant concrete floor adds a touch of comfort and helps maintain a more uniform temperature inside the domes.The grey canvas and the fireplace create a warm and cozy atmosphere. A black streamlined service area is set in the centre: In the volume are concealed a kitchen, the main bed and a bathroom with Italian shower. A boat staircase leads to a second bed above the service area.
A true invitation to experience luxury in the mountains, in harmony with nature and its elements.
Project Data
Architects: Bourgeois / Lechasseur architects > bourgeoislechasseur.com
General Contractor: Urbanext
Location: Petite-Rivière-St-François
Year of construction: 2018
Developer: www.domescharlevoix.com
Photography: Maxime Valsan (c)
FR/Dômes Charlevoix est un nouveau concept d'hébergement écoluxueux quatre saisons situé à Petite-Rivière-Saint-François, près du Massif de Charlevoix, à proximité de la ville de Québec. Les trois dômes, qui constituent la première phase de ce projet touristique, se déposent délicatement dans le paysage. Ils s'implantent en fonction de la topographie du site à flanc de montagne. On y accède par un sentier à travers les arbres depuis un stationnement commun à l'entrée. Une terrasse de bois reçoit le dôme et loge un spa en surplomb dans la nature. La partie fenestrée au sud offre une vue imprenable sur le fleuve Saint-Laurent et maximise les gains solaires. Le plancher de béton radiant ajoute une touche de confort et permet de conserver une température plus uniforme à l'intérieur des habitations. La toile grise et le foyer de bois créent une ambiance chaleureuse et feutrée. Un volume de services noir minimaliste se positionne au centre : les faces s'ouvrent pour loger une cuisine, le lit principal et une salle de bain avec douche à l'italienne. Un escalier de bateau mène à une couchette secondaire au-dessus de ce volume. Une véritable invitation à vivre le luxe à la montagne, en harmonie avec la nature et ses éléments.
(Architecture de paysage, Architecture commerciale, Architecture résidentielle, Art de vivre, Design d'intérieur commercial, Design d'intérieur résidentiel, Hôtel, Santé + Bien-être, Spa + Piscine, Voyage)
About Bourgeois/Lechasseur architects

Driven by the will to create innovative projects, to the benefit of the user, Bourgeois/Lechasseur architects' approach is leading toward a contemporary architecture, realistic and sensitive, inspired by key features of the landscape. The subtle modelling and shaping of a volume lead the creative process of every building. Exploration and discovery are paramount notions in the appreciation of the project, no matter its size. It is important not to reveal everything at first glance and that architecture offers several levels of reading. The element of surprise is essential to the comprehension of a project.


Through their design process, they aim to optimize the viewpoints, to let the natural light penetrate and to protect the living spaces from the prevailing winds. Genuine and sober materials are used to create a range of atmospheres reaching a maximum impact through simplicity. The agency is defined by several dualities such as tradition/modernity, boldness/sobriety, demarcation/integration, urban influences/maritime influences… Those principles are found in their personal experiences and in their intervention area between Quebec City and the Magdalen Islands.