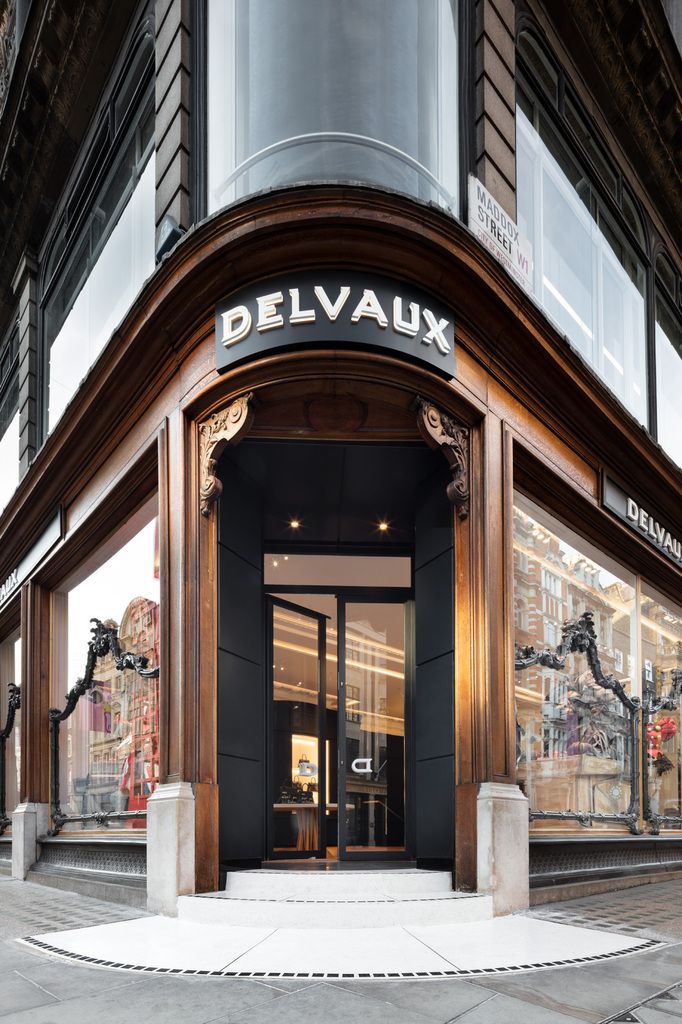 The Maison has inaugurated a new space in New Bond Street, where its Belgian soul meets British tradition. Designed by the Italian Studio Vudafieri - Saverino Partners.
The new London boutique of Delvaux, the oldest luxury leather goods house in the world, gives on to prestigious New Bond Street: a space that combines the belgitude of the Maison with the charm of the British ambience. The interior is signed by the Milan based studio Vudafieri-Saverino Partners, which since 2012 has been responsible for the world concept of Delvaux stores. A concept that narrates the tradition, the savoir-faire and, at the same time, the modern creativity of the brand in a language that is never the same, but able to dialogue with the identity of each city.
The new London boutique is located at 47 New Bond Street. Designed in 1906 by William Flockhart, the building is a veritable architectural jewel, famous for its superb facade and period boiserie
The development of the pre-existing artistic heritage played a key role in the interior design project. In fact the new interior aims to highlight the characteristics of the space and its unique position on the street, dominated by majestic windows with bronze mouldings.
The boiserie becomes the boutique's iconic element: black with a matt finish, it acts as a framework for the refinement of Delvaux creations. A shade used exclusively in this London space, pointing up its elegance and personality. The curved shapes of the boiserie create a refined contrast to the square geometry of the shelves and consoles and their pale gold finish. Black boiserie also marks the majestic staircase leading to the basement floor, where the dichotomy between the white of Delvaux's iconic wardrobe and the dark tones of the room immediately stands out.
The only notes of colour inside the boutique are the MSE - Marta Sala Edition - sofas
designed by Vudafieri-Saverino Partners, which bring to mind the red of the British flag, and the carpets by Yan Kath. The store also features a number of iconic items of 20th century design, which interact with the classicism of the Corinthian and Roman columns created by Flockhart. Among these are the "Silver consoles" and "AK" tables by Martin Szekely and the chandelier by Gino Sarfatti.
Location & credits
Delvaux New Bond Street
47-48 New Bond St, Mayfair, London
project by Tiziano Vudafieri and Claudio Saverino - Vudafieri-Saverino Partners

Photo (c) Santi Caleca