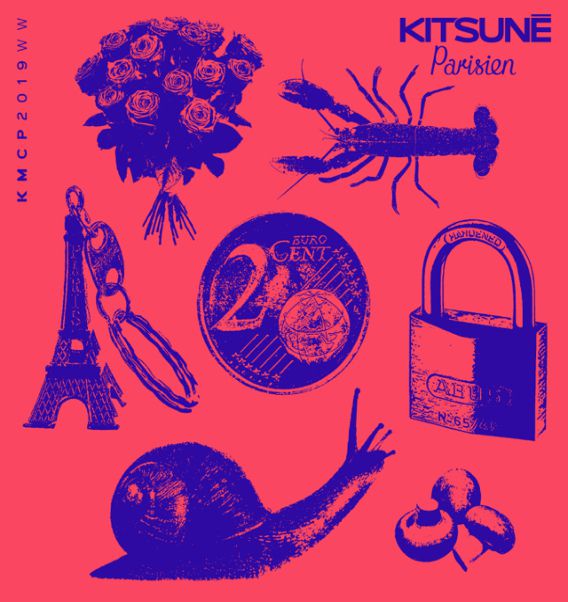 Tracklist:
The Pirouettes - Ça ira ça ira
Monterosso - Aimants
Napkey - Great Escape
Sirocco - L'impossible Vérité
Edgär - Heaven Tricks
Kemmler - Dernier Verre (feat. Joachim Pastor)
Clem Beatz - Way Out (feat. MIAE)
NAMPA - The Feeling
Quelu - Carré
Equateur - Pelican
Amarula Café Club - Low
GABRIEL - I Wanna Ahah!
Relayer - You Got It (Feat JayEllDee)
Cheb Miaou - Paris (Feat. Kye Jones)
Iconic label Kitsuné Musique, is pleased to announce details of a brand new 14-track compilation 'Kitsuné Parisien' with artwork created by in-demand agency VLF Studios and a snazzy new logo design.
Co-founder Gildas says: "We are extremely excited to launch 2019 with a brand new image direction and logo for Kitsuné Musique. The new logo encapsulates a more modern and progressive outlook and features the word 'Musique' in French as a homage to our French roots. We also aim to adhere to our ethos of discovering new music through a unique experience, whether it's with a single release mixing the worlds of music and design or attending a Kitsuné Afterwork party in Seoul to discover the local scene. We are bringing together a stronger entertainment entity, uniting both the label and the events under one roof".
Following on from the acclaimed 'Kitsuné Parisien 4', which presented the then undiscovered gems by Møme, Napkey, Zimmer, Grace Hopkins, Lewis Ofman and more, 'Kitsuné Parisien' returns with its 5th installment, showcasing once again music by France's future stars. Diverse, vibrant and refreshing, the 14-tracks blend genres across electronic, pop, bass, urban and disco. Featuring a clutch of familiar and new talent including synth-pop duo MonteRosso, 80s influenced producers Napkey, hotly tipped young producer Clem Beatz, just to name a few.
In addition, the compilation also presents exclusive new tracks by classically trained nu-disco producer NAMPA, jazz-soul rapper Quelu, leftfield lyricist Kemmler and soul-pop duo Edgär with already 1.75 million Spotify plays to their name. The label's French Touch heritage comes to the fore with offerings from EQUATEUR, GABRIEL, Cheb Miaou and Relayer. Adding more diversity to the mix are afro-beat outfit Amarula Café Club, electronic poet Sirocco and real life dream-pop couple, The Pirouettes. Pairing up with the much-vaunted Maison Kitsuné Parisien clothing collection, fronted by US actress Rashida Jones, the 'Kitsuné Parisien' compilation will be taking over its iconic typography.
More great tracks to discover here. Stay tuned !