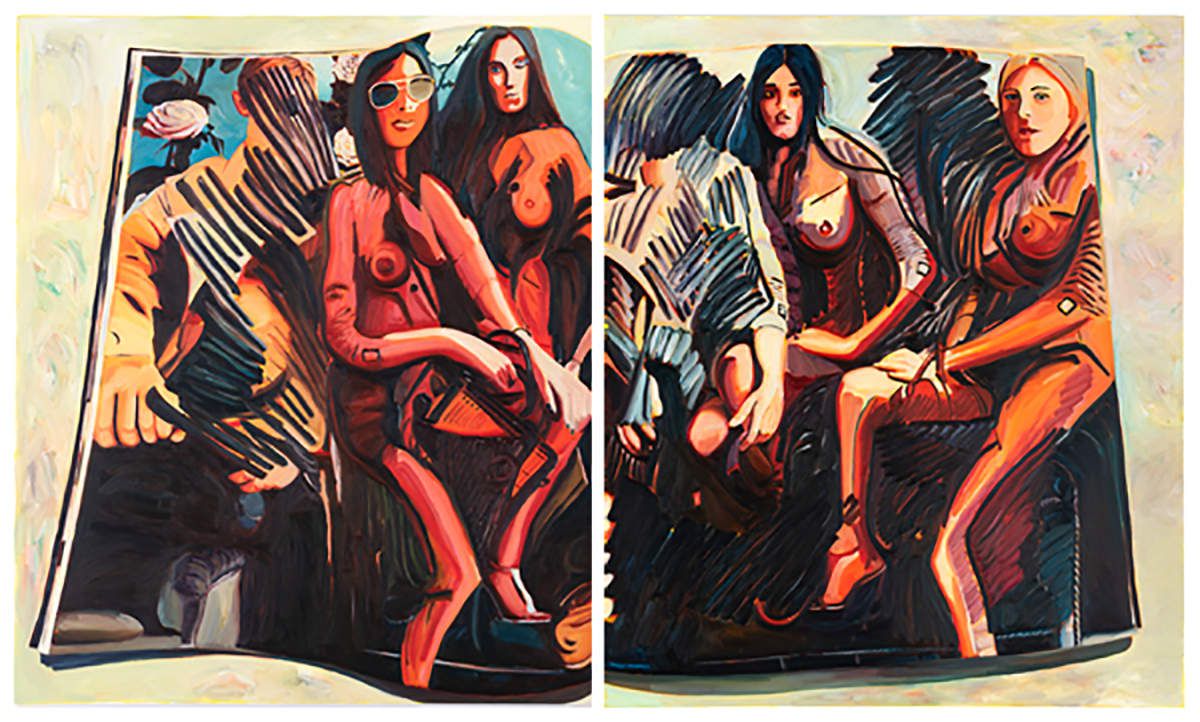 Standpoint is proud to present an exhibition of new paintings by Rebecca Scott, examining feminine narratives of dispute and subversion.
Rebecca Scott (born 1960, Cumbria UK) came to prominence in the late 1980s and is known for her issue-based figurative paintings. Through her work, Scott re-examines public images of women, taking source images from glossy magazines and overwriting or 'defacing' these, with aim to expose the hypocrisies of our so-called sexual freedom.
"The act is similar to the graffiti scribbles you see in public toilets and slightly vulgar" says Scott. In her disfiguration of these beautiful 'divine' models, she is protesting against and somewhat destroying the industry itself, her anger palpable, muted but visible through tension and the manner of application of her brush onto the canvas surface.
"What I wanted to do was touch upon the hypocrisy of the fashion image and its confusions of desire, which the magazines espouse, and which could be seen as a reaction to the nude of the life room - or even its antithesis." On entering the gallery, the viewer is instantly absorbed and immersed in the emotion, expressed through rich sensuous colours and fluid, generous but bold brush strokes prominent in Scott's paintings.
For this new exhibition at Standpoint, Scott has worked with curator Vanya Balogh, selecting large-scale works that are almost the full height of the main gallery spaces. In doing so, the artist aims to embody some wider experiences of women in contemporary society - the idea of 'not fitting' with the contexts that are on offer.
The show takes its title from a direct quote by a couple young boys who came into the gallery in Kendal, where Scott's paintings were on show last June. After running in through the open door, the boys had a glimpse at the paintings and exclaimed 'Oi! Dirty pictures!' then ran out again. Intrigued by this reaction to the work Scott called to the boys as they ran away – by way of explanation –"No, these are nude paintings".
Dirty Pictures treads on the ambivalent ground of fear, instinct, eroticism and seduction whilst exposing a hidden world of secret lies and veiled truths.
Born in 1960 in Cumbria, Rebecca Scott gained an MA in Fine Art from Goldsmiths University, London, and a BA in Fine Art (Painting) from Chelsea School of Art, London. Scott has work in private and public collections nationally and internationally and has exhibited in London, Cumbria, Spain, France, Germany, Sweden and Norway. She currently lives and works between London and Cumbria.
S t a n d p o i n t
45 Coronet Street
London N1 6HD
+44 (0)207 739 4921
Main image: Rebecca Scott, After Caravaggio, 2018, Diptych, oil on canvas £8000