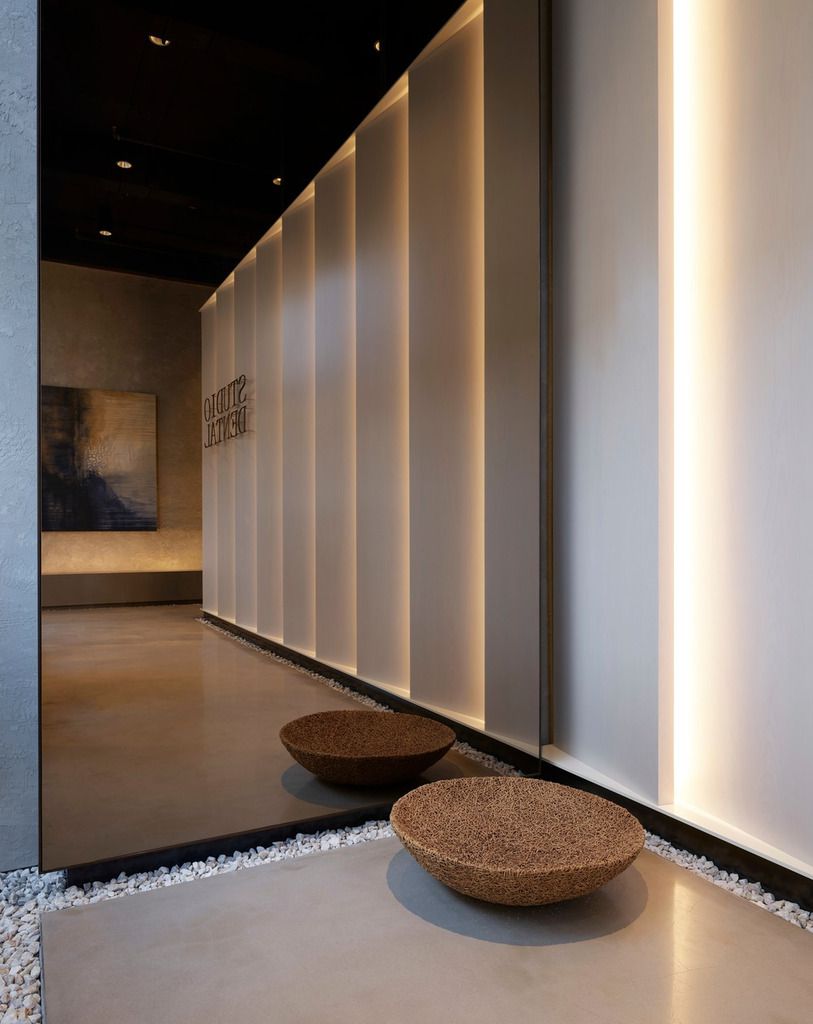 The transformative reimaging of a San Francisco dental office is one of only nine projects around the world to capture the coveted award.
Montalba Architects, an award-winning firm widely-recognized for its embrace of humanistic architecture that is at once personal, culturally reflective and visionary in its response to both context and light, is pleased to announce it has received a 2019 AIA Institute Honor Award for Interior Architecture for Studio Dental II, a transformative re-imagining of a San Francisco dental office in the city's Tenderloin district.
Bestowed on just nine projects around the world, the highly coveted award is one of the industry's highest honors. In winning the award, Montalba Architects founded by David Montalba, FAIA, in 2004 joins an elite group of architectural practices, such as Bjarke Ingels Group, Bohlin Cywinski Jackson, Skidmore, Owings & Merrill, Gensler, among others. This year's jury, Candid Rogers, FAIA, of Candid Rogers Architect, Cornell Anderson, AIA, of Fieldwork Design & Architecture, Caitlin Daley, AIA, of Buell Kratzer Powell, William T. Eberhard, AIA, of Eberhard Architects, and Peter MacKeith, Assoc. AIA, of the University of Arkansas, Fay Jones School of Architecture, believe the project is a "testament to how our profession continues to elevate our commitment to excellence in design."
An ideal fusion of historic preservation, architecture and light

Located within a historic building in San Francisco's rapidly developing Tenderloin neighborhood, Studio Dental is defined by a modern aesthetic that honors the historic elements of the building it calls home. A conceptual 'lantern' within the building's core communicates a volumetric sense of scale, luminescence, and transparency to serve as the framework for a series of functional moves inside. The lantern wall panels illuminate the interior and are visually expanded through strategically positioned mirrors that glow through the glazed facade to illuminate the sidewalk beyond. By engaging the pedestrian street front, the design aims to project openness, warmth, and serenity. Furthermore by reflecting the client's progressive practice, the design plays an active role in the revitalization of one of the city's more troubled neighborhoods.
Function meets transparency

In lieu of a waiting room, a park-like bench runs the length of the interior while wood trellises separate the bench and procedure rooms without closing off the space. Distinct moments of material contrast are experienced in the rough shell walls, smoked mirror panels, and a stand of maple monoliths that offer storage and indicate the entry to each patient room. Important to the AIA jury was the fact that the team carefully preserved many of the building's original elements, including the storefront, where original glazing proportions were restored, and the original marble bulkheads. The interior mezzanine was repurposed for additional storage and staff offices.
For Montalba Architects, the hope is that this project will play an active role in the ongoing revitalization of the Tenderloin—a neighborhood once home to a thriving music scene before it fell on tough times. David Montalba, FAIA, says "the project celebrates and energizes the Tenderloin's existing urban fabric and symbolizes our commitment to creating architecture that projects openness and warmth, while responding authentically to its environment."
For Studio Dental co-founder Dr. Sara Creighton, who has commissioned Montalba Architects to design each of the practice's locations, including its 230-square-foot, yacht-inspired mobile office, which brings dental services directly to its patients and provides free care throughout San Francisco, "Montalba Architects' deep understanding of our desire to create an innovative practice was realized in every aspect of the design."
PROJECT TEAM

Architect: Montalba Architects, Inc.
Builder: Build Group
Structural: Julia Y. Chen Design Inc
Lighting Designer: Sean O'Connor Lighting
M/E/P: ACIES Engineering
ABOUT MONTALBA ARCHITECTS > montalbaarchitects.com

Montalba Architects is an award-winning practice recognized for its embrace of humanistic architecture that is at once personal, culturally reflective and visionary. With offices in Los Angeles, California and Lausanne, Switzerland, the firm produces select architecture and design projects that emphasize conceptual experiences by creating environments that are both socially responsive and aesthetically progressive. With an approach deeply committed to embracing everything from client need to site considerations, the firm designs with an eye toward unique cultural and economic environments to create solutions that are always contextual and conceptual in their intent, effect and appeal.
Photography: Kevin Scott (c)