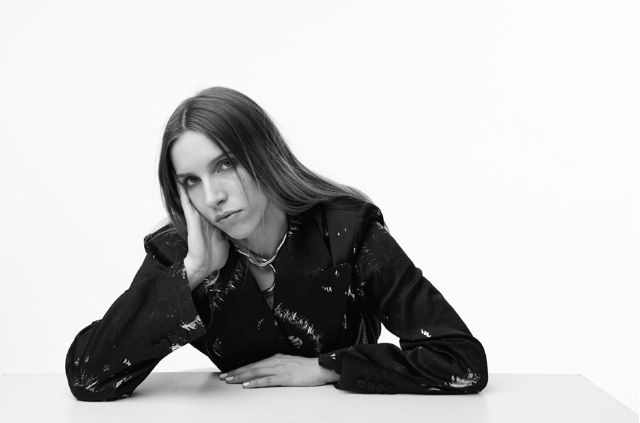 Berlin based Avant-pop artist ANNAVR is poised to release her new EP with the arrival of has 'II: Vibration', the second chapter of a three part trilogy series, which began back in the summer with 'I: Hallucination'. The self-produced EP trilogy outlines the evolution of ANNAVR as a person and as an artist. Where 'I: Hallucination' delves into her past and can be seen as a surreal collection of love songs collection and her tribute to the piano. 'II': Vibration' instead looks towards the future, with a more ecstatic, uptempo approach. It has Anna wondering about romance, collective unity and freedom in a digital world.
She says: "The EP's opening track, 'Blue Satin' sets the tone with the lyrics, 'I seek a revelation, try to understand, no access to the core'. It is a contemporary new age fantasy unfolds around vintage harps, mellotron and a strong four on the floor pulse. On 'So Hi The Sky' I leave earth and dreams. 'Truant of heaven come draw us under', borrowing a quote from modernist lyricist Mina, taking the track to a climax on the heavily deconstructed choirs of Carl Orff's classic 'Carmina Burana'".
She goes on to add: "'Vitamins' is my space odyssey: "Camouflaged fragility, my entire form shaped differently, I am warming my hands at the thought of infinity". It is a collaboration with Ville Haimala (one part of Amnesia Scanner (PAN)) that builds around drums made of hydraulic robot sounds, low pitched voices and jazzy harmony. Concluding the EP with 'Total_Vibration', I take a turn back to human desire, "I wanna dance your body, I wanna feel your total vibration", starting on mellotron, a broken beat and helicopter sounds. The song later takes a turn where live drums and grand piano, recorded at the infamous Berlin Funkhaus, home to e.g. Nils Frahm, creating the last ecstatic and warm passage intended to make you land safely after experiencing this vast EP's journey".
Classically trained in piano since the age of 9, ANNAVR discovered jazz at 14 and never looked back. Her talent took her to Amsterdam and New York, where she furthered her jazz training. Her musical spectrum has widened since then, and has skilfully come to combine the jazz and classical piano of her formative years, with trap beats, radio pop top lines and sounds from the electronic underground. Forever travelling, forever searching, ANNAVR wants to push past barriers both aesthetic and personal with her music. She adds: "Hybrid like our times, I don't succumb to one genre and feel best when such criteria completely melts away in my music."

EP 'II: Vibration': track listing:
1. Blue Satin
2. So Hi The Sky
3. Vitamins
4. Total_Vibration
5. Blue Satin (Malindi Rework)