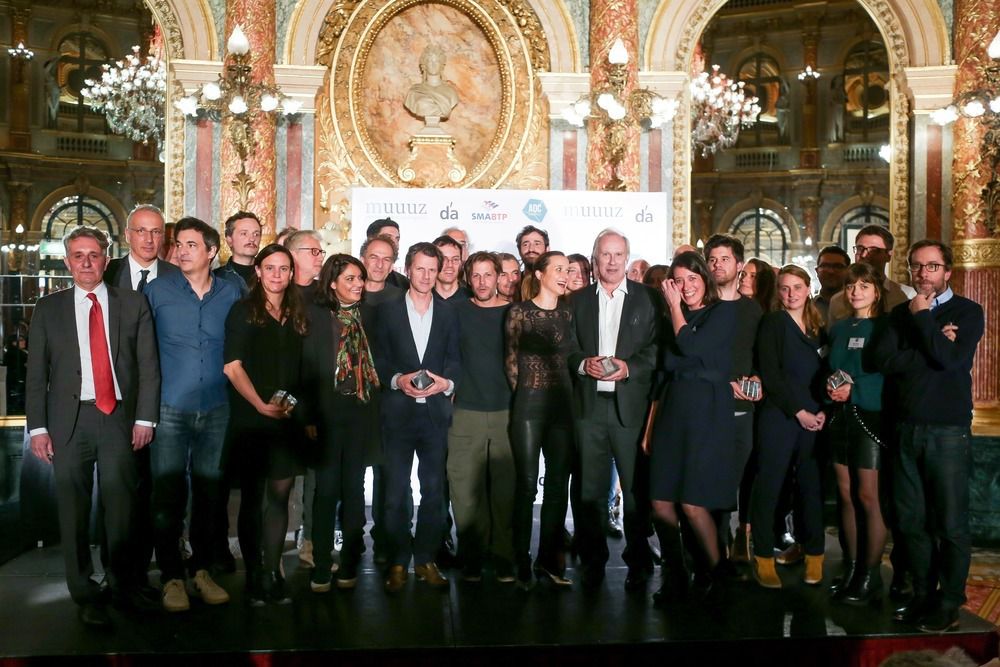 Paris, France
The winners of the 6th edition of the ADC Awards were unveiled Thursday, February 21 at a gala dinner gathering major players in construction at the Grand Hotel Intercontinental Opera in Paris. Eighteen architectural projects were rewarded. The eighteen winning projects divided into twelve sections according to a programmatic approach (culture, housing, teaching, tertiary, health ....) Are those who obtained the highest grade in their category. Half of this score is awarded by the public and the other half by a jury composed of personalities from the world of architecture. All the winners below !
(FR) Les lauréats de la 6ème édition des ADC Awards ont été dévoilés jeudi 21 février à l'occasion d'un dîner de gala réunissant des acteurs majeurs de la construction au Grand Hôtel Intercontinental Opéra à Paris. Dix-huit projets d'architecture ont été récompensés. Les dix-huit projets lauréats répartis en douze sections selon une approche programmatique (culture, logement, enseignement, tertiaire, santé….) sont ceux qui ont obtenu la meilleure note dans leur catégorie. La moitié de cette note étant attribuée par le public et l'autre par un jury composé de personnalités du monde de l'architecture.
Tertiaire / Terciary
- Tertiaire / Bâtiment neuf : Hôtel d'entreprise Binet, Paris (18e) - AZC
- Tertiaire / Réhabilitation : Phobos, Paris (2e) - Studio Vincent Eschalier


Culture /
- Culture / musée-espace d'exposition : Musée de Lodève (34) - Projectiles
- Culture / Espace –centre culturel : Scène nationale Espace des Arts, Chalon-sur-Saône (71) - Atelier d'Architecture Pierre Hebbelinck et HBAAT


Loisirs / Hobbies
- Loisirs : Parc aquatique Aqualagon, Marne-la-Vallée (77) -Jacques Ferrier Architecture


Equipement / Equipment
- Équipement : Gare TGV, Montpellier (34) - Marc Mimram
Education /
- Enseignement / Maternelle-primaire-secondaire : Lycée Joliot-Curie, Nanterre (92) - Vincent Cornu - Enseignement / supérieur : Institut des Sciences Moléculaires d'Orsay (ISMO), Orsay (91) - KAAN Architecten et FRES architectes


Logement / Housing
- Logement / Individuel : Maison Séchoir, Romestaing (47) - Christophe Hutin Architecture
- Logement / Centre Urbain : 16 logements rue Pajol, Paris (18e) - Armand Nouvet Architecture et Urbanisme
- Logement /péri-urbain : 34 logements sociaux, Ville-d'Avray (92) - Jean & Aline Harari Architectes
- Logement / Résidence Universitaire : Institut de la mer, Villefranche-sur-Mer (06) - CAB Architectes


Immeuble de grande hauteur IGH / High rise building
- IGH : Allure, Paris (17e) - FRESH Architectures et ITAR Architectures


Programme mixte / Mixed Program
- Programme mixte : Diamant Noir, Lille (59) - Atelier Pranlas Descours


Sport
- Sport : Centre sportif des Droits de l'Homme, Strasbourg (67) - Dominique Coulon & Associés


Santé / Helth
- Santé : Extension d'un EHPAD, Vaucouleurs (55) - Christophe Aubertin et Eléonore Nicolas - Collectif Studiolada


Architecture & Paysage / Landscape
- Architecture & paysage : Maison de la réserve- Territoires paysagistes et Charles- Henri Tachon architecture et paysage


Prix du public / Public Prize
Site Fiduciaire de la banque de France, La Courneuve (93) - Jean-Paul Viguier et Associés
-
The ADC Awards is the leading French community of professionals in architecture, layout and decoration. The ADC Awards organizes two major annual events: the ADC Awards, an event which is dedicated to the most remarkable achievements of architecture and interior design, and the Muuuz International Awards which rewards the most outstanding and innovative products.
L'ADC Awards est la première communauté française de professionnels de l'architecture, de l'agencement et de la décoration. L'ADC Awards organise deux grands rendez-vous annuels : les ADC Awards qui consacrent les réalisations d'architecture et d'architecture intérieure les plus remarquables, et les Muuuz International Awards qui récompensent les produits et les matériaux les plus innovants.
Muuuz is the magazine reference in the last trends of architecture and design. Read in more than 20 countries, it represents a source of inspiration for professionals and enthusiasts. The editorial line revolves around a weekly newsletter and four thematic editions: architecture, interiors, outdoor and arts. Muuuz is also a partner of many events.
Muuuz est le webmagazine de référence des dernières tendances de l'architecture et du design. Lu dans plus de 20 pays, il représente est une source d'inspiration pour les professionnels et les passionnés. La ligne éditoriale s'articule autour d'une newsletter hebdomadaire et de 4 éditions thématiques : Architecture, Intérieurs, Outdoor et Arts. Muuuz est aussi partenaire de nombreux événements.
d'a magazine is the publication that professionals respect for its editorial independance and critical perspective on the world of architecture. d'a is one of the most famous magazine for architecture in France and most read by architects and interior designers… The magazine is also distributed in architecture schools and famous professional tradeshows. Once a year d'a organizes Materials&Light, an event which regroups more than 500 architects for privileged meetings with manufacturers.
d'a est le magazine que les professionnels aiment et respectent pour son indépendance éditoriale et son point de vue critique sur le monde de l'architecture. d'a est un des magazines les plus lus en France par les professionnels de l'architecture et de l'architecture intérieure. Chaque année, d'a organise Materials&Light, l'événement qui met en lumière les solutions innovantes pour les architectes.
photo (c) Franck Dejardin