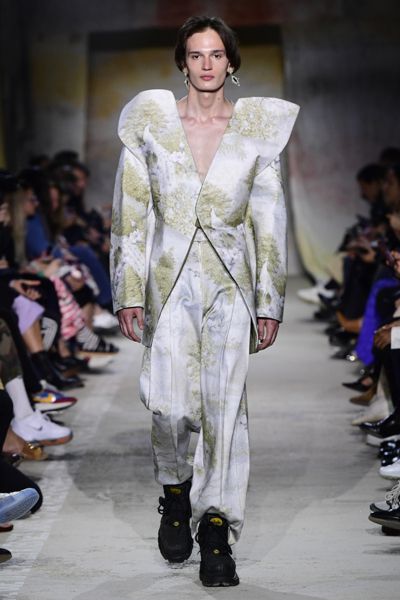 The Grand Prix du jury Première Vision of HYERES FASHION FESTIVAL 2019 went to Christoph Rumpf from Austria, with his menswear collection. The Grand Prix of the jury Première Vision consists of:

- a grant of 20,000 euros offered by Première Vision and a high level of visibility at Première Vision Paris show in September
- a fashion show at Mercedes-Benz Fashion Week S/S20 in Berlin courtesy of Mercedes-Benz
- the opportunity to undertake a project with CHANEL's Métiers d'art, up to 20,000 euros
- a collaboration with Petit Bateau, with a prize of 10,000 euros plus royalties, for the creation of one or more styles that will be manufactured and sold by the brand.
- the opportunity to discover Swarovski's headquarters and archives in Austria.
The 34th edition of the International Festival of Fashion, Photography and Fashion accessories, Hyères, taked place between Thursday 25 and Monday 29 April 2019 at the villa Noailles. The exhibitions will be open to the public until 26 May 2019.
Since 1986, the festival has promoted and supported young international fashion design, since 1997 a competition has also existed for emerging photographer and this year, for the third time, a competition also recognised young fashion accessory designers. The festival is acknowledged as the oldest fashion competition aimed at young professionals. Several prizes are awarded to the competing designers thanks to grants provided by the festival's partners who commit, together with the festival, to provide long term support. Practical assistance is provided right from the selection stage as well as during a period of two
years in various different domains: financing, production, workmanship, materials, production, legal, media, exhibitions, workshops and residencies. This year again new partners are providing their support for this young generation by joining together with the arts centre.
Discover all the winners just below.
________________________________________________________
GRAND PRIX DU JURY PREMIÈRE VISION

Christoph RUMPF
Autriche/Austria
Collection Homme/Menswear
_
CHLOÉ PRIZE / PRIX CHLOÉ

Tina SCHWIZGEBEL-WANG
Suisse/Switzerland
_
PRIX DES MÉTIERS D'ART

Róisín PIERCE
Irelande/Irland
Collection Femme/Womenswear
_
HONOURABLE MENTION FROM THE FASHION JURY
MENTION SPÉCIALE DU JURY MODE

Tetsuya DOI, Yota ANAZAWA & Manami TODA
Japon/Japan
Collection Femme/Womenswear
_
PUBLIC PRIZE - CITY OF HYÈRES
PRIX DU PUBLIC - VILLE D'HYÈRES

Róisín PIERCE
Irlande/Irland
Collection Femme/Womenswear
________________________________________________________
THE SWAROVSKI FASHION ACCESSORIES GRAND PRIX OF THE JURY
GRAND PRIX DU JURY ACCESSOIRES DE MODE SWAROVSKI

Noelia MORALES
Anna Bonny, The Mastectomy Patch
Espagne/Spain
_
HONOURABLE MENTION FROM THE FASHION ACCESSORIES JURY
MENTION SPÉCIALE DU JURY ACCESSOIRES DE MODE

Dorian CAYOL & Quentin BARRALON
O-PAN6
France/France
_

PUBLIC PRIZE - CITY OF HYÈRES
PRIX DU PUBLIC - VILLE D'HYÈRES

Sara LEVY
Creatures of Habit
Belgique/Belgique
________________________________________________________
https://villanoailles-hyeres.com