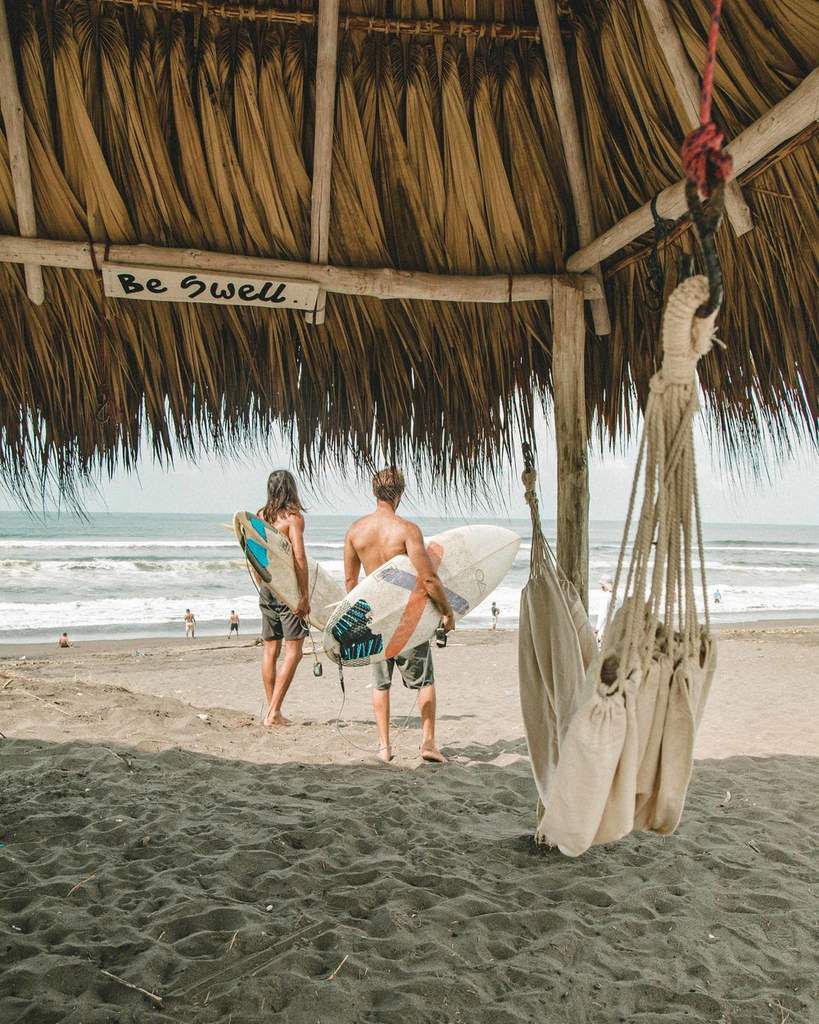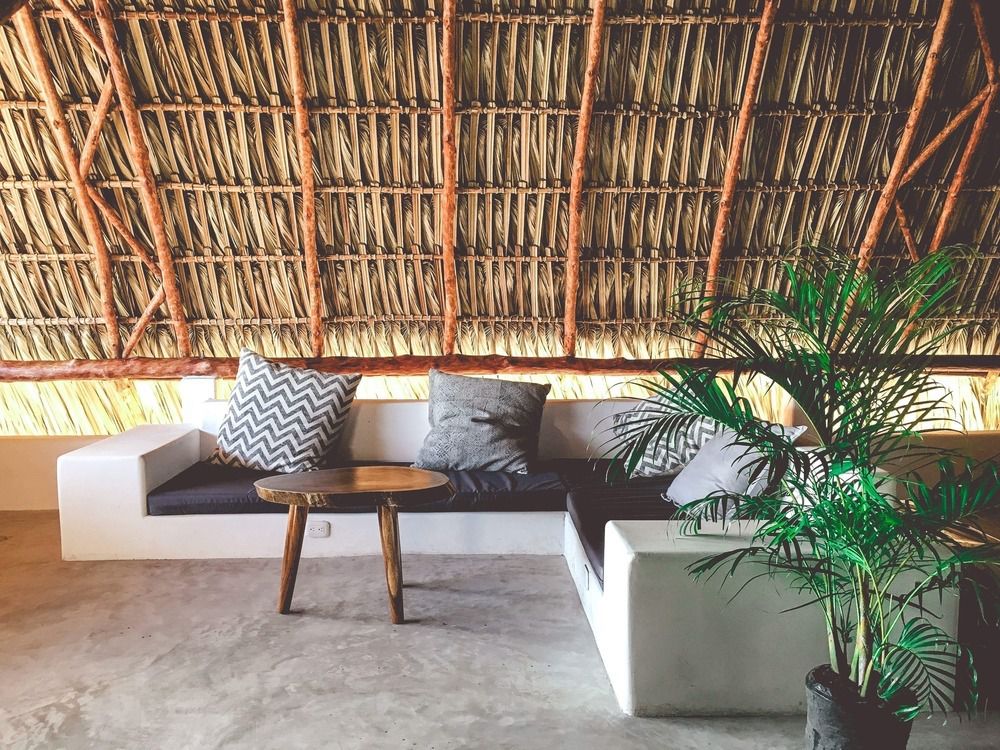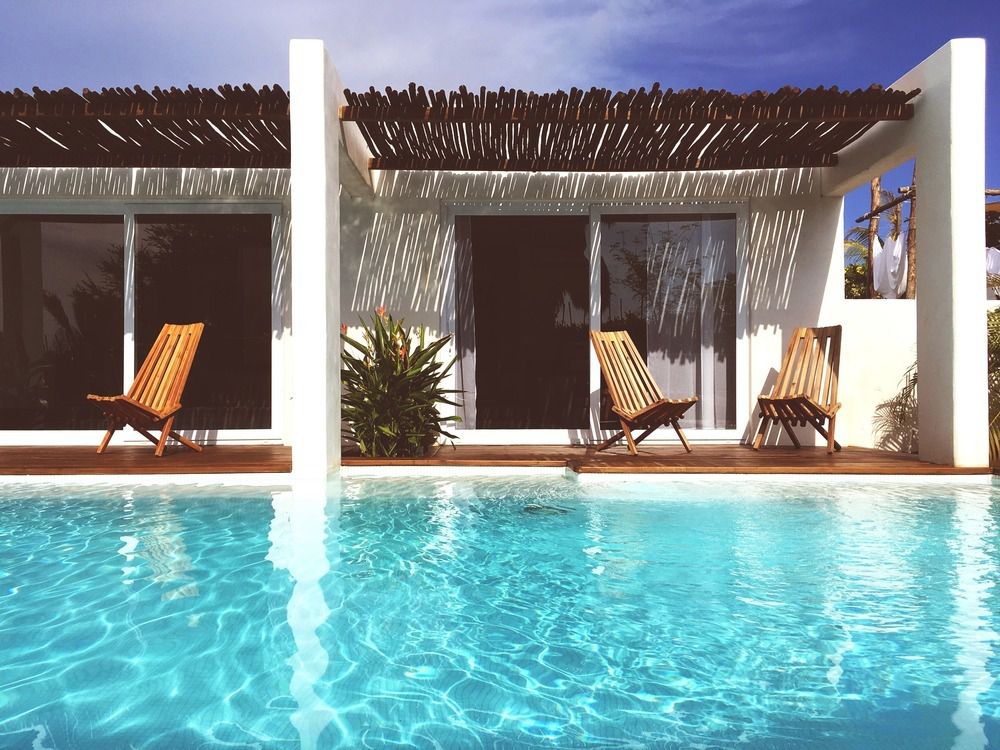 Swell is a Surf and Lifestyle boutique hotel that has recently opened its doors in El Paredón, a coastal village that has quickly become the destination of choice for surfing in Guatemala. Nestled upon the untouched volcanic black sand beach of the Guatemalan Pacific Coast, this 8-suite hotel is an inspired "barefoot boho-chic" retreat, elegantly designed for laid back travelers with discriminating taste.

Architect Elan Ibghy and designer Marie Bonnefond sensitively blend contemporary with rustic, contrasting polished concrete geometry with local craftsmanship, natural wood textures and colorful Guatemalan textiles. The thoughtful spaces and natural materials, animated by hammocks and cozy nooks within a luxurious tropical garden, promote pure relaxation.

The locally inspired thatched palm roof dominating the entrance of the hotel immediately leads guests to enter a stylish indoor-outdoor lounge area of handcrafted wooden sofas and swings around an inviting bar made of locally sourced Guanacaste wood. The contemporary aesthetic of the furniture, designed by the owners themselves and handcrafted by a talented local carpenter, exudes a modern elegance to this main space. The natural textures and exotic touches make for a relaxed, convivial environment where guests can sit back and socialize.
Set between a tropical garden and a cozy open lounge area, the guests are greeted by the commanding sight of an impressive 20 meters turquoise-blue swimming pool surrounded by a natural pine wood deck. The defining signature architectural feature of the hotel is a series of polished white structural elements that animate one side of the pool's length, poetically articulating the 4 Swim-Up Suites. Each of the four rooms features its own private pinewood terrace and swim-up platform for exclusive morning wake-up swims and afternoon lounging. These suites offer a contemporary environment of clean polished concrete interiors and built-in shelves, contrasted by the warmth of local wood furniture and handpicked Guatemalan textiles. All of the rooms enjoy the luxury of their own open-air private bathroom offering a tropical shower under the stars surrounded by lush palms. The thatched roof bungalows, that characterize the other suites, vary in style and amenities to adapt to the traveler's taste. These locally inspired structures offer the unique experience of sleeping under a traditional roof of woven palm leaves, cradled by the sound of the ocean waves, and are designed with intimate terrace lounges set within landscaped tropical gardens.
The lush gardens that permeate Swell inspire an oasis-like beach atmosphere, offering a vibrant array of colorful bougainvillaeas, hibiscus, lemon trees, and a wide variety of palms. Several murals by artists Pepallama & Thomas Meissner present a geometric and tropical animation to the hotel's communal spaces and emphasize the exotic laid-back vibe of the overall environment. After sunset, the hotel grounds are transformed by its warm strategically designed lighting. The woven straw light fixtures, handmade by local artisans, and suspended throughout the lounge and restaurant spaces reflect shimmering shadows in the swimming pool and white polished structures. The Swell Nosh Bar nourishes the feel-good vibe with nightly drinks, fresh juices and a variety of tasty food options.

Widely considered to be located in one of the best surf spots in all of Guatemala, guests can rent a board and arrange for private surf lessons directly through the hotel. Afterwards, guests may wish to stretch out and practice yoga in Swell's Creative Studio situated under an expansive thatched palm roof structure overlooking the pool, or take a hammock and unwind at Swell's beachside traditional "palapa". The early risers might be rewarded by the view of up to 5 inland volcanoes, including the active Fuego volcano.

For a Guatemalan getaway that balances boho-chic with elegance and design, Swell is the ideal combination of a cozy home-like feeling with the personalized guest attention and service of a boutique hotel. Swell sits nestled in a small fishing village, with the reputation of offering access to the best surf in the country, drawing surfers from all over the world. The beach itself is massive, and at times, devoid of anyone else in sight. The charming physical landscapes that surround El Paredón's offers guests' rare opportunities to take part in tours of impressive mangrove forests, salt farms, and turtle feeding grounds. To that end, Swell works with a local development NGO, la Choza Chula, to offer access to such tours, all led by local guides. The combination of endless authentic black sand beach, untouched tropical landscapes, and traditional palm-thatched architecture, makes El Paredón possibly one of Guatemala's most interesting, and least well known, travel destinations. Swell is the result of a collaborative work between Elan Ibghy, McGill Graduate of architecture from Montreal, and Marie Bonnefond, interior designer, originally from the south of France. This couple's vision brought them to the beach of Guatemala three years ago, and through 1,5 years of construction, have opened the doors of their dream project in September 2018. >>> www.swellguatemala.com
Swell est un boutique-hôtel de charme qui a récemment ouvert ses portes à El Paredón, un village devenu une destination prisée des adeptes du surf au Guatemala. Situé sur l'immense plage de sable volcanique noir de la côte Pacifique, cet hôtel chaleureux et raffiné de 8 chambres, alliant Surf et Lifestyle, offre une retraite à la fois chic et décontractée. Son design des plus élégants qui allie modernité et chaleur des matériaux locaux, invite les voyageurs au dépaysement dans une ambiance « boho » et « relax ».

L'architecte Elan Ibghy et la designer Marie Bonnefond ont su allier avec goût et harmonie, contemporain et rustique : les surfaces et lignes pures de béton lisse gris et blanc sont mises en contraste avec des touches d'artisanat local, des textures de bois naturel et la chaleur des tissus guatémaltèques. L'attention du détail, conjuguant de beaux espaces et leurs matériaux naturels, parsemés de hamacs et de recoins cosy, au sein d'un jardin tropical luxuriant, invitent à la pure relaxation.

Inspiré des cabanes de pêcheurs traditionnelles de la côte, le grand toit en feuilles de palmiers tressées, surplombant l'espace principal et l'entrée de l'hôtel, convie les voyageurs à pénétrer dans un espace aéré, ponctué de lounges ouverts sur l'extérieur, offrant une déco authentique, moderne et chaleureuse. Cet espace chic aménagé de sofas en bois massif et de balançoires se dessine autour d'un bar convivial, fait de bois local de Guanacaste. L'esthétique résolument contemporaine du mobilier, dessiné par les maîtres des lieux eux-mêmes et fabriqués à la main par un charpentier talentueux du village, donne à cet espace une élégance moderne, où les textures naturelles, les tons neutres et les touches exotiques créent une atmosphère apaisante, cosy et conviviale, invitant à se détendre et à socialiser. Blotti entre un jardin tropical et un espace ouvert de lounges confortables, l'hôtel accueille les clients avec une vue imprenable sur une piscine bleue turquoise de 20 mètres de long, bordée de bois de pin naturel. Son architecture et sa structure moderne font de la piscine le cœur battant de l'hôtel et contribuent à donner son identité et sa signature à Swell.

Un ensemble d'éléments structurels et de lignes pures en béton poli blanc, anime tout un côté de la piscine, articulant poétiquement les 4 Swim-Up Suites de façon géométrique et design. Dotées de terrasses privées en bois de pin, au bord de l'eau, ces chambres offrent l'exclusivité d'une baignade matinale « au pied du lit ». L'architecture des chambres a été conçue dans un style minimaliste et contemporain, fait de meubles de béton lisse gris, rendus chaleureux par les accents de bois local et d'osier, leur conférant ce style « boho chic » si caractéristique de Swell. Dans toutes les chambres, des salles de bain « tropicales » à ciel ouvert offrent une douche exotique et dépaysante sous les étoiles, abritée de palmiers verts. Le jardin tropical qui enlace Swell respire une atmosphère d'oasis à la plage où s'entrelacent bougainvilliers aux couleurs vives, hibiscus, citronniers et une large variété de palmiers. Les murales tropicales et géométriques réalisées par les artistes Pepallama et Thomas Meissner, réparties astucieusement à travers l'hôtel, rendent Swell des plus photogéniques et accentuent le style tropical de l'endroit. Après le coucher du soleil, les lieux se transforment grâce aux jeux de lumières chaudes des lampes suspendues. Des abats-jours d'osier, faits à la main par des artisans locaux, reflètent des ombres scintillantes à la surface de l'eau de la piscine et des structures de béton blanc adjacentes. Le Swell Nosh Bar ajoute à l'atmosphère conviviale et chaleureuse avec ses cocktails, jus de fruits fraichement pressés et mets à savourer. Les amateurs de surf peuvent louer une planche ou encore profiter de cours privés organisés par l'hôtel. Les clients peuvent aussi participer à des cours de yoga dans le Studio Créatif de Swell, situé à l'abri d'un grand toit de feuilles de palmiers tressées avec vue plongeante sur la piscine. Des hamacs installés sous une structure d'ombre appelée « Swell palapa » permettent de se prélasser avec un livre au bord de la mer, d'encourager les surfers ou plus simplement d'admirer le coucher du soleil.

Les lève-tôt peuvent se voir récompenser par la vue de cinq volcans dont le Fuego qui est toujours en activité. Swell offre aux voyageurs sensibles de l'environnement qui les entoure, une échappée alliant rusticité et élégance, décontraction et modernité, dans un style chic et chaleureux. Swell est la combinaison idéale entre une atmosphère où l'on se sent chez soi, tout en recevant l'attention et le service personnalisé d'un boutique hôtel. Au-delà de l'attrait du surf et de son immense plage déserte, le village d'El Paredón, avec ses rues de sable et toits de feuilles de palmiers, est un lieu atypique pour déconnecter, les pieds dans le sable. Les paysages charmants qui entourent El Paredón offrent l'opportunité de participer à des tours dans la mangrove adjacente, les marais salants, et les repères de tortues. Swell travaille avec une ONG de développement local, la Choza Chula, pour offrir accès à ces tours, tous menés par des guides locaux. Swell est le résultat de la vision commune et de l'étroite collaboration entre Elan Ibghy, architecte montréalais gradué de l'école d'architecture de McGill et Marie Bonnefond, designer d'intérieur, originaire du Sud de la France. La complémentarité et la complicité de ce jeune couple les ont conduits sur la côte du Guatemala où après un an et demi de construction et d'aménagements, ils viennent d'ouvrir les portes, en septembre 2018, de ce bel hôtel qui leur ressemble et dont ils avaient longtemps rêvé.
photography: Anna Gabba (c)