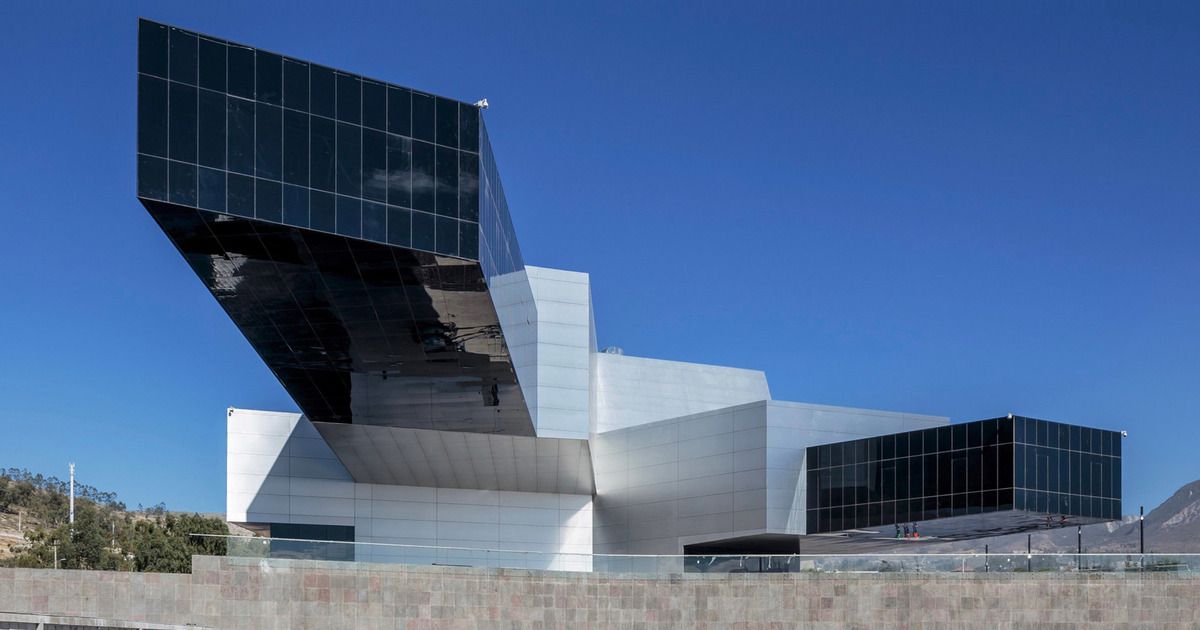 The site of the proposal has been conceived as a continuous environment without barriers and open to the public transmitting dimensional dynamic space (proposal) to the mentioned Complex. Likewise, the proposal is setback generating a large entrance plaza to the project not only, but as a gesture of respect and contribution to the immediate environment.
The project for UNASUR has not only analyzed the proposal within its limits; It is a socially inclusive proposal that generates open spaces for the community; a library, theater and recreational areas. Formally the new building appears as a volume like an ascending U delimited by three virtual axes: The North-South axis, the projection of the proposal with La Mitad del Mundo City and the combination of these axes in 47 degrees, resulting from the sum or displacement of maximum declination north (23.5 degrees) and maximum declination south (23.5 degrees) of the sun in relation to the equator. The rest of the architectural approach is enrolled in the East-West axis.
The volume is a massive piece by contrast rises and is projected as metaphore of freedom. The building has been designed as a sculptural connotation to surprise and show a different image depending on where it is appreciated. Transparency sensations, vertigo and weight simultaneously coexist. The structure results in a positive, proactive and strong iconic image system. This scheme is also largest armor flown in South America with 56 mts. without support, modeling technology, drive and creativity. The interior design proposes fluid areas, thanks to its configuration and use of materials. A palette of neutral colors protocol is used. The use of glass adds to the idea of conveying a message of social and political transparency; peaceful, open and productive spaces without major distractions. The large body of water like base accentuates and dramatizes the reflection effect of a monolithic body suspended in the air.
ES / La Implantación de la propuesta ha sido concebida como un entorno continuo, sin barreras y abierta al espacio público transmitiendo dinamismo tridimensional (propuesta) al mencionado Complejo. De igual manera la propuesta se retranquea generando una gran plaza de acceso no solo para el proyecto, sino como un gesto de respeto y aporte al entorno inmediato.
El proyecto de UNASUR no solo ha analizado su propuesta dentro de sus límites; se trata de una propuesta socialmente incluyente que genera espacios abiertos para la comunidad, biblioteca de consulta, teatro y espacios lúdicos.
Formalmente el nuevo edificio se presenta como un volumen en forma de U ascendente delimitado por tres ejes virtuales: El eje Norte-Sur, la proyección de la propuesta con la Ciudad Mitad del Mundo y la unión de estos ejes en 47 grados, resultado de la sumatoria o desplazamiento de declinación máxima norte (23.5 grados) y declinación máxima sur (23.5 grados) del Sol en relación al ecuador. El resto del planteamiento arquitectónico se perfila inscrito en el eje Este-Oeste.

La volumetría es una pieza masiva que por contraste se eleva y se proyecta como metáfora de libertad. El edificio ha sido diseñado con una connotación escultórica para sorprender y presentar una imagen distinta dependiendo desde donde se lo mire. Sensaciones de transparencia, peso y vértigo coexisten al mismo tiempo.

La estructura resulta en un sistema positivo, propositivo y de fuerte imagen icónica. Este esquema es además la armadura de mayor volado en Sur América con 56 mts. sin apoyos, como modelo de tecnología, empuje y creatividad.
El diseño de interiores propone áreas fluidas, gracias a su configuración y uso de materiales. Se usa una paleta de colores neutro y protocolar. El uso de vidrio aporta con la idea de transmitir un mensaje de transparencia social y política; espacios tranquilos, abiertos y productivos sin grandes distracciones. El gran espejo de agua a manera de base acentúa y dramatiza el efecto de reflexión de un cuerpo monolítico suspendido en el aire.