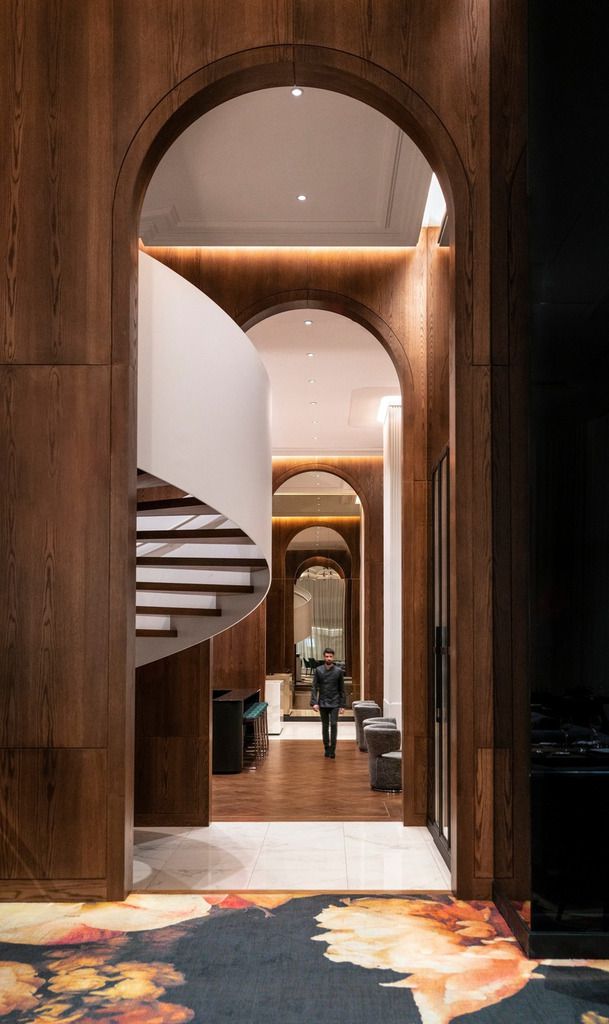 Provencher_Roy designed the new quarters of Jérôme Ferrer's Europea restaurant, located in the effervescent heart of the city's downtown. The restaurant moved to its new address in late 2018, and has distinguished itself internationally by winning at the prestigious Restaurant & Bar Design Awards in the "Americas Restaurant" category, and at the 2019 Best of Canada Awards Competition, organized by Canadian Interiors magazine. It has stood out thanks to its discreet sophistication, the richness of its materials, its remarkable cuisine and its well-thought-out circulations.
Harbouring a keen desire to refresh his menu and surprise his customers, Relais & Châteaux star chef Jérôme Ferrer began to envision his next restaurant as a vast stage. "From these reflections would emerge the premise for the new Europea location: a grandiose space where customers could participate in an intense and moving experience revolving around food, enhanced by a stylish, timeless decor," explains Paul-William Francoeur, designer and partner at Provencher_Roy.
Europea's open layout facilitates orientation and getting one's bearings. It is subdivided into different zones that lead into one another, conducive to discovery, with monumental wooden arches that delineate these spaces and their different functions. Upon entering the establishment's hotel-like lobby, the client is at once immersed in the chef's bold and grandiose universe.
The patron then moves to the bistro: lively café by day and intimate lounge by evening, it is a sober, muted space that evokes the gentleman's clubs of the bygone century. Next, the anteroom: a transitional space between the bistro and the dining room, it houses a cellar that is deployed over two floors and a circular staircase leading to the mezzanine.
The patron finally penetrates into the impressive 160-seat dining room. A two-level mezzanine covers half the floor area, with five-metre-tall ceilings, walls entirely in wood, ornate mouldings, enormous glass windows, and, as showpiece, a singular carpet inspired by a work by American photographer Ashley Woodson Bailey. The heart of the dining room consists of an open kitchen, amply fenestrated, that enlivens the space and adds to the patron's immersive experience.
Everything had to be delivered on a very tight deadline. Indeed, between the initial meeting with the client and the delivery date, a mere 10 months elapsed. The space chosen, at 1065 de la Montagne, formerly housed a small, two-storey restaurant and a large vacant space. It was necessary to merge these two sections into a cohesive whole. The designers took the time to carefully study the circulation patterns of waitstaff and patrons in order to fully leverage the space and optimize its functionality.
Provencher_Roy, working with various artists, created several one-of-a-kind custom pieces for the project, including furniture, lighting fixtures, wooden elements and the oversize floral carpet. In addition, the choice of noble materials, such as walnut and marble, dovetailed with the project's initial aim: to emphasize refinement and elegance through the definition of the interior volumes, and to anchor the restaurant into its context. With their timelessness, Europea's interiors provide a perfect setting for the pleasures of fine dining as performance!
"A space that masterfully plays on its scale and offers the 'quietness' required to fully appreciate the immaculate use of materials and detailing from walls to floors to stairwell, balustrade to screens. It is both ultra classic and modern, its cool, uncluttered corners and passages giving off an air of cool, confident grandeur," said Leigh Robertson, Editor-in-Chief of ELLE Decoration Magazine (South Africa) and judge at the Restaurant & Bar Design Awards, when rewarding Provencher_Roy on October 3rd.
Technical sheet

Location: 1065 de la Montagne, Montréal, Québec, Canada
Client: Jérôme Ferrer / Groupe Europea
Year: 2018
Carpet: Shaw Hospitality
Lighting: Lumenpulse and Absolux Lighting
Natural marble, natural stone and ceramic: Ciot
Wooden floors: Mirage
Photography: Laurent Guérin
About Provencher_Roy

Provencher_Roy, a dominant player in urban architecture in Canada, is a multidisciplinary firm offering services in architecture, urban design, urban planning and landscape architecture, interior design, industrial design and sustainable development. The firm brings together 320 professionals working in all areas of the built environment in Canada and abroad. To date, Provencher_Roy has earned more than 180 awards and distinctions.
FR /
Provencher_Roy signe le design des nouveaux espaces du restaurant Europea par Jérôme Ferrer, situé au centre-ville de Montréal, en plein cœur de l'effervescence de la métropole. Déménagé à la fin de l'année 2018, le restaurant s'est distingué à l'international en remportant le prix Americas Restaurant aux prestigieux Restaurants & Bars Awards à Londres, et en étant lauréat aux Best of Canada Awards 2019, organisés par le magazine Canadian Interiors. Il s'est démarqué notamment grâce à son raffinement discret, à la richesse de ses matériaux, à sa cuisine spectaculaire et à ses circulations efficaces.
C'est en voulant renouveler sa table et surprendre ses clients que Jérôme Ferrer, Grand Chef Relais & Châteaux, s'est mis à rêver son prochain restaurant comme une immense scène. « De là allaient découler les prémisses des nouveaux locaux d'Europea : un espace grandiose permettant aux clients de vivre une expérience gastronomique touchante et intense, sublimée par un décor chic et intemporel », explique Paul-William Francoeur, designer et associé chez Provencher_Roy.
L'organisation ouverte du restaurant Europea facilite l'orientation et la reconnaissance des lieux. Sa subdivision en différentes zones crée ainsi un parcours en enfilade défini par des arches en bois monumentales qui délimitent les espaces aux fonctionnalités différentes, et invite à la découverte des lieux. Dès son entrée dans le hall aux allures d'hôtel, le client est immédiatement imprégné par l'univers audacieux et grandiose du chef.
Il circule ensuite vers le bistro, salon de thé de jour et lounge intime de soir, c'est un espace sobre et feutré qui emprunte au langage des Gentleman's Clubs du siècle passé. Puis, suit l'antichambre qui sert de lieu de transition entre le bistro et la salle à manger, et abrite un cellier se déployant sur deux étages ainsi qu'un escalier circulaire permettant d'accéder à la mezzanine.
Le client pénètre finalement dans l'impressionnante salle à manger capable d'accueillir jusqu'à 160 invités. Déployée sur deux étages, la mezzanine recouvre la moitié du plancher, elle se caractérise par ses plafonds hauts de cinq mètres, ses murs entièrement recouverts de bois, ses moulures travaillées, ses gigantesques fenêtres vitrées, et surtout, son tapis unique conçu à partir d'une œuvre de la photographe américaine Ashley Woodson Bailey. Au cœur de la salle à manger se trouve une cuisine laboratoire ouverte et largement vitrée qui participe à l'animation des lieux et contribue à l'expérience immersive du client.
L'ensemble a dû être conçu très rapidement, puisqu'entre la toute première rencontre et la date de livraison, à peine dix mois se sont écoulés. L'espace choisi, au 1065 rue de la Montagne, comprenait à l'origine un petit restaurant de deux étages et un grand local vide. Il a été nécessaire d'unir les deux sections en un ensemble homogène. Les concepteurs ont également pris le temps de bien étudier les circulations des serveurs et des clients afin d'exploiter pleinement l'espace et d'optimiser sa fonctionnalité.
Provencher_Roy, en collaboration avec divers artistes, a créé spécifiquement pour ce projet plusieurs pièces uniques qui apportent au caractère d'exception des lieux, que ce soit au niveau du mobilier, des luminaires, de l'ébénisterie ou du tapis au motif floral surdimensionné. De plus, le choix de matériaux nobles, tels le noyer et le marbre, répond à l'idée génératrice du projet : valoriser le raffinement et la sobriété pour définir les volumes intérieurs et ancrer le restaurant dans son contexte. Grâce à leur intemporalité, les intérieurs d'Europea font place aux plaisirs de la table !
« C'est un espace qui joue magistralement sur son échelle et qui offre la "quiétude" nécessaire pour apprécier pleinement l'utilisation immaculée des matériaux et des détails, des murs aux planchers en passant par les escaliers et les balustrades. Le restaurant est à la fois ultra classique et moderne, et ses recoins et passages épurés lui confèrent une fraîcheur et une assurance bienvenues », a expliqué Leigh Robertson, éditrice en chef du magazine ELLE Décoration Afrique du Sud et membre du jury, en remettant son prix à Provencher_Roy le 3 octobre dernier.