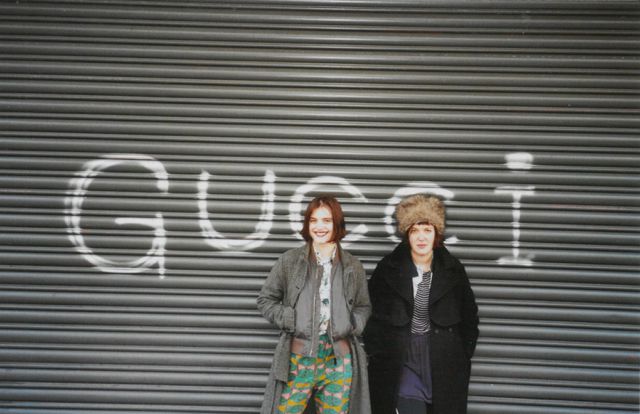 Hamburg based alt-electronic / punk DJ / prodcuers / musicians Shari Vari are poised to announce their debut album with the arrival of 'NOW' through cult label Malka Tuti. Drawing on a myriad of influences from performance art, techno, house, pop and jazz, they have crafted a complex, genre bending long player determined to surprise and entertain.
They say: "Time is ticking and the questions we have regarding time and action is the connecting element of the songs and tracks on the album. The material was recorded between 2016 and 2019, at various locations including Hamburg, small farmhouses on the outskirts of town, Madrid and Las Palmas. While working on NOW, older tracks were re-worked and brought back to life. The influences differ from techno to pop to electronic punk – refering to Suicide, Blondie and Lou Reed. There is mostly a dark connnotation in music and lyrics, but not without a joyfull outlook, fun twists and a breeze of irony. The lyrics oscillate between film-like atmospheres, comic and dark story-telling, involving fictional characters. NOW connects the individual with the social persona, while the tracks take you on a trip from the boiler room next to our studio to a chilly sunday in the park. It's more a stream of consciousness than a conceptual decision we made".
Shari Vari consists of Helena Ratka and Sophia Kennedy. Both are visual artists, producers and musicians - The project came to life follwing a joint art exhibition. In 2017, Shari Vari released their debut EP "Life Should Be A Holiday" on Richard von der Schulenburg's imprint It's.
Sophia Kennedy's name might ring a bell to professional and unprofessional audience: The Baltimore born and Hamburg bred luminary released her self titled debut record to quite some critical acclaim on DJ Koze's Pampa Records also in 2017. It was voted amongst the 20 best electronic records of that year by Pitchfork.
The other half of Shari Vari – Helena Ratka – a brilliant DJ (under the name Ratkat) with that particular Golden Pudel stance, also appears under the moniker qp/Spine Lab as an audiovisual project, releasing a tape on the Cosmic Cunt Clan in 2017. She also works on theatre music scores and film projects.