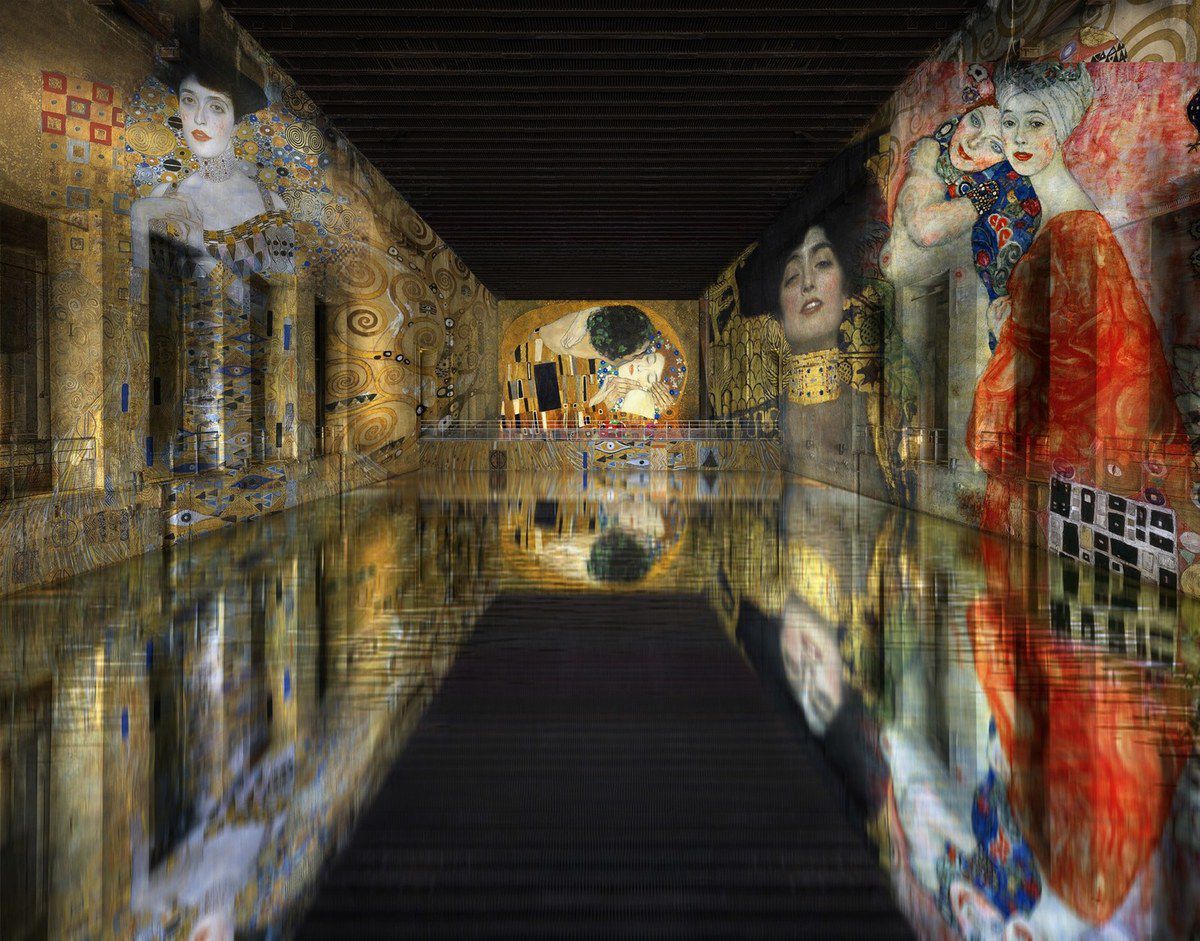 A GRANDIOSE EXHIBITION OF GUSTAV KLIMT
The 'Culturespaces' teams will open the doors of 'Les Bassins des lumières' on April 17, 2020 in Bordeaux (France) with a grandiose exhibition dedicated to the work of Gustav Klimt. The Klimt, "gold and color" exhibition, a sensational immersion in the most beautiful paintings of Klimt, and his successors, reflected in the water of the four fitted basins.
In parallel, a short program will be dedicated to the German artist Paul Klee and the digital work Ocean Data will invest the Cube, a place apart dedicated to young creation. Be there !
LOCATION
Les Bassins de Lumières,
Impasse Brown de Colstoun
33000 Bordeaux
France
https://www.culturespaces.com/fr/sites/bassins-lumieres
http://www.bassins-lumieres.com
Le 17 avril 2020, Culturespaces ouvrira le plus grand centre d'art numérique au monde : les Bassins de Lumières. Premier opérateur privé dans la gestion et la mise en valeur des monuments, musées et centres d'art, Culturespaces poursuit son développement dans la création de centres d'art numérique et d'expositions immersives.

Situés dans l'ancienne Base sous-marine de Bordeaux, les BASSINS DE LUMIÈRES présenteront des expositions numériques immersives monumentales dédiées aux grands artistes de l'Histoire de l'art et à la création contemporaine. Ils représentent 3 fois la surface des Carrières de Lumières des Baux-de-Provence et 5 fois l'Atelier des Lumières de Paris.

Les expositions numériques épouseront l'architecture monumentale de la Base sous-marine et se refléteront dans l'eau des quatre immenses bassins ajoutant ainsi une nouvelle dimension à l'expérience immersive. La visite s'effectuera sur des passerelles au-dessus de l'eau et le long des quais des gigantesques bassins.

Tout au long de l'année, les Bassins de Lumières donneront rendez-vous aux amateurs d'art classique ou contemporain et plusieurs expositions seront présentées simultanément. Autour des 4 immenses bassins sera présenté en continu un cycle d'expositions numériques et immersives alternant une création longue, consacrée aux grands artistes de l'Histoire de l'art, et une création plus moderne, d'une durée plus courte.
ON PICTURE
Simulation : Gustav Klimt : Portrait d'Adele Bloch-Bauer I (détail), 1907, huile, or et argent sur toile, 140 x 140 cm, New York, Neue Galerie ; Œuvre préparatoire à la fresque d'Adolphe Stoclet, L'Arbre de Vie (détail), 1905-1906, technique mixte sur papier, 197,7 x 104,4 cm, Vienne, Österreichisches Museum für angewandte Kunst ; Le Baiser (détail), 1908, huile, or et argent sur toile, 180 x 180 cm, Vienne, Österreichische Galerie Belvedere ; Judith I (ou Judith avec la tête d'Holopherne) (détail), vers 1901, huile et placage d'or sur toile, 84 x 42 cm, Vienne, Österreischiche Galerie Belvedere ; Les Amies II (détail), 1916-1917, huile sur toile, 99 x 99 cm, Salsbourg, Galerie Welz, détruit dans l'incendie du château d'Immendorf en 1945 © Culturespaces - Nuit de Chine ; © akg-images ; © akg-images / Erich Lessing ; © Heritage Images / Fine Art Images / akg-images