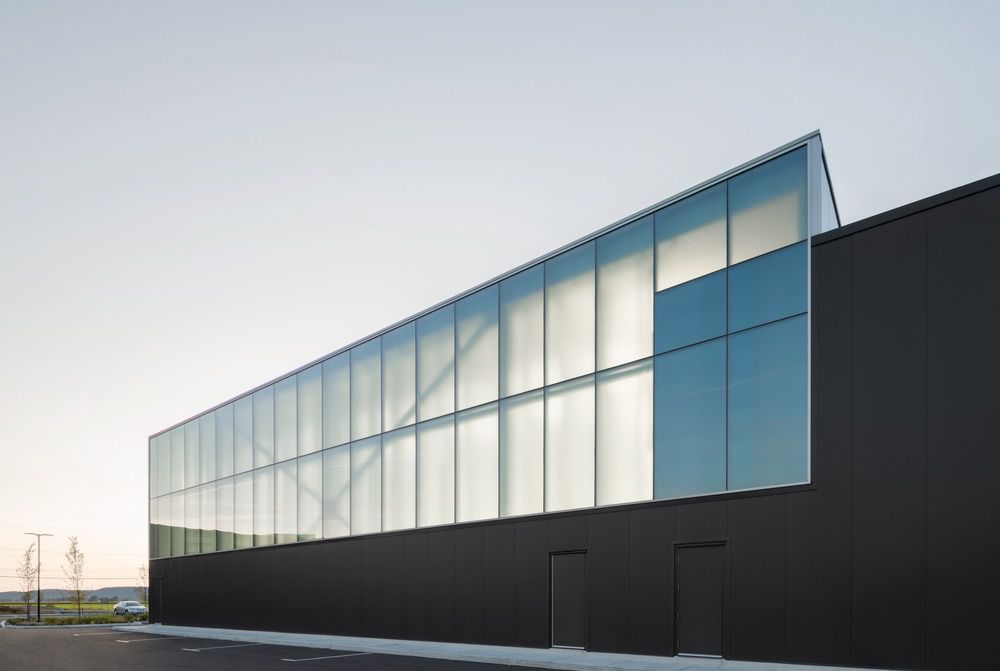 EN
Lemay's architecture, interior design and landscape architecture for a modern aquatics center in a community southwest of Montreal prove that judicious design can elevate projects with modest budgets and integrate with the most pastoral landscapes.

The City of Beloeil, QC, is defined by the dramatic cliffs of Mount Saint-Hilaire, the Richelieu River and picturesque agricultural lands. Inaugurated in May 2019, its new aquatics center offers a strong architectural response to this unique environment.

"Our goal was to maximize delicate and nuanced design strategies to make the most of this community-building opportunity, said Pierre E. Leclerc, Lemay associate and project director."

A luminous, translucent glass box on a black base comprises the building's simple massing of two distinct and complementary geometric forms, its elements echoing the meeting of sky, water and plain. Smooth and shiny by day, at night the light box reveals the depth of its structure and the nature of the activity taking place inside. A system of vertical acoustic louvers acts as a natural and artificial light diffuser, accentuating an impression of vibrations inside and outside the pool envelope.

By the simplicity of its form and construction, the project reflects the duality of everyday and exceptional: the geometric encounter between opacity and transparency, the darkness of the base and the lightness of the water bodies offer rich vibrations of textures and variations on architectural form. These formal variations are revealed from a distance and in the approach to the building through the rhythms of pedestrians, cyclists or motorists.

"The project's design-build approach and cost constraints created a challenging context for excellence, but we ultimately succeeded in creating an integrated presence that echoes a contrasting environment, Andrew King, Partner and Design Principal at Lemay"

The interiors are flooded with light and the southeast façade is directly in line with the axis of Mont Saint-Hilaire, so that users can swim, bathe or slide while maintaining contact with the mountain. The new presence knits together community fabric and bucolic landscape: a seamless black solid emerging from the ground, drawing users of all ages to converge.
FR
L'architecture, le design intérieur et l'architecture de paysage conçus par Lemay pour ériger un centre aquatique moderne dans une municipalité de la Rive-Sud de Montréal prouvent hors de tout doute qu'une conception judicieuse peut permettre à un projet modeste de s'élever au-dessus de la mêlée et de s'intégrer soigneusement à un paysage des plus enchanteurs.

Le panorama de la ville de Belœil est défini par les falaises spectaculaires du mont Saint-Hilaire, la rivière Richelieu et les terres agricoles picturales. Inauguré en mai 2019, le nouveau centre aquatique de la ville offre une réponse architecturale forte à cet environnement unique.

« Notre objectif était de maximiser des stratégies de conception délicates et nuancées pour tirer le meilleur parti de cette occasion de développement communautaire, a déclaré Pierre E. Leclerc, associé et directeur de projet chez Lemay. »

La volumétrie du bâtiment est constituée d'un boîtier de verre translucide et lumineux déposé sur un socle noir et solide. Ces deux formes géométriques distinctes et complémentaires composent une structure contrastée qui fait écho à la rencontre du ciel, de l'eau et de la plaine. Lisse et brillante le jour, la boîte lumineuse se transforme à la tombée de la nuit pour révéler la profondeur de sa structure et la nature des activités qui se déroulent à l'intérieur. Un système de persiennes acoustiques verticales agit comme un diffuseur de lumière naturelle et artificielle, créant une impression de vibrations tant à l'intérieur qu'à l'extérieur du bassin aquatique.

Par la simplicité de sa forme et de sa construction, le projet reflète la dualité du quotidien et de l'exceptionnel : la rencontre géométrique entre l'opacité et la transparence, la profondeur du socle et la légèreté des plans d'eau offrent de riches vibrations de textures et d'intrigantes variations de formes architecturales. Ces variations formelles se révèlent à distance et à proximité du bâtiment selon les différents rythmes de déplacement adaptés par les visiteurs qui y accèdent à pied, à vélo ou en voiture.

« L'approche de conception-construction du projet et les contraintes de coûts ont créé un contexte difficile pour atteindre le niveau d'excellence ciblé, mais nous avons finalement réussi à créer un bâtiment intégré qui fait écho à l'environnement contrasté qui l'entoure, ajoute Andrew King, Associé principal, conception chez Lemay ».

Les intérieurs inondés de lumière et la façade sud-est placée directement dans l'axe du mont Saint-Hilaire font en sorte que les usagers peuvent nager, se baigner ou se laisser glisser dans les bassins tout en gardant le contact avec la montagne. Cette nouvelle présence urbaine a été minutieusement tissée dans la trame communautaire et paysagère de Belœil. Il en résulte un point d'ancrage lisse et solide émergeant du sol et attirant les citoyens de tous âges à converger vers ce lieu unique.

Beloeil Aquatics Centre by Lemay Architects

LOCATION: Beloeil, Canada
ARCHITECTS: Lemay > https://lemay.com/en
PROJECT COMPLETION DATE: April 2019
SURFACE AREA: 55,000 sq. ft. (5,110 m2)
BUDGET: $16.5M CDN
DISCIPLINES: Architecture – Landscape Architecture – Interior Design

PROJECT TEAM
Andrew King: Senior Partner, Design Principal
Pierre E. Leclerc, Architect, Associate, Design Director
Mylène Carreau, Associate, Design Manager, Landscape Architecture
Yanick Casault, Associate, Project Director
Marie El-Nawar, Architect, Design Lead
Manuel Galipeau, Architect, Designer
Jordi Dupuis-Carbonneau, Architect, Designer
James Sunderland, Architect, Designer
Myriam Perreault, Architect, Designer
Éric St-Pierre, Senior Technician
Rémi St-Pierre, Architect, Designer
Chloé Lavoie, Designer
Alice Maria Cavalcante Lima, Designer
Marie-Claude Leblond, Associate, Project Manager

ENGINEERING
Structural Engineer: ELEMA and Lainco
Mechanical Engineer: BPA and Lambert Somec

CONTRACTOR
Decarel

PHOTOGRAPHER
David Boyer Photographer