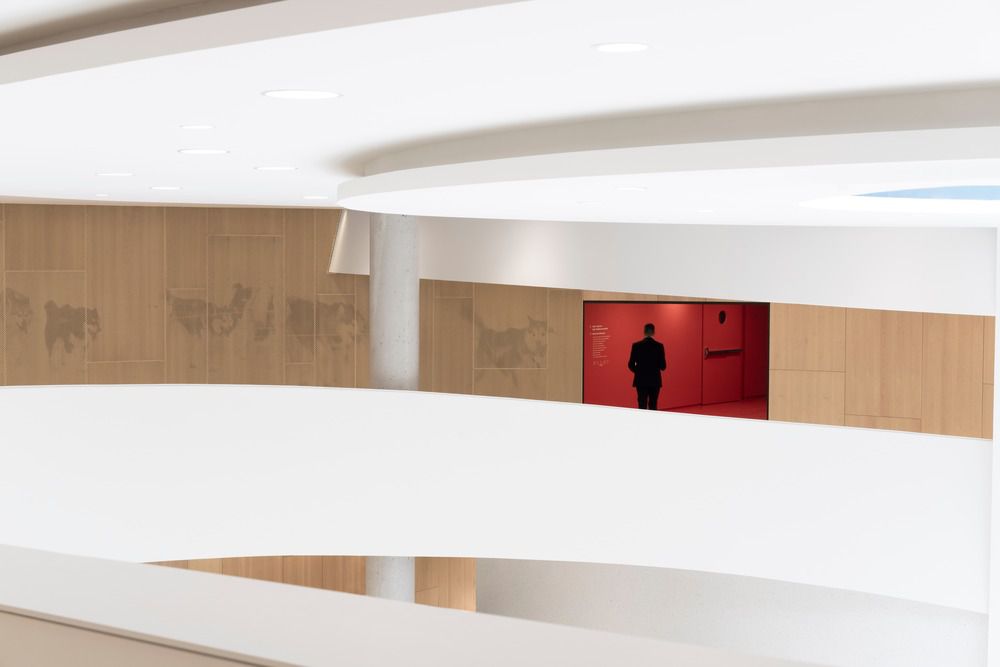 Unchanged for more than a century, the National Assembly of Québec inaugurated, last May, its new reception pavilion, designed by Provencher_Roy, a multidisciplinary firm integrating services in architecture, design, urban planning and landscaping, in consortium with GLCRM Architectes, as part of an initiative to modernize the institution's infrastructures and facilitate access for the general public. The project garnered a first merit award as early on as the conceptual phase in 2016, at the 49th edition of the Canadian Architect Awards of Excellence. Today, the fully realized project embodies a thorough understanding and mastery of heritage issues and shows great care and attention paid to an exceptional site.

The intervention required special reflection because of the quality and the history of the place, which is absolutely exceptional in Québec. The facade of the Parliament Building, one of the rare facades in the world to depict such an iconographic narrative, constitutes the starting point of the architectural process, its classic French character and its symmetry permeating the entire project. The new pavilion is inserted on either side of the central axis that aligns the main entrance and the Parliament gardens, and is completely concealed when viewing the heritage building from the front.

"Provencher_Roy opted for a sensitive and completely integrated intervention, by sliding the entire pavilion beneath the existing landscape and using the monumental staircase to establish a new entrance, to the pavilion itself and to the Parliament's spaces," explains Claude Provencher, architect and senior partner at Provencher_Roy, the firm he co-founded.

All masonry elements of the staircase were dismantled piece by piece, stored and later reassembled identically, and the National Assembly's frontage was excavated down to the building's foundations in order to install the new programs—a bold intervention made possible by the Assembly's solid construction on bedrock, dating back to 1886. The historic facade of the Parliament Building remains visible along its full height and maintains direct links to the gardens. At its base, the deployment of glazing on either side of an oculus signals the intervention, more so at twilight. Visitors are thereby invited to get close to the facade as they enter the reception pavilion.

Built completely underground, the project is free of all formal constraints, thus shifting the emphasis to experiencing the space. The space is centered around a spiral ramp directly accessible from the entrance and forming a scenographic trail with Québec history as its narrative. A fresco depicts the milestones of the latter through a series of images that evoke notions of community and citizenship. These images are veritable sculptures whose presence is revealed by the illumination of panels that have perforations of varying depth. Moreover, the ramp as well as the peripheral panels play a technical role: the first serves as a structural fulcrum, while the panels conceal services and enable air circulation via the deeper perforations.

The ramp is the project's centerpiece and a metaphor for direct, universal access to Québec's contemporary democracy, expressed through a gentle slope that is usable by everyone, regardless of mobility level. Totalling 300 metres in length, the ramp delineates at its centre a circular space referred to as the "agora," a place for gathering and for civic identity. As a shape, the circle evokes notions of neutrality, unity and equality, all values espoused by this space that is open to all and whose insertion at the base of the Parliament Building is a metaphor for these values as the very foundation of democracy. Open on all sides, the agora fosters encounter and dialogue, with several levels of engagement according to one's position within the space. The oculus overhead provides generous illumination while framing the central tower of the National Assembly.

All the programs are organized around the ramp, which provides structure while guiding visitor circulation. Along the ramp, one finds spaces for reception, security and check-in, cloakrooms, multifunctional rooms and commission rooms, allowing the visitor to discover not only the evolution of our democracy, but also its functioning in real time, through windows and informative panels that offer an immersion into parliamentary debates. The interplay of the lighting and colour schemes imparts to the trail a museum-like quality, with tonal shifts from white to blue to red, a reference to the National Assembly's Salon bleu and Salon rouge. A tunnel, housing Jonathan Villeneuve's work Le Spectre des Lumière, leads to an elevator which provides access to the Parliament Building's upper floors.
The insertion underground confers certain qualities to the project, including a development of programming elements that is free of constraints, as well as substantial savings in construction and maintenance costs (chiefly as a result of the diminished need for air conditioning in summertime and heating during the cold season). Further added value is found in the building's energy profile, the absence of facade development translating into significant energy efficiency, as evidenced by the building's LEED Silver certification. Nevertheless, the project's initial concept constitutes its most sustainable gesture, namely the preservation of the existing structures and layouts in their entirety as a means of perpetuating history.

Data Sheet

Location: Québec City, Canada
Year: 2019
Architects: Provencher_Roy + GLCRM Architectes
Project area: 5,100 m²
Contractor: Pomerleau
Electromechanics: CIMA+
Structure: WSP Canada Inc.
Security: CSP Consultants en Sécurité inc
Civil Engineering: WSP Canada inc.
Photography : Olivier Blouin / Stéphane Groleau (c)
FR
Restée intouchée depuis plus de cent ans, l'Assemblée nationale du Québec inaugurait en mai dernier son nouveau pavillon d'accueil, conçu par Provencher_Roy, firme multidisciplinaire intégrant architecture, design, urbanisme et paysage, en consortium avec GLCRM Architectes, dans le cadre d'une opération visant à moderniser ses infrastructures et à faciliter son accès au grand public. Après un premier prix du mérite remporté dès sa phase de conception en 2016, à l'occasion du 49e gala Canadian Architect Awards of Excellence, le projet réalisé aujourd'hui témoigne d'une grande maitrise de la problématique patrimoniale, ainsi que d'une attention accrue à un site d'exception.

L'intervention demandait une réflexion assez particulière au vu de la qualité et de l'histoire de ce lieu absolument unique au Québec. La façade de l'hôtel du Parlement, l'une des rares au monde à être composée d'un narratif iconographique, constitue ainsi l'élément déclencheur du processus architectural, son caractère classique « à la française » et sa symétrie imprégnant l'ensemble du projet. Aussi, le nouveau pavillon s'implante de part et d'autre de l'axe central marquant l'alignement de l'entrée principale et des aménagements du jardin, et s'efface totalement devant l'édifice patrimonial.

« Le parti de Provencher_Roy a été d'opter pour une intervention sensible et totalement intégrée, en glissant le pavillon sous le paysage existant et en profitant de l'escalier monumental pour créer une nouvelle entrée, vers le pavillon lui-même, ainsi que vers les espaces du Parlement », explique Claude Provencher, Architecte associé principal et cofondateur, Provencher_Roy.

La maçonnerie de l'escalier aura été démontée pièce par pièce, entreposée puis reconstruite à l'identique, alors qu'une excavation profonde aura été pratiquée jusqu'aux fondations de l'édifice afin d'y installer les nouveaux programmes – une intervention audacieuse permise par la solidité des constructions datant de 1886 et leur implantation sur un terrain en roc. Les travaux achevés, la façade historique reste visible sur toute sa hauteur, et conserve des liens directs vers les jardins. À ses pieds, le déploiement de vitrages de part et d'autre d'un oculus signale l'intervention, de manière plus soutenue lors de leur illumination à la tombée du jour. Le visiteur est ainsi invité à s'approcher au plus près de l'édifice patrimonial, avant de se glisser sous ses murs.

Entièrement développé sous terre, le projet se libère de toute contrainte formelle pour mettre l'accent sur l'expérience de l'espace. Celle-ci s'articule autour d'une rampe spiralée accessible directement depuis l'entrée, et décrivant un parcours scénographique à travers l'histoire québécoise. Une fresque en reprend les grandes étapes via une série d'images évocatrices des notions de collectivité et de citoyenneté. Ces images, véritables sculptures de lumière, apparaissent en filigrane grâce à l'éclairage de panneaux perforés en différentes profondeurs. La rampe, ainsi que les panneaux périphériques, jouent en outre un rôle technique : la première en agissant en tant que pivot structurel ; les seconds en dissimulant les réseaux et en permettant la circulation de l'air via les perforations les plus profondes.
Fil directeur du projet, la rampe se veut la métaphore d'un accès direct et universel à la démocratie contemporaine du Québec – ce qu'illustre notamment sa pente doute, praticable par tous les types de mobilité. Développée sur 300m, elle délimite en son cœur un espace circulaire dénommé « agora », lieu de rassemblement et d'identité des citoyens. La figure du cercle évoque la neutralité, l'unité, l'égalité, autant de valeurs portées par cet espace offert à tous, dont l'implantation aux pieds de l'hôtel du Parlement tend à signifier qu'elles en constituent les fondements. Ouverte de toutes parts, l'agora stimule les rencontres et les échanges en proposant à chacun différents degrés d'engagement selon sa position dans l'espace. L'oculus qui la surplombe lui offre un éclairage généreux, en plus de dessiner un cadrage sur la tour centrale de l'Assemblée nationale.

L'ensemble des programmes s'organisent autour de la rampe, qui leur donne forme tout en guidant les mouvements du visiteur. Espaces de réception, de sécurité et d'enregistrement, vestiaires, salles multifonctionnelles et salles de commission se distribuent sur toute sa longueur, permettant au visiteur de découvrir l'évolution de notre démocratie, mais également son fonctionnement en temps réel, via des fenêtres et autres panneaux informatifs proposant une immersion au cœur des débats parlementaires. Le travail de la lumière, mais aussi celui des couleurs, donnent au parcours des qualités muséales, passant du blanc au bleu et au rouge, en référence au Salon bleu et au Salon rouge de l'Assemblée nationale. Un tunnel, abritant l'œuvre Le Spectre des Lumière de Jonathan Villeneuve, permet en outre de rallier un ascenseur à partir duquel il est possible d'accéder aux étages supérieurs de l'Hôtel du parlement.

L'implantation en sous-sol confère différentes qualités au projet, dont le développement libre et sans contrainte des entités programmatiques, ainsi que des économies substantielles sur les coûts de construction et de maintenance (réduction de la climatisation en été et du chauffage en hiver principalement). La plus-value s'exprime encore à travers l'aspect énergétique du bâtiment, l'absence de développement de façade résultant en une performance signifiante, dont témoigne la certification LEED argent du bâtiment. C'est toutefois le concept initial du projet qui constitue son geste le plus durable, soit celui de conserver l'intégralité des constructions et des aménagements existants comme manière de perpétuer l'histoire.