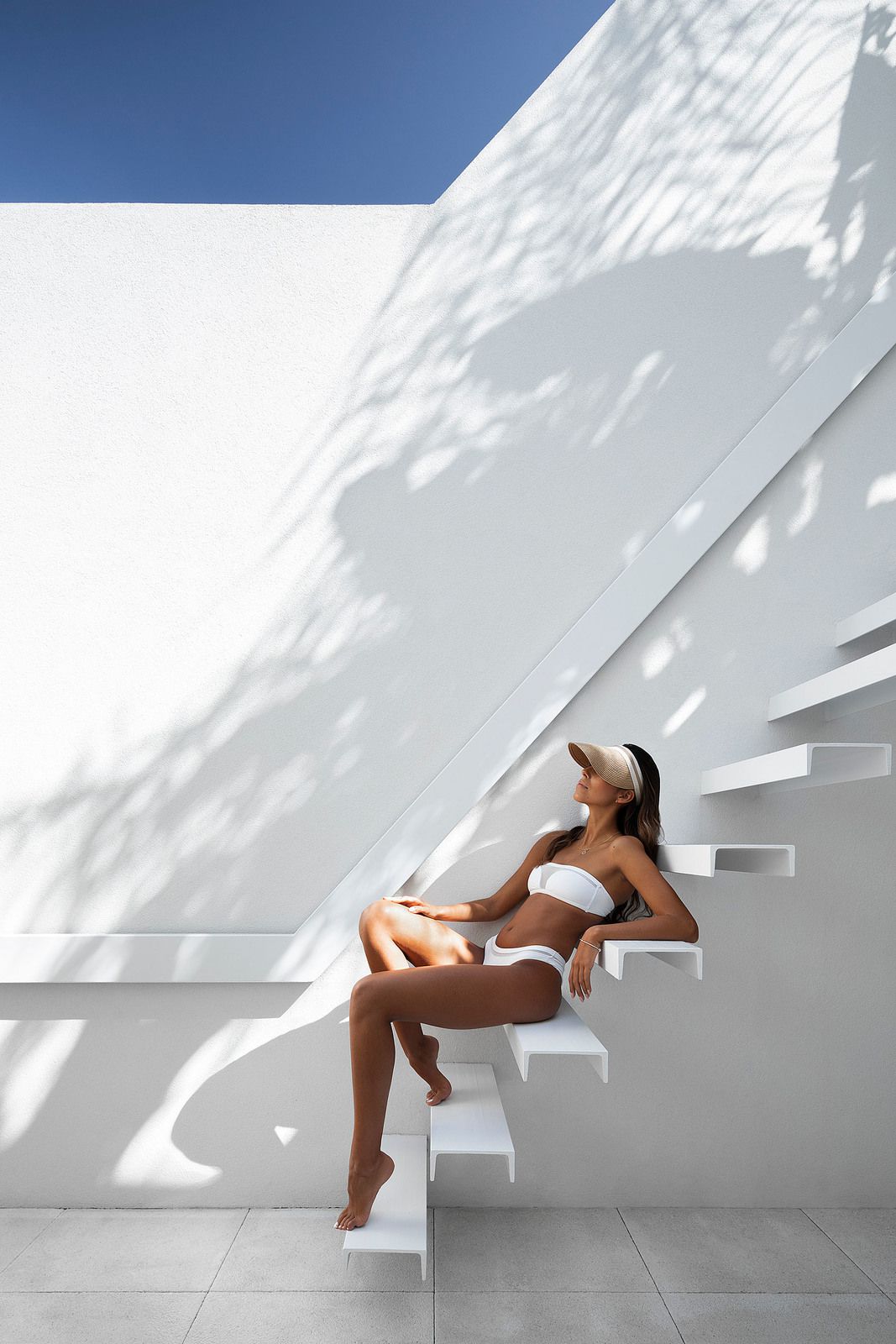 Discover a small house 'casa beira mar' in Aveiro - Portugal, designed by the architect Paulo Martins, and converted into an inhabited work of art.
Located in one of the most typical and established neighbourhoods of Aveiro (Beira Mar), this residence is the result of a passionate and challenging reform, a reform which intends to return to the city and to its users a lifestyle which is free and in contact with outdoor spaces, with the sound of seagulls and the smell of the sea breeze, the colour of the sky and the green of the vegetation.

Built on a plot of land measuring 30 meters long and 2.5 meters wide, it formally establishes itself as a habitable corridor, which, from the moment of entry, is filled with moments of darkness, light, surprise, discovery, compression and, lastly, release... the backyard patio!

With sober and elemental materials, basic and essential functions are covered in concrete, such as the floor we tread and the space which houses the bathrooms and service area. The building has been covered and protected with plasterboard painted dark green, rigorously shielded for its new and invigorated life cycle. Whilst on the one hand we want a dark and intimate environment inside, by conceptual and practical contrast, the exterior is white, a purposefully reflective surface which floods the house with light, sometimes diffuse and soft, sometimes direct and intense, as the reflection of the various moods of those who live there.

Relative to design, all social functions have been planned to take place on the ground floor, in direct contact with the house's backyard patio, while the upper floor is reserved for both bedrooms and a solarium, visually protected from unwanted eyes by a plant curtain. This house was designed to be lived in and experienced in the privacy and freshness of the exterior, in tune with the past and with a deep respect for the future.
PT/
Inserida num dos bairros mais típicos e consolidados de Aveiro (Bairro da Beira Mar), esta moradia surge como resultado de uma apaixonada e desafiante reforma, uma reforma que pretende devolver à cidade e aos seus usuários um estilo de vida, livre e em contacto com o espaço exterior, com o barulho das gaivotas e com o cheiro da maresia, com a cor do céu e o verde da vegetação.
Implantada numa parcela de 30metros de comprimento por 2,5metros de largura, formalmente assume-se como um corredor habitável, corredor esse que, desde o momento da entrada, vai sendo preenchido por momentos, de escuridão, de luz, de surpresa, de descoberta, de compressão e de desafogo… o pátio tardoz!
Com materiais sóbrios e elementares, betão, revestimos funções básicas e essenciais, o chão que pisamos e o volume que alberga as casas de banho e zona de serviços, e com gesso cartonado de tonalidade verde escura, revestimos e protegemos o antigo edifício, vestindo-o a rigor para o seu novo e revigorado ciclo de vida.
Se por um lado pretendemos um ambiente escuro e intimista no interior, por contraste conceptual e prático, o exterior é branco, uma superfície propositadamente reflectora que inunda a casa de luz, ora difusa e macia, ora directa e dura, como o reflexo dos vários estados de espírito de quem ali habita.
Programaticamente situamos no piso térreo todas as funções sociais, em contacto directo com o pátio tardoz da casa, enquanto que o piso superior ficou reservado para os dois quartos e para um solário, visualmente protegido dos olhares indesejados por uma cortina vegetal.
Uma casa que foi projectada para ser vivida no resguardo da intimidade e na frescura do exterior, em sintonia com o passado e com um profundo respeito pelo futuro
architect: paulo martins / arquitectura & design > paulomartins.com.pt
location: Aveiro, Portugal
typology: private house
year: 2018
area: 131 m2
photo: Ivo Tavares studio > www.ivotavares.net