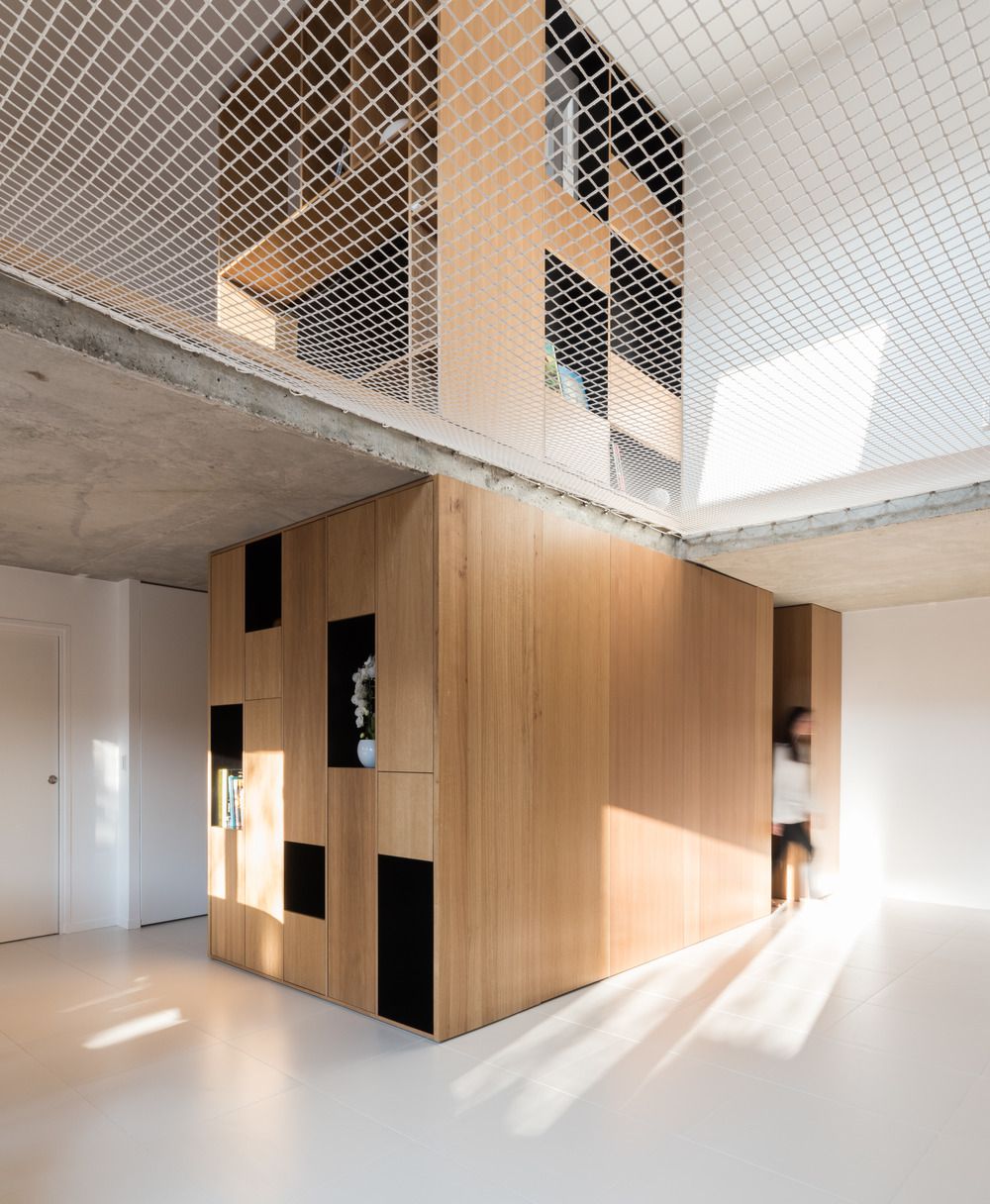 In the house, space is used but has yet to be lived in. The family, who has recently moved in, is settling in, capturing sensations and sequences which will soon become the pillars of the upcoming project.
The owners wanted to renovate and adapt this house to their way of life, a more comfortable one, and above all, in accordance with their tastes. This project gave us time to think about spaces in a new light, with new use, especially for children.
Directing spaces
The main asset of the house was its light, and the double-height volume in the living room, unexploited until then. As a result, a mezzanine net came to life in this space, allowing the outdoor light to come through, yet offering another way to take over this area.

The white floor on the ground floor, beyond its high reflective potential, brings out all the elements that are put down on it. The flooring shade also highlights an inversion of sensations with the shuttered concrete ceiling. This change upsets the habits to reinforce the notion of the void at the center of the net.

The integrated furnishings, mostly oak with some black spots, bring warm fragments to the place, as gold nuggets one ties oneself to and which structure the clear and infinite space. The goal was to reorganize these living spaces developed upon two floors, in order to create a general coherence in the project, while at the same time creating distinct areas dedicated to a specific use.

The central area links both levels as a backbone. It is a huge sculpted wooden volume, in which several functions and usages are articulated: it is, on the one hand, the stairs that lead to the other floors but also access the basement, the toilets, the bar, the library, the storage for vinyl records, and the television unit. The whole is materialized with games of solids and voids, punctuated by numerous spaces hidden by door curtains or small trap doors.

In parallel, a piece of furniture going through the front entrance of the house welcomes us, inviting us to sit down and take our shoes off before coming in. This piece goes up to the living room wall, facing the central block. This pathway made of wood throughout conceals numerous Hi-Fi storage units.

In front of it, a line develops along the wall, on each side of the stove, with on one side a bench seat with integrated storage for parents, welcoming relaxation, and on the other, toys storage for children to play with. The whole is topped by large shelves, as a ribbon unrolling on the wall, sheltering books, and subdued lighting.
Hierarchy of spaces through matter
The mezzanine net becomes, depending on the time of day, a space for children to play, a place to relax in family, or a movie room.
Bordering the net, along the wall, a wooden strip inhabits the residual space under the slope, offering a number of storages, and integrating a video projector and home cinema, concealed behind sliding doors once the showing is over. This strip continues on the next wall with a different shape, where the structure of the net is wrapped by wood and allows for a sequence of tiny trap doors, with some more storage spaces.

Like a theatrical production, the light falls onto the walls and the furniture, as such creating a warm atmosphere throughout the day, making these spaces pleasant and soothing. The result is a true call for relaxation in this area, where everybody finds their own space without cluttering the available space.
FR/
Dans cette maison, l'espace est occupé mais pas encore habité. La famille qui l'occupe depuis peu, prend ses marques, capte les sensations et les séquences qui deviendront les piliers du futur projet.

Les propriétaires souhaitaient rénover cette maison afin de la rendre plus adaptée à leur mode de vie, plus confortable et surtout en accord avec leurs goûts. Ce projet était le moment de penser les espaces en proposant de nouveaux usages, notamment pour les enfants.

Mise en scène des espaces
La principale potentialité de cette maison était sa luminosité et ce volume en double hauteur présent dans le séjour, inexploité jusqu'alors. Ainsi, un filet de mezzanine est venu prendre place dans cet espace, laissant à la fois passer la lumière, mais aussi offrant une nouvelle appropriation de ce lieu.

Le sol blanc en rez-de-chaussée, au-delà de son fort potentiel réfléchissant, vient détacher tous les éléments qui y sont posés. La teinte du sol marque également une inversion des sensations avec le plafond en béton banché. Ce changement vient bousculer les habitudes et renforcer la notion de vide au sein du filet.

Le mobilier intégré, majoritairement en chêne avec quelques touches noires, apporte ainsi au lieu des fragments chaleureux, telles des pépites auxquelles on se rattache et qui viennent structurer cet espace clair et infini. L'enjeu a été de réorganiser ces espaces de vie développés sur deux niveaux, afin de créer une cohérence globale du projet, tout en créant des espaces distincts et dédiés à des usages spécifiques.
L'espace central vient relier les deux niveaux telle une colonne vertébrale. Il s'agit d'un grand volume en bois sculpté dans lequel s'articulent diverses fonctions et usages : à la fois les escaliers qui desservent les étages, mais également l'accès à la cave, les toilettes, le bar, la bibliothèque, les rangements pour vinyles et le meuble TV. Le tout est matérialisé par des jeux de pleins et de vides, ponctué par de nombreux espaces dissimulés par les portes sous-tenture ou les petites trappes.

En parallèle, dans l'entrée de la maison, un meuble traversant vient nous accueillir, nous invitant à s'assoir pour enlever ses chaussures avant de rentrer. Celui-ci se prolonge sur le mur du séjour, faisant face au bloc central. Ce passage paré de bois de part et d'autre, dissimule de nombreux rangements pour la HI-FI.

En face, une bande se développe le long du mur, de chaque côté du poêle, proposant d'un côté une banquette avec rangements intégrés pour les parents, invitant à la détente, et de l'autre les coffres à jouet des enfants. L'ensemble est surmonté d'une grande étagère, tel un ruban qui se déroule sur le mur, venant accueillir livres et lumières d'ambiances.

Hiérarchisation des espaces par la matière
Le filet de mezzanine devient selon le moment, l'espace de jeu des enfants, le lieu de la sieste en famille, ou encore la salle du cinéma.
Bordant le filet, tout le long du mur, une bande de bois vient habiter l'espace résiduel sous la pente, offrant de nombreux rangements et intégrant le vidéoprojecteur et home cinéma, qui se dissimulent derrière des portes coulissantes quand la séance est terminée. Cette bande est prolongée sur le mur suivant prenant une autre forme, où la structure du filet est habillée de bois et laisse place à une succession de petites trappes, abritant des espaces de rangements.

Telle une mise en scène, la lumière vient lécher les murs et le mobilier, créant ainsi des ambiances chaleureuses et subtiles tout au long de la journée, rendant ces espaces apaisants et agréables. Il en résulte un véritable lieu appelant à la détente, où chaque chose trouve sa place sans venir encombrer l'espace libre.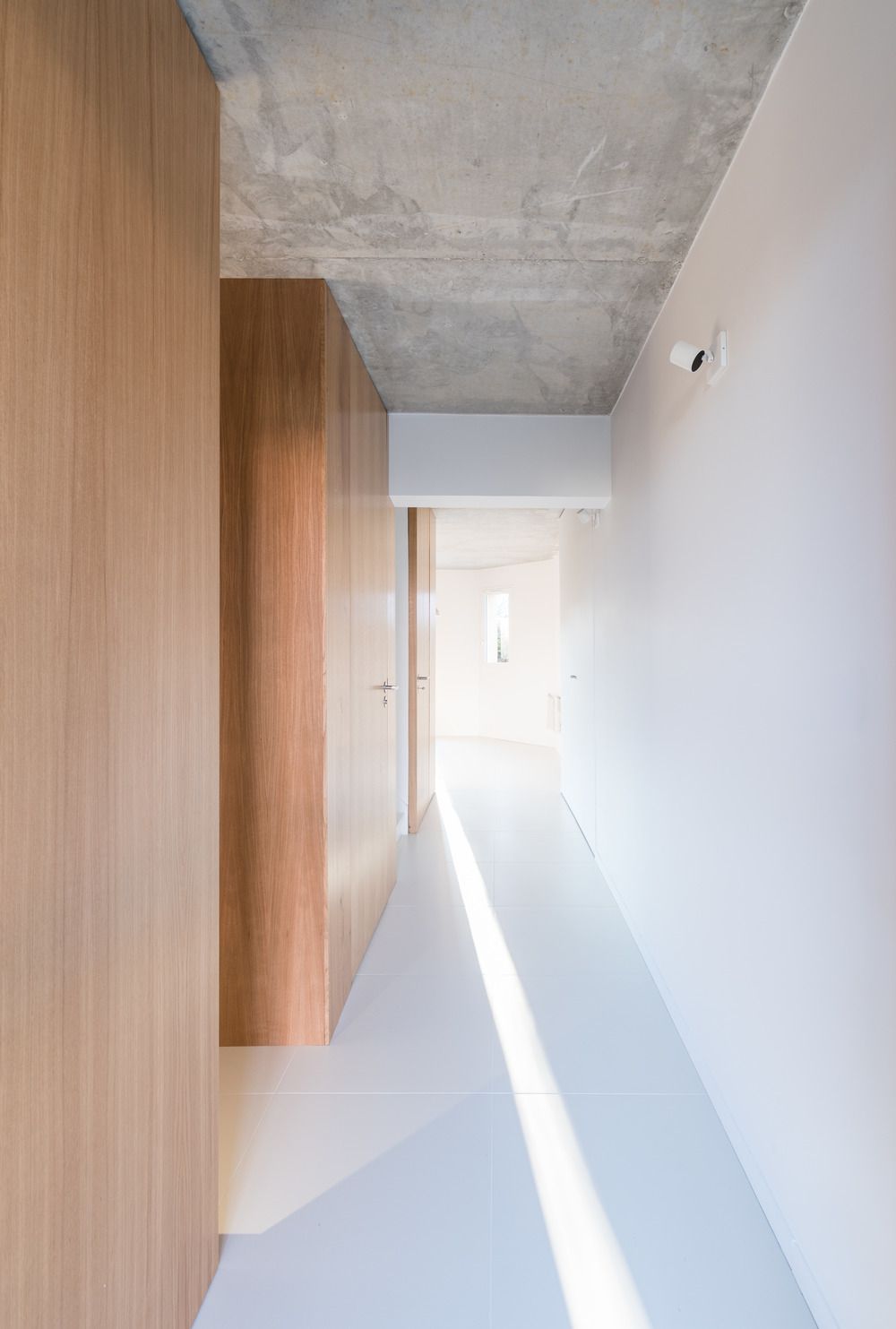 Architecture/Design: Martins / Afonso atelier de design > www.martinsafonso.com
Location: Courdimanche, France
Completion date: January 2019
Area of the house: 200 m²
Renovated area: 100 m²

Photo credits: Mickaël Martins Afonso