Inspired by Philip Johnson's Glass House and the Ben Rose House from the movie Ferris Bueller's Day Off, Pavilion A is a tribute to modern architecture. Welcoming a four-season swimming pool, this glass pavilion was designed as a veritable oasis in the heart of a garden. During the long Quebec winters, the space allows to breaststrokes in the swimming pool, relax in the spa, read under a tropical plant, or do yoga while contemplating the snowy nature. In summer, the pavilion opens onto a long wooden terrace thanks to the large picture windows on one of the facades.


Located outside the glass pavilion, the metal structure gives the roof the impression of floating. The black exterior structure contrasts with the clear and bright interior. The glass walls let in plenty of natural light and the skylights installed on the ceiling maximize the supply of overhead light while protecting from the summer sun. The 360-degree glazing removes the border between interior and exterior and contributes to a change of scenery. The interior layout and its plants on the ground help to create a tropical atmosphere that promotes relaxation. The layout of the large strips of vegetation provides privacy zones whether in the spa, the pool, or on the carpet.
At the heart of the pavilion's orthogonal lines stands out the bathroom. Awarded a prize at the 13th edition of the Grand Prix du Design, this cylindrical bathroom elegantly combines beauty and functionality. Clad in red cedar cleats, this relief column looks like a sculptural element in the pavilion. The warm character of the wood contrasts with the pure and bright interior of the white mosaic. Particular attention has been paid to the furniture and the finishing details that follow the rounded or cylindrical shape, helping to create a singular and harmonious space. The circular opening in the ceiling from which a shower of natural light springs up reinforces the intimate and exotic character of this daring powder room.


With its modern architecture, its luminous transparency, its tropical touch, and its bathroom jewel, Pavilion A magnify the experience of rest and relaxation offered by this space dedicated to well-being.
FR/
Inspiré par la Glass House de Philip Johnson et la Ben Rose House du film Ferris Bueller's Day Off, Pavillon A est un hommage à l'architecture moderne. Accueillant une piscine quatre saisons, ce pavillon de verre a été pensé comme une véritable oasis au cœur d'un jardin. Durant les longs hivers québécois, l'espace permet de faire quelques brasses dans la piscine, de se détendre dans le spa, de lire sous une plante tropicale, ou de faire du yoga en contemplant la nature enneigée. L'été, le pavillon s'ouvre sur une longue terrasse en bois grâce aux grandes baies vitrées présentes sur une des façades.
Implantée en dehors du pavillon de verre, la structure métallique donne l'impression au toit de flotter. La structure extérieure noire contraste avec l'intérieur clair et lumineux. Les parois vitrées laissent entrer abondamment la lumière naturelle et les lanterneaux installés au plafond maximisent l'apport de lumière zénithale tout en protégeant du soleil l'été. Le vitrage sur 360 degrés fait disparaitre la frontière entre intérieur et extérieur et participe au dépaysement.
L'aménagement intérieur et ses plantes à même le sol contribuent à créer une ambiance tropicale qui favorise la détente. La disposition des grandes bandes de végétation propose des zones d'intimité que l'on soit dans le spa, la piscine ou sur son tapis. Au cœur des lignes orthogonales du pavillon se distingue la salle de bain. Récompensée d'un prix à la 13e édition des Grand Prix du Design, cette salle d'eau cylindrique marie avec élégance beauté et fonctionnalité. Bardée de tasseaux de cèdre rouge, cette colonne en relief se contemple tel un élément sculptural dans le pavillon. Le caractère chaleureux du bois contraste avec l'intérieur pur et lumineux de la mosaïque blanche.
Une attention particulière a été portée au mobilier et aux détails de finition qui épousent la forme arrondie ou cylindrique, contribuant à créer un espace singulier et harmonieux. L'ouverture circulaire dans le plafond d'où jaillit une douche de lumière naturelle renforce le caractère intime et dépaysant de cette audacieuse salle d'eau. Avec son architecture moderne, sa lumineuse transparence, sa touche tropicale et son bijou de salle de bain, Pavillon A magnifie l'expérience de détente et de relaxation que propose cet espace dédié au bien-être.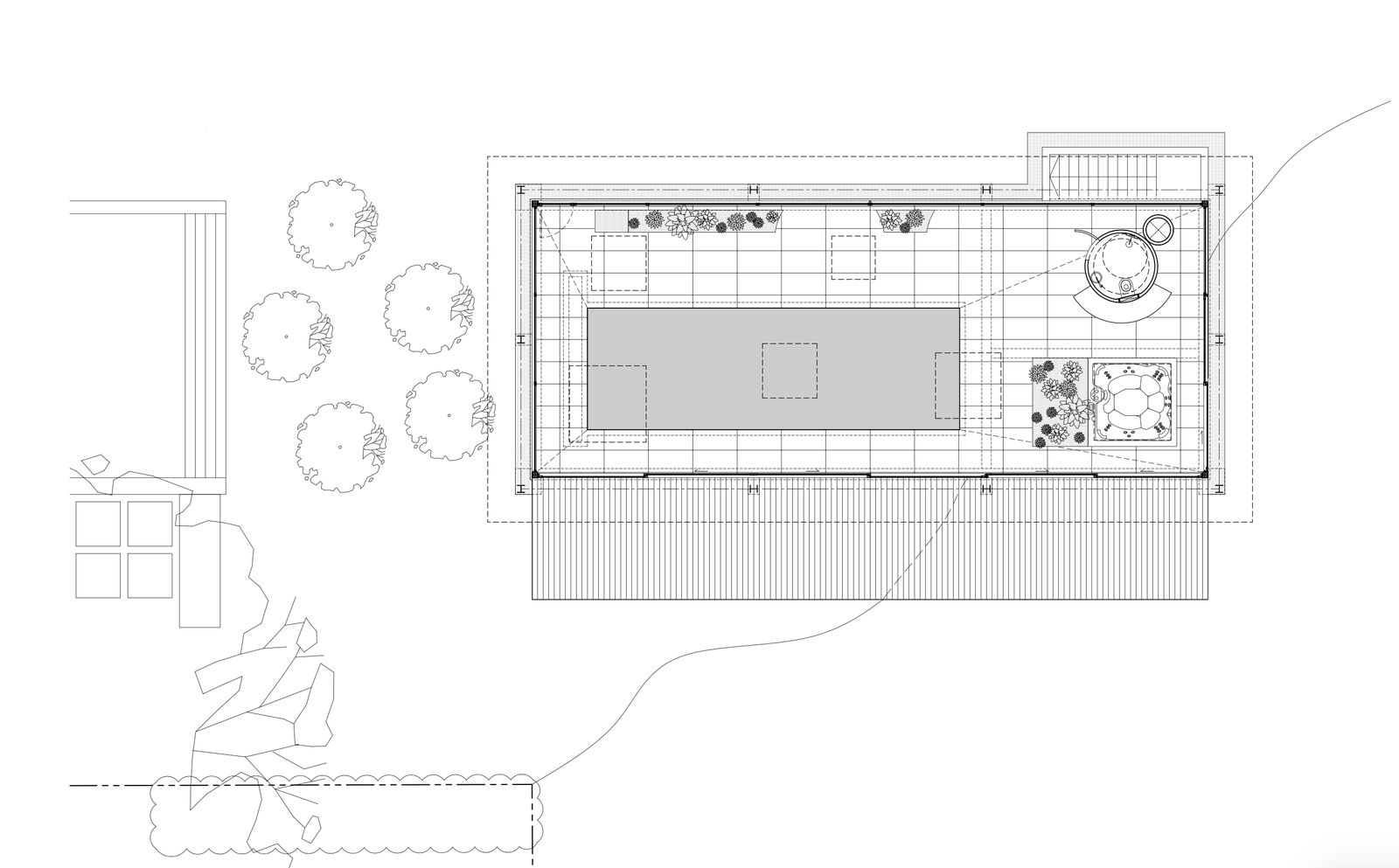 Technical sheet

Architecture : Maurice Martel architecte > www.mauricemartel.com
Interior Design : Maurice Martel achitecte & Bipède
Conractor: N. Deslaurier
Landscaping : Vertige Paysage, Nicolas Ménard
About the architects

The firm Maurice Martel architect represents a creative way of thinking design, materiality, structure and construction in the evolution of contemporary architecture. Founded in 2016, its mission is to stimulate architecture and interior design through built works, critical research, exhibitions and writings
photography: Adrien Williams (c)