Breitenbach Landscape Hotel proposes a holistic and a true ecotourism experience in Alsace, inspired by Scandinavian traditions and building on the region's culinary, wellness, and nature opportunities. Perched on the heights of the Alsatian village of Breitenbach, the landscape hotel 48° Nord reinterprets the traditional Scandinavian hytte, a place of retreat and reconnection with wild nature. At the heart of a protected Natura 2000 site, the project was designed to fit into a preserved setting without ever disturbing it.


The project is born from the meeting of two cultures (France and Scandinavia), two passions (nature and architecture), two men (Emil Leroy and Reiulf Ramstad), and an enthusiastic and very supportive local community from the village of Breitenbach.


Breitenbach is a unique hamlet, located between Vosges and Alsace, with a very dynamic community and strongly politically committed to an eco-responsible approach, through various activities like an ecological brewery, beehives, dairy, and cheese production to name a few. The mayor himself, an enthusiastic vegetarian, initiated ecological farming in the village, constantly encouraging new sustainable and ecological business.


A Franco-Danish client, a Norwegian architect, a common attraction for design and natural materials. It was from this exceptional meeting that the 48° Nord project was born. Breitenbach landscape hotel encapsulates daring architecture and design, a spirit of well-being, and a sharp culinary culture. By uniting local identity with the landscape through forms still unseen in the region, the architect gave 48° Nord a unique architectural expression.


The project goal was not to build a hotel per se, but creating a place to live, a habitat to welcome people and take them on a sensual journey by experiencing a new universe in natural surroundings. A place where guests come to meet people and have a moment, whether to share a meal, a weekend of rest, or to hike the Vosges hills and valleys. The architectural approach of 48° Nord echoes this philosophy. The project's clean design and signature lines inevitably evoke the Nordic countries. However, the vision is also to disseminate an art of living in harmony with the landscape. Despite its simplicity, Breitenbach hotel 48° Nord does not go unnoticed, but surrounded by nature, sobriety guarantees integration within its landscape.


Amidst the trees, natural hedges and wild grasses, and heirs to the Norwegian "hytte", 14 cabins dot the hillside like boulders on a slope, balancing privacy and outlook. Small, light, discreet, they are simply placed on the hillside. Built on stilts, they are even removable, so that the landscape stays preserved and natural, untouched. The untreated and locally sourced chestnut tree (cut on the hill opposite the hotel) clads all volumes, combined only with large glass openings.
Four distinct typologies compose a family of forms with diverse qualities. The 'Grass' hytte, on one level universally accessible, are grouped near the main building. The 'Tree' and 'Ivy', towering thin and slender, combine verticality and panoramic views. Lastly, the 'Fjell', atop the hill, welcomes families with protected outdoor spaces. Interiors are minimal and rustic, qualified by the light-colored wood, snug built-in furniture, framed views, and spatial contrasts—perfectly embodying the Nordic concept of "hygge".


When entering the site, you meet the main building dedicated to hospitality, catering, and wellness. Its volume is wrapped in Alsatian chestnut shingles fashioned in an integration workshop in Saverne. Responding to the Passivhaus construction label, this intimate setting padded with dark stained wood and finely detailed opens widely onto the landscape and offers a unique place of meeting, exchange, and contemplation. The culinary experience, a meeting between Scandinavian inspiration and local ancestral techniques are season-relevant tastes from nature — all sourced from nearby organic producers and the hotel's own vegetable garden.


At 48° Nord, luxury is redefined. Space, privacy, calm, sobriety, nature, and fresh air is a new luxury. Perhaps the antithesis of the traditional luxury; the pomp, the superfluous. Alone, facing the landscape, guests are enabled to find another essence of beauty and comfort in the shifting colors of the season, lights and shadows, the very essence of nature's qualities.
(FR)
Breitenbach Landscape Hotel propose une expérience holistique et authentique d'écotourisme en Alsace, inspirée des traditions scandinaves et tirant parti des opportunités culinaires, de bien-être et de nature de la région. Perché sur les hauteurs du village alsacien de Breitenbach, l'hôtel paysager 48° Nord réinterprète l'hytte traditionnelle scandinave, lieu de retraite et de reconnexion avec la nature sauvage. Au cœur d'un site protégé Natura 2000, le projet a été conçu pour s'intégrer dans un cadre préservé sans jamais le déranger.


Le projet est né de la rencontre de deux cultures (France et Scandinavie), deux passions (nature et architecture), deux hommes (Emil Leroy et Reiulf Ramstad) et d'une communauté locale enthousiaste et solidaire du village de Breitenbach.


Breitenbach est un village unique, situé entre les Vosges et l'Alsace, avec une communauté très dynamique et fortement engagée politiquement dans une démarche éco-responsable, à travers diverses activités comme une brasserie écologique, des ruches, une production laitière et fromagère pour n'en citer que quelques exemples. Le maire lui-même, un végétarien enthousiaste, a lancé une agriculture écologique dans le village, encourageant constamment de nouvelles entreprises durables et écologiques.


Un client franco-danois, un architecte norvégien et un attrait commun pour le design et les matériaux naturels. C'est de cette rencontre exceptionnelle qu'est né le projet 48° Nord. L'hôtel paysager Breitenbach incarne une architecture et un design audacieux, un esprit de bien-être et une culture culinaire aiguisée. En réunissant l'identité locale au paysage grâce à des formes encore inédites dans la région, l'architecte a donné à 48° Nord une expression architecturale unique.


L'objectif du projet n'était pas de construire un hôtel à proprement parler, mais de créer un lieu de vie, un habitat pour accueillir les gens et les emmener dans un voyage sensuel en découvrant un nouvel univers dans un environnement naturel. Un lieu où les hôtes viennent se retrouver et passer un moment, qu'ils viennent y partager un repas, se reposer le temps d'un week-end ou arpenter les Vosges. L'approche architecturale de 48° Nord fait écho à cette philosophie. Le design épuré du projet et les lignes de signature évoquent inévitablement les pays nordiques. Mais son ambition était d'abord de diffuser un art de vivre en harmonie avec le paysage. Malgré sa simplicité, l'hôtel paysager de Breitenbach, 48° Nord ne passe pas inaperçu, mais dans la nature, la sobriété est garante d'intégration paysagère.
Au milieu des arbres, des haies naturelles et des herbes folles, et héritières de la «hytte» norvégienne, 14 hyttes (cabines) parsèment le flanc de la colline comme des rochers sur une pente, équilibrant intimité et perspectives. Petites, légères, discrètes, elles sont simplement placées à flanc de coteau. Construites sur pilotis, elles sont même démontables, de sorte que le paysage reste préservé et naturel, intact. Le châtaignier non traité et local (coupé sur la colline opposée à l'hôtel) habille tous les volumes, combiné uniquement avec de grandes ouvertures vitrées.
Quatre typologies distinctes de hytte composent une famille de formes aux qualités diverses. Les «Grass», de plain-pied sont universellement accessibles et regroupées à proximité du bâtiment principal. Les « Tree » et « Ivy » fines et élancés, combinent verticalité et vues panoramiques. Enfin, les «Fjell», au sommet de la colline, accueille les familles avec des espaces extérieurs protégés. Les intérieurs sont minimalistes et caractérisés par le bois clair et chaleureux. Les murs et les meubles intégrés se confondent et s'effacent laissant le visiteur en immersion dans les paysages : incarnation parfaite du «hygge» ou l'art de vivre à la scandinave.


A l'entrée du site, le bâtiment principal dédié à l'accueil, à la restauration et au bien-être, est enveloppé de tavaillons de châtaignier alsacien façonnés dans un atelier d'intégration à Saverne. Répondant au label Passivhaus, cet écrin intimiste capitonné de bois lasuré sombre et finement travaillé s'ouvre largement sur le paysage et offre un lieu unique de rencontre, d'échange et de contemplation. L'expérience culinaire est une rencontre entre l'inspiration scandinave et les techniques ancestrales locales pour des saveurs saisonnières venues tout droit de la nature - tous les produits provenant de producteurs biologiques à proximité et du potager de l'hôtel.
À 48° Nord, le luxe se redéfinit. Il se fait espace, intimité, calme, sobriété. Ici, le vrai luxe, c'est peut-être justement l'antithèse du luxe. C'est refuser le faste, le superflu. Seuls face au paysage, les hôtes retrouvent dans les couleurs, les lumières et les ombres l'essence même de la beauté naturelle.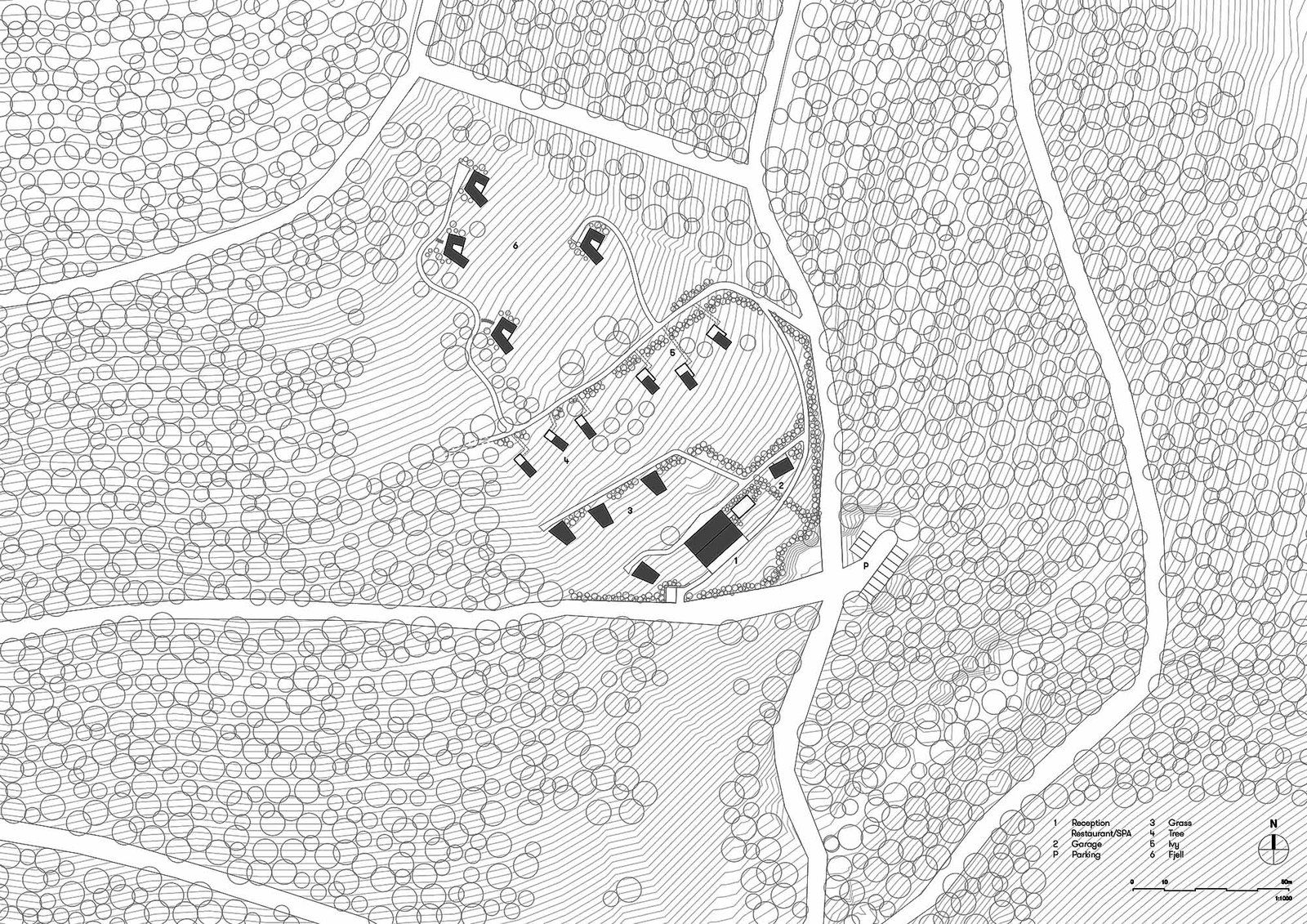 Location: Breitenbach, France
Client: Private
Type: Landscape, Commercial
Program: Landscape hotel with the main building for the reception, restaurant, wellness facility, and the director's housing, as well as 14 hytte for hotel guests.
Size: 20.000m2 total planning area Hytte from 20m2 to 60m2
Commission type: Direct commission (2015)
Status: Completed (2020)

Design Team: Reiulf Ramstad Arkitekter in collaboration with ASP Architecture

Photo Credits: (c) Florent MICHEL / 11h45 > www.11h45.com