The project consists of expanding the existing factory unit to the west and south, with the construction of a new pavilion and an administrative building.
"The site's configuration contributed to the adopted solution, which sought to maximize the area of the industrial nave, leaving the southern part of the site for the administrative area. This area lies along the new proposed street, giving rise to a curved concrete building, marked by vertical aluminum profiles, which sought to differentiate itself from the industrial volume, highlighting its function as an administrative area."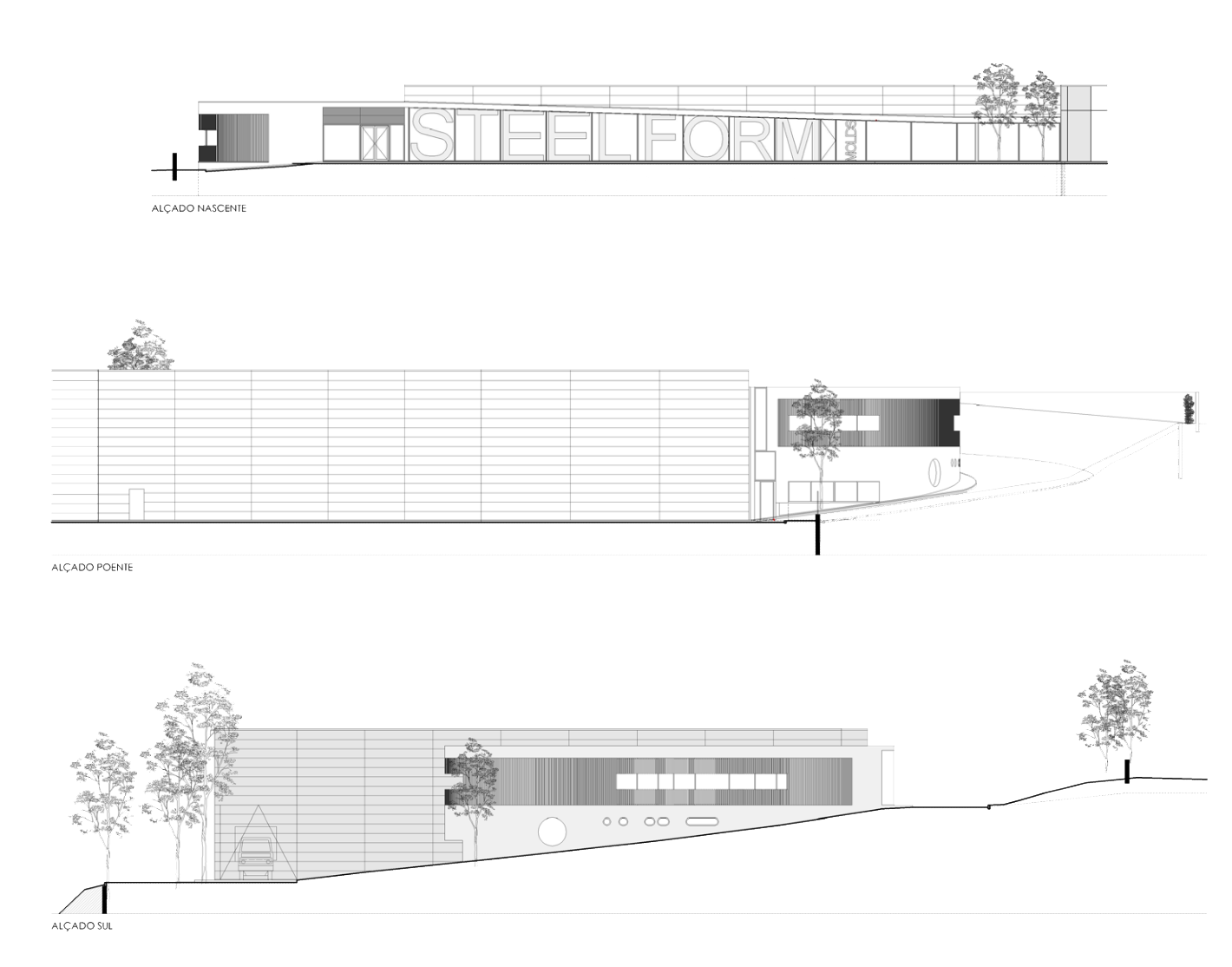 Project: STEELFORM Factory (extension)
Architect: Atelier d'Arquitectura Lopes da Costa > lopesdacosta.pt
Main Architect: José A. Lopes da Costa + Tiago Meireles
Collaborator: Rita Gonçalves

Location: São Roque, Oliveira de Azeméis, Portugal
Year of conclusion : 2020
Total area: 2.300 m2
Architectural photographer: Ivo Tavares Studio (c) > www.ivotavares.net
PT
O projecto consiste na ampliação da unidade fabril existente, para poente e sul, com a construção de um novo pavilhão e de um edifício administrativo.
A configuração do terreno contribuiu para a solução adoptada, que procurou maximizar a área de nave industrial, "sobrando" para a área administrativa, a parte Sul do terreno. Esta área, acompanha o novo arruamento proposto, dando origem a um edifício curvo em betão, marcado por perfis verticais em alumínio, que procurou diferenciar-se da nave industrial, evidenciando a sua função de área administrativa.
O corredor a Nascente, que encobre a nave industrial, faz a articulação com a zona administrativa do edifício existente. Com uma forte componente plástica, numa associação à indústria dos moldes, procurou através da sua linguagem, transmitir um conceito de contemporaneidade associando ao mesmo tempo a marca da empresa.