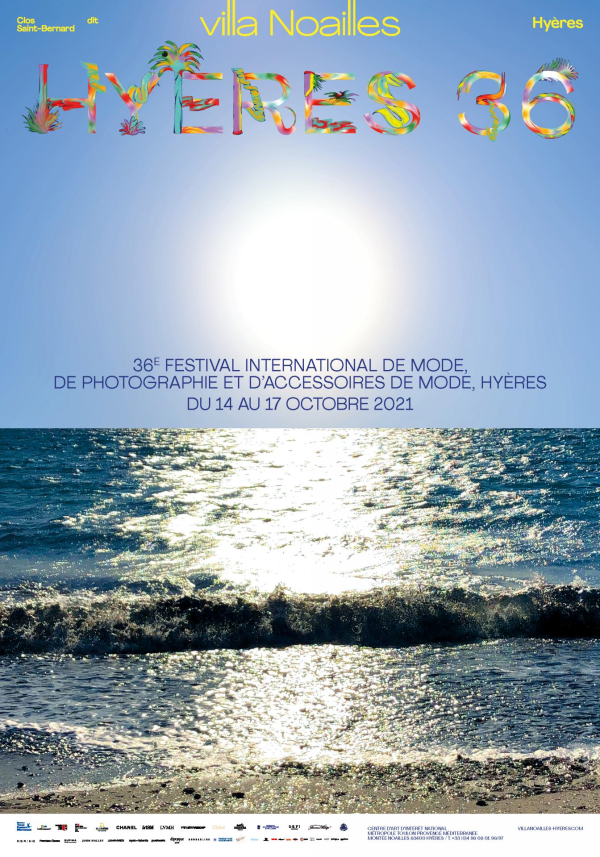 36E FESTIVAL INTERNATIONAL DE MODE, DE PHOTOGRAPHIE ET D'ACCESSOIRES DE MODE,
HYERES DU 14 AU 17 OCTOBRE 2021
The 36th edition of the International Festival of Fashion, Photography and Fashion accessories, Hyères, will take place between Thursday 14 and Monday 17 October 2021 atthe villa Noailles. The exhibitions will be open to the public until january 2022. Jean-Pierre Blanc is both the founder and the director of the festival which will be presided over by Pascale Mussard.

Since 1986, the festival has promoted and supported young international fashion design, since 1997 a competition has also existed for emerging photographer and this year, for the fourth time, a competition will also recognise young fashion accessory designers. The festival is acknowledged as the oldest fashion competition aimed at young professionals.
Several prizes are awarded to the competing designers thanks to grants provided by the festival's partners
who commit, together with the festival, to provide long term support. Practical assistance is provided right from the selection stage as well as during a period of two years in various different domains: financing, production, workmanship, materials, production, legal, media, exhibitions, workshops and residencies.
Once again in 2021, the faithful partners of the Festival are committed to support the next generation of designers: Chanel, le 19M, Première Vision, LVMH, Chloé, Hermès, Mercedes-Benz, American Vintage, la Fédération de la Haute Couture et de la Mode, le Défi...
The 2021 jury is composed by:
Louise Trotter
creative director at Lacoste, Paris President of the jury
William Farr
artist, Huddersfield
Helen Kirkum
artist, designer, London
Steve Lacy
Singer
Alfredo Canducci
Consultant
Suzanne Koller
Fashion Director M le Monde
Ruba Abu-Nimah
Creative Director Tiffany & Co
Tom van der Borght
fashion designer, Gand
Grand Prix du jury Première Vision, Hyères 2020
***
The finalists of the 2021 fashion competition are:
Arttu Afeldt
Finnish
Menswear
Mengche Chiang
Taiwanese
Menswear
Venia Elonsalo
Finnish
Womenswear
Sofia Ilmonen
Finnish
Womenswear
Laima Lurca
Latvian
Womenswear
Ifeanyi Okwadi
British
Menswear
Rukpong
Raimaturapong
Thai
1990
IFM, Institut Fran.ais de la Mode, Paris, France
Menswear
Adeline Rappaz
Swiss
Womenswear
Elina Silina
Latvian
Womenswear
Mateo Velasquez
Colombian
Menswear
***