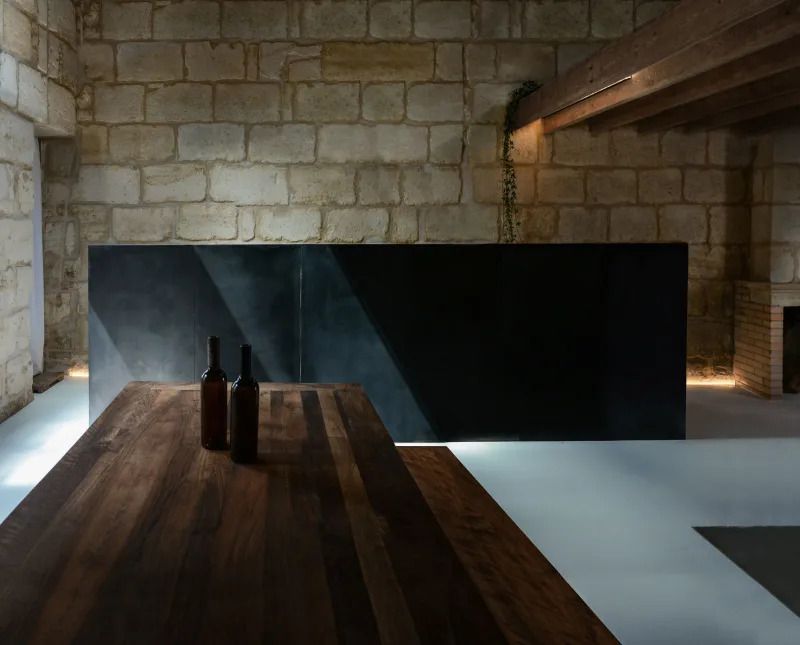 project: Sacre Coeur House
architect: Theo Coutanceau Domini
typology: Rehab, reconstruction, stone house
location: Bordeaux, France
year: 2021
project & construction phase: 2019 _ 2021
photography: Theo Coutanceau Domini (c) courtesy of the architect.
"A house / workshop located in the city center of Bordeaux. It is a place where I live, design and develop my projects in an old stone building in the historic Sacré Coeur district. The house is a restructured and redone ruin in which the main living space brings together all the functions. It is a place in which the traditional house is no longer perceptible and where a sober and rustic atmosphere materializes that isolates, questions, and summons our imagination. Nothing here draws attention with disproportion, or is overly exposed. I like to live there surrounded by few things and amplified by the beauty of raw things. This is my place, my reference, where I live, where I know how to live, where I know how to work. " The Architect
The comfort of these spaces lies in their serenity, in their charm. It is not intimidating, it's not dripping with luxury. It is very peaceful, almost friendly. Bathed in an indirect, exhausted, almost precarious light, which allows nuance, the intensity of the illumination is forced to retain the beauty of the shadow.

The border of spaces, never tightly closed, exasperates curiosity and gives rise to a feeling of immensity even if the place is small. This environment, revealed in its most primitive state, introduces us to a new way of reacting, experiencing and understanding what surrounds us. Support of an experience with ourselves that shapes our taste for the contemplative and makes us live each moment more intensely.

Spaces designed to think, converse, live and inhabit.
FR
Une maison / atelier située au centre ville de Bordeaux. C'est un lieu où je vis, conçois et développe mes projets dans une ancienne bâtisse en pierre du quartier historique du Sacré Coeur. La maison est une ruine restructurée et refaite dans laquelle l'espace de vie principal réunit toutes les fonctions. C'est un lieu dans lequel la maison traditionnelle n'est plus perceptible et où se matérialise une atmosphère sobre et rustique qui isole, interroge et convoque notre imagination. Rien ici n'attire l'attention de manière disproportionnée ou n'est trop exposé. J'aime y vivre entouré de peu de choses, et par la beauté des choses brutes. C'est mon lieu, ma référence, où je vis, où je sais vivre, où je sais travailler.
Le confort de ces espaces réside dans leur sérénité, dans leur charme. Ce n'est pas intimidant, ce n'est pas ruisselant de luxe. C'est quelque chose de très paisible, presque amical. Baigné dans une lumière indirecte, épuisée, presque précaire, qui autorise la nuance, l'intensité de l'éclairement est contraint pour retenir la beauté de l'ombre. La frontière des espaces, jamais bien fermée, exaspère la curiosité et fait naitre une sensation d'immensité même si le lieu est petit. Cet environnement révélé en son état le plus primitif nous introduit dans une nouvelle manière de réagir, d'éprouver et de comprendre ce qui nous entoure. Support d'une expérience avec nous-même qui façonne notre goût pour le contemplatif et nous fait vivre chaque instant plus intensément. Des espaces pensés pour penser, converser, vivre et habiter.