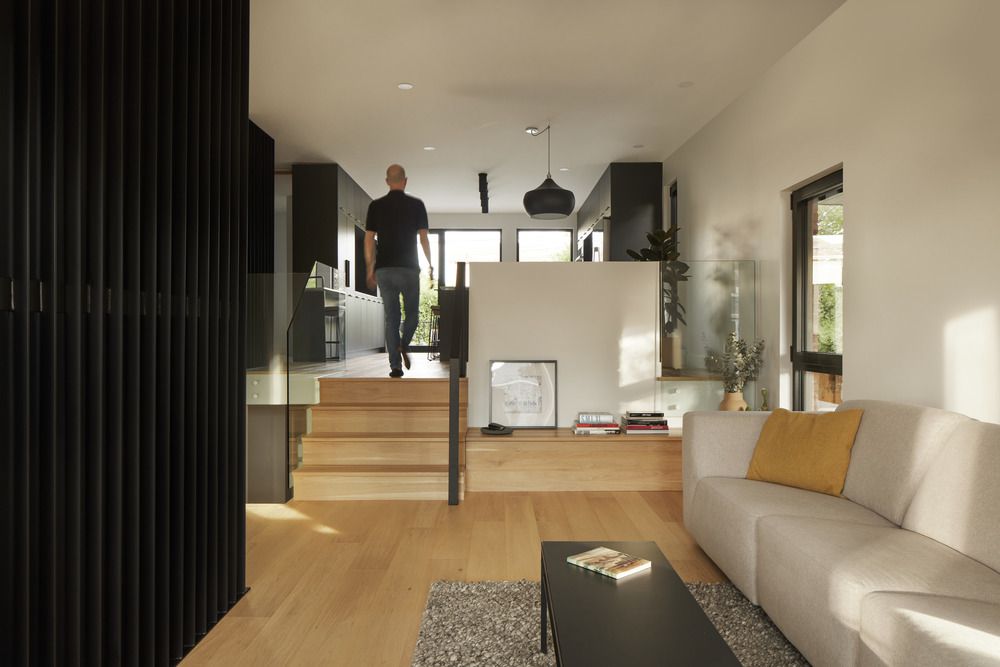 DESK architectes designed the complete interior renovation of this split-level in Vieux-Longueuil as an opportunity to enhance the architectural quality of a typical suburbs residence.

In context
Located on the edge of Vieux-Longueuil, this typical 80s split-level had remained virtually unchanged since its construction. This residence deserved a makeover to properly accommodate its new occupants; a couple of young Montrealers wishing to enjoy the qualities of an isolated suburban house while remaining close to the Montreal business center.

The mandate
The mandate was to design the complete interior renovation of the building. The kitchen, bathroom, and master bedroom had to be completely reshaped. It was necessary not only to replace all the interior finishes but also to create a significant new aesthetic by magnifying the intrinsic qualities of the building and by optimizing the functional relationship between rooms.

The project
The architectural concept takes advantage of the typical characteristics of a split-level ground floor. The living room of these buildings is generally a long open space, lacking in a spatial hierarchy. The concept, therefore, proposes to organize the space, without partitioning it, by adding metal claustra and blocks of built-in furniture. Thus, these dark elements are oriented so as to emphasize the link from the front to the back of the room. They frame the views and traffic from the entrance to the terrace without obstructing them.

The staircase linking the living room to the kitchen served as an opportunity to create, on the living room side, an architectural bench made of white oak in continuity with the steps of the stairs. On the dining room side, a short drywall act as a railing that hides the table from the living room while keeping the visual relationship between the two levels.

The kitchen, formerly organized in a "U" shape, has been completely reconfigured. Two large blocks of integrated built-in now face each other to frame a vast functional island. The new configuration of the kitchen provides more storage spaces and freed up the rear wall to allow wider openings to the backyard.

The bathroom has been reconfigured to create two distinct areas; the light zone combines the vanity, the medicine cabinet, and the bath while the dark zone combines the toilet and an Italian shower.

The Renovation C+G is a rehabilitation exercise of a typical suburban split-level. It reveals the potential hiding in older houses in a real estate market where new constructions are often preferred.
Data sheet/

Project: residential renovation
Client: Private
Location: Longueuil, Quebec, Canada
Budget: $ 180,000
Number of levels: 2
Area: 2,010 ft2 (187 m2)
Architects: DESK architectes > www.deskarchitectes.com/19055-renovation-cg
Project managers: Etienne Duclos & Kévin Sylvain
General contractor: Projets H.E.T.A.
Cabinetmaker: Ébénisterie ALD
Flooring: Unik Parquet
Photographer: Maxime Brouillet
Chronology: Design 2019 / Construction 2019-2020 / Completed 2020
DESK architectes a conçu la rénovation intérieure complète de ce split-level du Vieux-Longueuil comme une opportunité de mise en valeur des qualités architecturales d'une résidence typique des banlieues québécoises.

Mise en contexte
Situé aux limites du Vieux-Longueuil, ce split-level typique des années 80 était demeuré pratiquement inchangé depuis sa construction. Cette résidence méritait une cure de rajeunissement pour dûment accueillir ses nouveaux occupants; un couple de jeunes montréalais souhaitant profiter des attraits d'une maison pavillonnaire isolée tout en demeurant à proximité du centre d'affaires de Montréal.

La commande
Le mandat consistait à concevoir la rénovation intérieure complète du bâtiment. La cuisine, la salle de bain et la chambre des maîtres devaient être entièrement repensées. Il fallait non seulement remplacer la totalité des finis intérieurs, mais également créer une nouvelle esthétique signifiante en magnifiant les qualités intrinsèques du bâtiment et en optimisant la relation fonctionnelle unissant les espaces.

Le projet
Le parti architectural tire profit des caractéristiques typiques d'un rez-de-chaussée en split-level. La pièce de vie de ces bâtiments est généralement un volume généreux au plafond surélevé, mais manquant de hiérarchie spatiale. Le parti propose donc de structurer l'espace, sans le cloisonner, par l'ajout de claustras métallique et de blocs de mobilier intégré. Ainsi, ces éléments foncés sont orientés de sorte à souligner le lien de l'avant vers l'arrière de la pièce; ils cadrent les vues et les circulations de l'entrée à la terrasse sans les obstruer.

Les deux niveaux engendrés par la jonction de l'escalier entre la cuisine et le séjour ont servi d'opportunité pour créer, côté séjour, un banc architectural en chêne blanc; un geste intégré en continuité avec les marches. Et, côté salle à manger, un muret faisant office de garde-corps qui permet de dissimuler la table depuis le séjour tout en préservant leur relation visuelle dans l'espace.

La cuisine, anciennement organisée en « U », a été entièrement reconfigurée. Deux grands blocs de mobilier intégré se font maintenant face pour encadrer un vaste îlot, rassembleur et fonctionnel. Tout en augmentant le volume de rangement de la cuisine, la nouvelle disposition a libéré le mur arrière pour permettre l'élargissement des ouvertures sur la cour arrière.

La salle de bain a été reconfigurée de façon à créer deux zones distinctes; la zone claire, rassemblant la vanité, la pharmacie et le bain, et la zone foncée, rassemblant la toilette et une douche à l'italienne.

La rénovation C+G est un exercice de réhabilitation d'un split-level typique de banlieue. C'est un exercice de revalorisation de bâtiment existant dans un contexte immobilier où les constructions neuves des périphéries sont souvent préférées aux bâtiments âgés de quelques décennies.