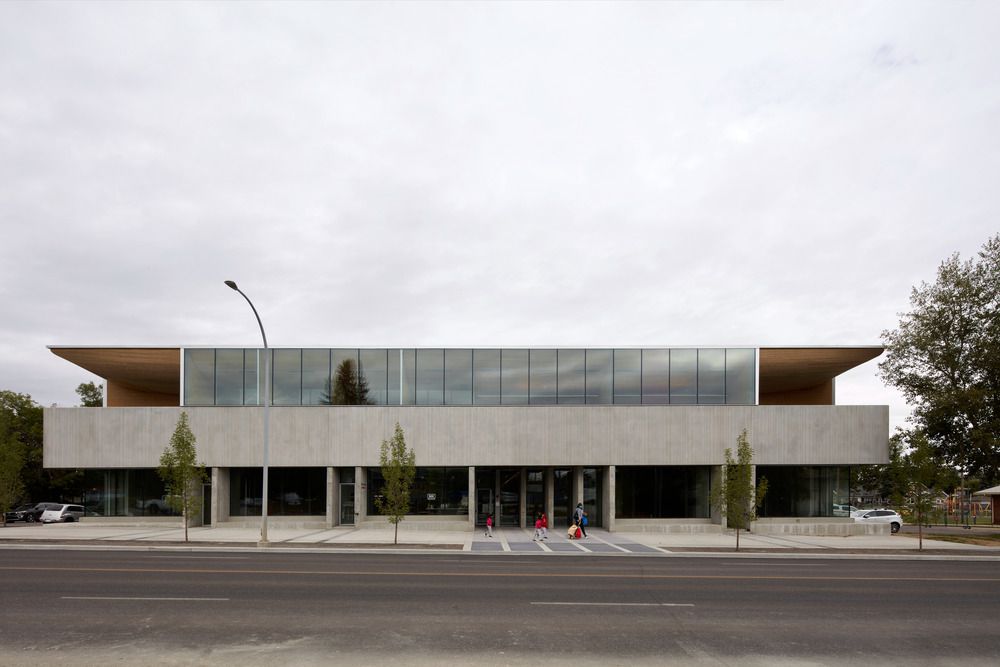 Winner of "Completed Buildings - Health Category" at the 2022 World Architecture Festival
Architect: 5468796 Architecture Inc.
Project Team: Emeil Alvarez, Pablo Batista, Brandon Bergem, Ken Borton, Jordy Craddock, Donna Evans, Ben Greenwood, Johanna Hurme, Jeff Kachkan, Stas Klaz, Lindsey Koepke, Kelsey McMahon, Colin Neufeld, Sasa Radulovic, Amanda Reis, Erin Riediger, Helia Saadat, Matthew Trendota, Shannon Wiebe, Jenn Yablonowski
Client: RNDSQR
Structural Engineer: Wolsey Structural Engineering
Location: Calgary, Alberta
Project Size: 25,300 sqft (2 storey commercial) + 32,000 sqft parkade
Project Completion: July 2020
Photography Credit: James Brittain Photography
Drawing / Diagram Credit: 5468796 Architecture
Deceptively simple in form, 17th Avenue Clinic derives its articulation around the modulation of light, privacy, and transparency. It's central light well, flared roofline with storey high clerestory, cutaway corner decks, impervious horizontal concrete band, and articulated open glass and concrete bays at grade all contribute to a highly tuned envelope containing program often relegated to the standard strip malls otherwise populating neighbouring lots on the same commercial strip.
At street level, the project is scaled to have impact at a distance and leave an impression at close-range, with stepped seating and thin, vertically striated columns. Slim in proportion when seen from the primary [south] approach and staggered, these vertical columns demarcate retail entrances and support a solid band that wraps the building.
The concrete "veil" serves several purposes; initially imagined for privacy and a strong visual break, it is also an acoustic barrier from the street and an enclosure for building users. While giving the low profile of the two-storey building the impression of a more spacious three-storey mass, the veil preserves the interior functions of the space from public view. Its distinct appearance is informed by the needs of the building users and is a response to its exterior relationship with the street and contributing urban fabric.
The wooden undercroft of the roof curves upwards to draw in and modulate natural light. Disappearing behind the second floor glazing, the four corners are drawn inward in a continuous datum that spreads through the interior spaces of the clinic. The effect creates natural, orderly divisions and organic progressions between treatment rooms, circulation space, lobbies, and a luminous, two-storey interior courtyard.
Requiring a significant amount of soft natural light for patient assessment and treatment, the dermatological clinic adopted multiple solutions that would generate an abundance of diffused light to embody the natural and healthy ethos that the centre represents. The arc of the wood ceiling also draws a wash of warm natural light to the interior from the roofline edge. Beacon's multi-level courtyard allows sunlight to travel through the building core all the way to the parkade, transforming the building's inner experience for visitors from the very first point of arrival.
The light-filled spaces of the top floor are defined by an engineered vertical solid timber system that offers sound separation between rooms and solves a number of functional requirements: it acts as a roof structure that allows large spans and an uninterrupted floor plate, creates intimacy by way of rhythm of 7-foot thresholds, experienced each time one passes under the 'egg-crate' structure and, finally, provides a surface that diffuses light via natural material for a warm, tranquil glow. A high coffered ceiling, combined with the mechanical system and natural air convection, ensures that warm air remains in the ceiling space while conditioned air circulates in the bottom seven feet of the space occupied by patients and staff to promote focused and wakeful conditions.
Crédit photo : James Brittain