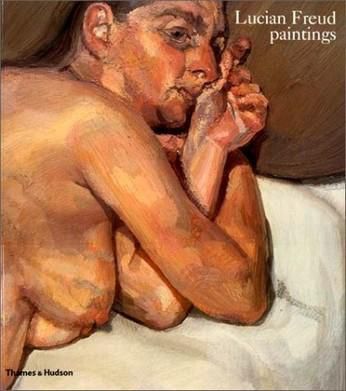 lucian freud  © The Artist
Lucian freud  [ peintre ]

 
l'un des plus grands peintres portraitistes contemporains au monde, gravité et intimité; ses personnages sont souvent représentés de manière peu flatteuse, parfois quasi grotesque, mais toujours très révélatrice. Freud interroge l'espace, différents points de vue, toujours révélés par la présence de la figure humaine. traits anguleux, exécutés dans un réalisme sévère quasi obsessionnel avec une   étrangeté troublante. un travail à la brosse  rend la chair plus sensible sous les accidents de la matière.
Lucian Freud est né le 8 décembre 1922 à

Berlin

. Son père Ernst était le plus jeune des fils de

Sigmund Freud

,

1933 : Lucian accompagne son père qui s'établit en Grande-Bretagne pour échapper au régime nazi.

Après ses études secondaires Lucian entre en 1938-1939 au Central Scool of Arts and Crafts à Londres.

En 1939 il obtient la nationalité britannique

1939-1942 : il suit les cours de Cedric Morris à l'East Anglian Scool of Painting and Drawing à Dedham

1941 : il est mobilisé dans la marine marchande mais il est démobilisé après trois mois de mer.

1942-1943 : il étudie à temps partiel au Goldsmith's College à Londres

1944 : première exposition à la galerie Lefèvre à Londres

1948 : Il se marie avec Kitty Garman.

1951 : Il obtient le prix des Arts Council pour sa contribution au festival de Grande Bretagne.

1952 : Mariage avec Caroline Blackwood

1970 : Mort de son père Ernst Freud.

1974 : Exposition rétrospective de son œuvre à la Hayward Gallery de Londres.

1982 : Première monographie consacrée à son œuvre par Lawrence Gowing.

1987-1988 : Première grande exposition itinérante à l'étranger (

Washington

,

Paris

,

Londres

,

Berlin

.

1995-1996 : Exposition commune avec Francis Bacon, Kossof, Andrews, etc.

2005 : Importante exposition rétrospective à Venise.
C'est une façon quasi disséquale, d'aborder le portrait, dans tout ce qu'il a de plus substantiel, charnel surtout ! comme un médecin légiste, il essaye de percer jusqu'à l'âme profonde de l'être qu'il peint, qu'il observe ! énormément troublant ! Froissant, envoûtant, dérangeant, émouvant, …usti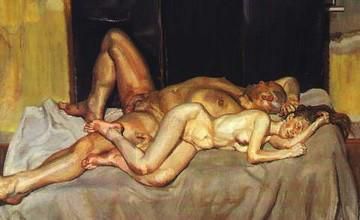 lucian freud  ©The Artist