concrete + steel + glass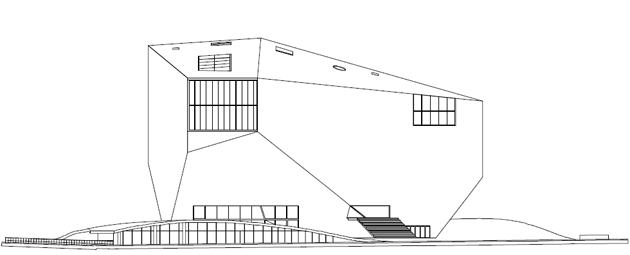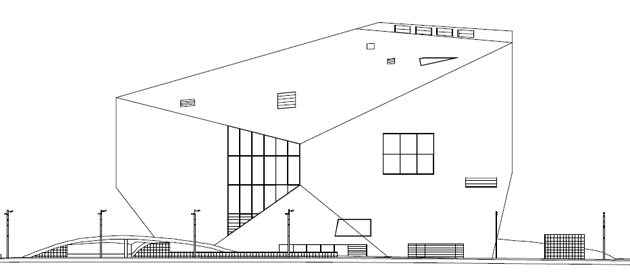 Casa da Musica in Oporto / Portugal
"How to make a serious building in an age of icons? How to make a Public Building - or a Building Public - in the age of the market? A building without nostalgia, not even for Modern Architecture?


 « The love song,' writes Nick Cave, and he should know, 'is the noise of sorrow itself.' The quote comes from a lecture in which he tackles the saudade , or deep longing, that infuses fado with its bitter sweetness. Cave's words offer a pithy summation of this distinctive popular genre, devoted to both love and, yes, the concomitant suffering that follows in its wake"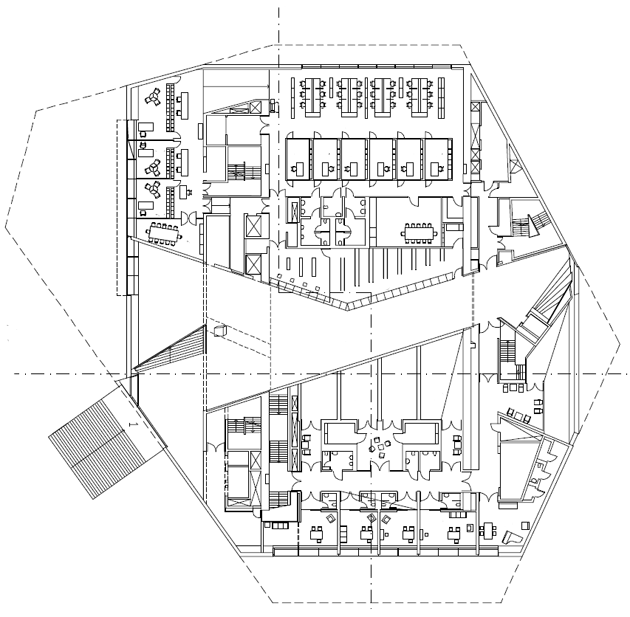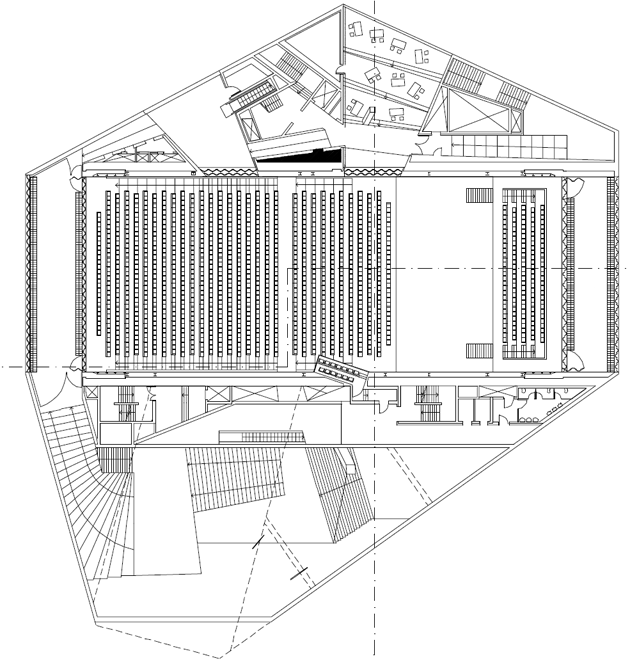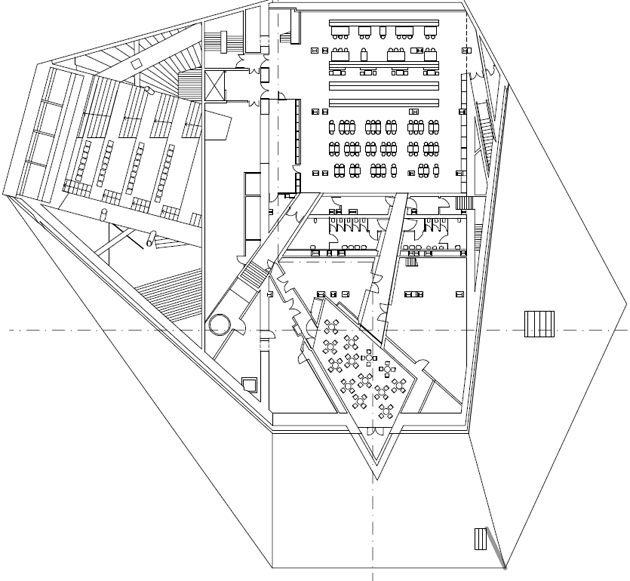 // (French) La Casa da Musica ou l'esthétisme revisité/

"C'est l'architecte, Rem Koolhaas (Néerlandais), lauréat du prix Pritzker 2000 et plus récemment du Mies van der Rohe 2005, qui a remporté l'appel d'offres pour ce projet. Rem Koolhaas a réalisé, entre autres, le Centre Euralille à Lille, le Musée Guggenheim à Las Vegas, la boutique Prada à New York… Il était en compétition avec deux architectes de renom : Dominique Perrault (Français) et Rafael Vinoly (Américain).

Le jury a choisi son projet qui transcrivait le mieux la demande de la ville de Porto : un édifice au design audacieux qui marque un tournant dans l'histoire de la ville et ouvre la voie à la modernité.
Décrire la Casa da Mùsica n'est pas chose aisée car elle ne répond pas à des ordonnancements connus de l'architecture. Le bâtiment est situé à proximité de la Rotonde de Boavista (Rotunda da Boavista), un square qui jouxte le centre historique de la ville, où il s'impose par sa forme de pierre (« rock form ») ouverte sur l'extérieur via les baies vitrées et la terrasse sur le toit. Il occupe un espace qui semblait l'attendre depuis de nombreuses années.

Le logo de la Casa da Mùsica met l'emphase sur cette structuration inhabituelle en épousant les formes dessinées par Rem Koolhaas.
La Casa da Mùsica est appelée à devenir la référence portugaise en termes de musique voire la référence européenne dans les années à venir. Son ambition est de se positionner comme un lieu de concerts privilégié et d'accueillir des artistes européens et internationaux de tous horizons. La Casa da Mùsica est composée d'espaces confortables et de grande capacité : une salle de concert de 1238 places, un auditorium cosy de 300 places, des salles de répétition ou d'enregistrement à proximité des salles principales. Pour le côté convivial, la Maison de la Musique dispose, entre autres, d'un restaurant, d'un café-concert et d'une terrasse… Les spectateurs peuvent ainsi assister à un concert mais aussi dîner, boire un verre ou tout simplement se relaxer sur la terrasse située sur le toit.
 
Porto, « capitale européenne de la culture » en 2001, inaugure sa Maison de la musique, la Casa da Mùsica, et lance à cette occasion un festival haut en couleurs. Du 14 au 24 avril, de nombreux artistes aux univers différents se succéderont, dans ce nouvel espace dédié à la musique, pour offrir au public des concerts exceptionnels : de Tod Machover, à Lou Reed, en passant par le Remix Ensemble, ou l'orchestre philharmonique de Porto, ainsi que de nombreux DJs… Ce centre prestigieux regorge d'installations des plus performantes pour le plaisir des musiciens et des mélomanes éclairés." 
[  http://www.archicool.com/cgi-bin/presse/pg-newspro.cgi?id_news=512  ]

 
Client: Porto 2001
Location: Porto, Portugal
Site: Rotunda da Boavista, a round square not far from the centER
Architecture Program: Concert hall with 1,200 seats, auditorium with 350 seats, rehearsal and recording rooms, a restaurant, a music shop, a café, a roof terrace, educational and cybermusic facilities, a car park for 600 cars and a public plaza.
Architecture office : OMA ( www.oma.nl )  
Architecture Competition Team: Rem Koolhaas and Fernando Romero with Isabel da Silva, Barbara Wolff, Uwe Herlyn, Matthias Hollwich, Adam Kurdahl, Moritz von Voss, Shohei Shigematsu, Jens Hommert, Erik Schotte, Donald van Dansik, Anna Little, Alexandre Moreno, Frans Blok, Govert Gerritsen, Stephen Griek, Ana Jacinto, Thomas Duda.
Design Development and Tender: Rem Koolhaas, Ellen van Loon, Fernando Romero, Adrianne Fisher, Isabel da Silva, Robert Choeff, Barbara Wolff, Saskia Simon, Christian Kronaus, Paulo Costa, Thomas Duda, Ana Jacinto, Constantin von der Muelbe, Rita Armado, Philip Koenen, Peter Müller, Krystian Keck, Eduarda Lima, Christoff Scholl, Alex de Jong, Nuno Rosado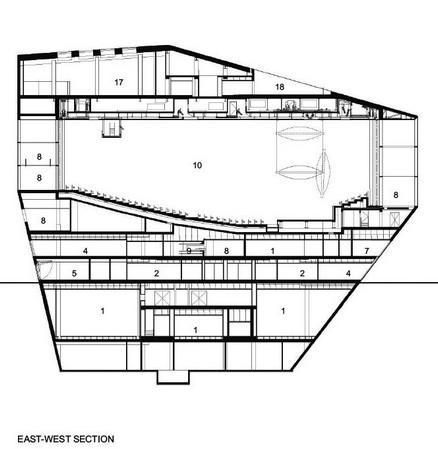 Structure: Ove Arup + Partners, Cecil Balmond, Rory McGowan, Patrick Teuffel; AFA Lda, Rui Furtado, Pedro Moás.
Mechanical: Ove Arup + Partners, Steve Jolly, Tim Thornton, Stefan Waldhauser;RUA
Acoustics: TNO - TUE Centre for Building Research, R. van Luxemburg, M.Hak, M.Prinsen
Scenography & Lighting: Ducks Scéno, Michel Cova.
Interiors: Inside Outside: Petra Blaisse    
Facades: van Santen Associés
Curtains: Inside Outside
Furniture: Maarten van Severen
Construction Documents: RK, EvL, AF, Peter Müller, Isabel da Silva, Olaf Hitz, Duarte Santo, Nelson Faustino
Local Architect: ANC Arquitectos: Jorge Carvalho, Teresa Novais.
M2: Concert Hall -23000m2; Car park 28000m2; Plaza 7500m2
Start construction: August 2000
Principal materials: White concrete, corrugated glass, travertine, plywood, aluminium.
Budget: Concert Hall and Car park €50 million.
Partner in Charge: Rem Koolhaas
Project Manager: Ellen van Loon
Project Architect: Adrianne Fisher
Team: Fernando Romero, Isabel da Silva, Robert Choeff, Barbara Wolff, Saskia Simon, Christian Kronaus, Paulo Costa, Thomas Duda, Ana Jacinto, Constantin von der Muelbe, Rita Armado, Philip Koenen, Peter Müller, Krystian Keck, Eduarda Lima, Christoff Scholl, Alex de Jong