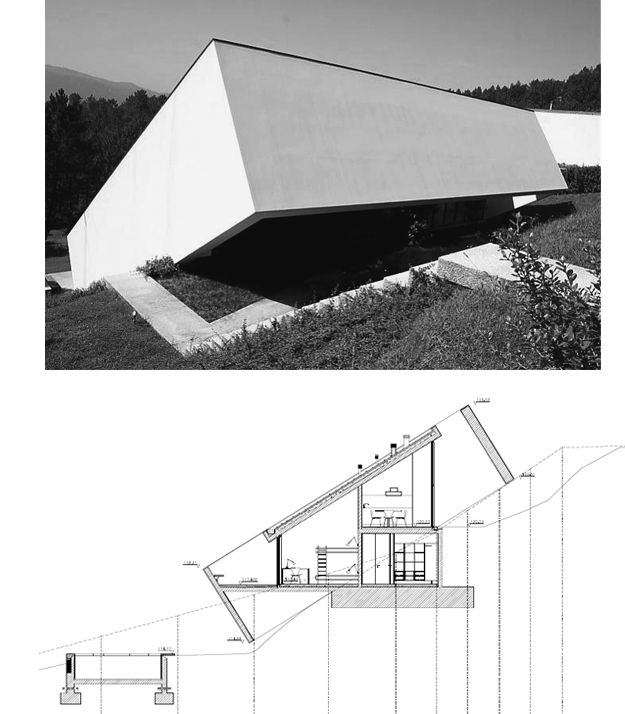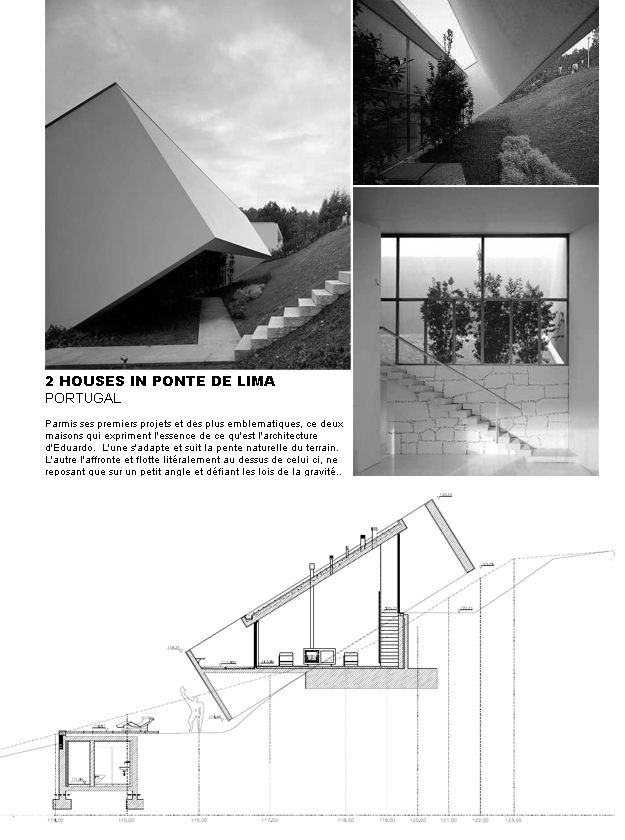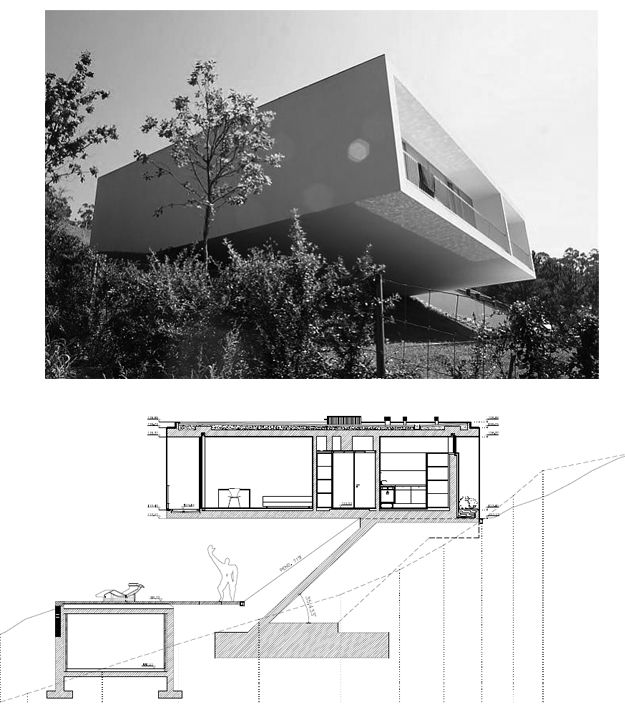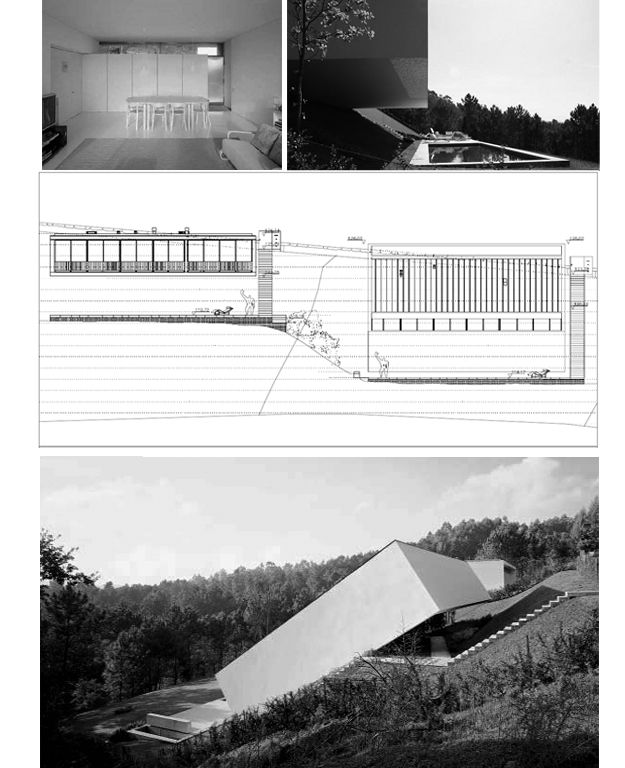 "The two contrasting approaches to building on high-constraint terrain – here a steep slope. As parallelepiped volumes, the two buildings are similar. Yet they are diametrically opposed. One house cantilevers out over the slope, standing out in stark relief; the other slides sleekly down the steep hill, parallel to the slope. But the contrast is not only about relating differently to natural surrounds. The houses are studies in 'liveability'. Each responds to different requirements: one takes in the surrounding landscape; the other turns inward, in compliance with the client's desire for privacy.
The cantilevered house is a linear, one storey construction. The ground floorplate connects to the foundations via a series of obliquely set slabs.
The second house follows a more 'natural' programme. But although hugging the slope in apparent simple obedience to the lay of the land, the architecture creates a series of different levels of its own. The building springs from foundations that intersect with the slope, allowing the westward thrust of the floorplate. As the focus is on secluded interior space, the ample glazed façades do not form the outermost perimeter of the building." esm
2007 / Visite à Ponte de Lima / (french) 
Ceux deux maisons à Ponte de Lima, au nord du pays, font partie des premiers projets d'Eduardo SOUTO DE MOURA, après avoir quitté le cabinet d'Alvaro SIZA.  Ce projet à petite échelle est l'un des plus emblématiques et les maisons sont devenues aujourd'hui une référence et l'endroit un  lieu de "pèlerinage" pour les étudiants et architectes du monde entier qui sont de passage.
La chose a pris de telles proportions (me confiait le jardinier le jour de ma visite des lieux en 2007), que les propriétaires suite à l'affluence se sont vu obligés de prendre des mesures de sécurité et n'habitent que de manière saisonnière les lieux.

A l'origine, ces maisons se trouvaient dans un endroit à l'abri des regards, dans la "zone verte du Portugal" non loin des parc nationaux et réserves. Depuis une bonne dizaine d'années,  toute la zones est devenu très prisé par les riches famille, et un "laboratoire d'architecture" a vu le jour dans les alentours. L'ainsi appelé  "résidence du golf" et  " l'Axis Ponte De Lima Golf Resort " à quelques mètres sont devenus  un ensemble de constructions d'architectes, toutes plus impressionnantes les unes que les autres, ou les étudiants d'architecture prennent plaisir a flâner.
Ce petit projet et notament la maison qui suit la pente naturelle du terrain, reste l'un de mes coups de coeur. Par sa pure simplicité, son élégance, l'indéniable qualité des materiaux mis en oeuvre (pierres granitiques de la région, marbres de la région, béton, verre, bois de la région et métal ) et atteint une sorte de minimalisme environnemental caractéristique de l'ensemble de sa production architecturale (ref: la maison à moledo, les maisons à Matosinhos ou ecore stade de braga). Eduardo Souto de Moura considère que le béton est une pierre artificielle aussi, pour la construction du stade de Braga, il creuse le sol, la carrière pour faire les fondations et recupère cette même roche en la broyant pour en faire la base constituante du béton qui a donné vie au corps du stade.