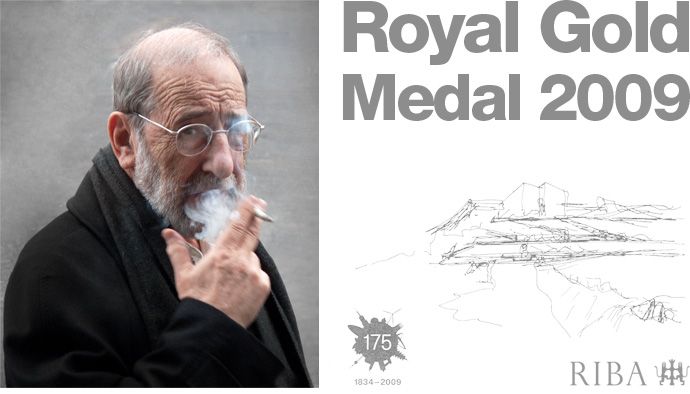 Álvaro Siza has been announced as the RIBA's 2009 Royal Gold Medallist. As part of the RIBA's 175th anniversary celebrations, the medal will be presented by Her Majesty The Queen at a private audience at Buckingham Palace on 26 February 2009. This is only the fourth time the medal has been presented by The Queen in person.
The official citation reads:
"Álvaro Siza is simply a profoundly complete architect who defies categorisation. The forging of a masterful and seemingly inevitable architecture out of the possibilities of a site is one of the supreme characteristics of Álvaro Siza's architecture. He manipulates his readings of place into sculptural forms that are never predictable or ordinary, yet are never allowed to dominate over use or typological intelligibility.
In Siza's buildings, perhaps like no others, it is the relationships between the elements of the architecture that is given primacy rather than the shape or texture of the elements themselves. This is an architecture in which an economy of expressive means is combined with an abundance of spatial revelation.
Álvaro Siza is, and always has been, a committed teacher and educator. He has enabled many younger architects to gain commissions through the work he was initially offered and this selflessness is one of many examples of his commitment to the greater architectural project, rather than to personal success. Unusually for an architect of such international standing, Siza has deliberately kept his studio small to ensure his attention to every project. He is generous with his appreciation of other architects.
For the inspiring and instructive body of work he has produced over 40 years, and for his immense contribution to architecture through dialogue and teaching, the RIBA, on behalf of H. M. the Queen, is honoured to present the 2009 Royal Gold Medal for Architecture to Álvaro Joaquim Melo Siza Vieira. We wish him many more years of fulfilment of his unique vision of the possibilities of building." 
Alvaro Siza Vieira Awards, Prizes and Recognitions.
1988 - Gold Medal Superior Counsil of Arquitecture by the Colégio de Arquitectos de Madrid
1988 -

Mies van der Rohe Award for European Architecture

-  Mies van der Rohe Foundation
1992 - Pritzker Award - Hyatt Foundation, Chicago
1993 -

National Architectural Award

- Portugal 1993
1996 - Secil Award
1998 - Alvar Aalto Medal
1998 -

The Prince of Wales Prize

from

Harvard University

2000 - Secil Award
2001 -

Wolf Prize in Arts

2005 -

Urbanism Special Grand Prize of France

2006 - Secil Award
2008 -

Royal Gold Medal for Architecture - Royal Institute of British Architects

2009 - RIBA - Royal Gold Medal 2009