REQUALIFICATION D1 VOIE FERREE AERIENNE A NEW YORK
HIGH LINE PROJECT NYC
http://www.thehighline.org/
Imaginée par les paysagistes new-yorkais de James Corner Field Operations en collaboration avec l'agence d'architecture Diller Scofidio + Renfro.


Requalifier une voie ferrée aérienne désaffectée à New York, en la transformant en un espace public vert sur la rive ouest de Manhattan franchissant 22 ilots construits entre la 34e rue et la rue Gansevoort.


DONNES TECHNIQUES

Longueur de la voie ferré : 2,3 Km
Largeur : entre 9 et 18 M suivant l'endroit.
Hauteur: entre 5,5 et 9 m
Structure d'acier et de béton armé construite de façon à supporter deux trains de marchandises.


Le projet a vu le jour grâce à la perseverence du comité de citoyens "Friends of the High Line" fondé par Robert Hammond et Joshua David  qui proposaient un projet complet de réhabilitation de la voie ferrée en espace publique.

Ce lieu avait par ailleur été l'objet de projets d'achitecture de la part d'étudiants  de différentes écoles qui avaient planché sur le potentiel de cette zone.  Malgré cela en 1999, le maire Rudy Giuliani finit par faire voter sa démolition, mais il n'en fut rien.

HIGH LINE permet non seulement de revitaliser  l'ensemble des infrastructures présentes dans un secteur industriel et notament cette voie  construite  de 1929 à 1934.  Ceci dit gare à la "boboisation" du quartier, comme il est souvent le cas après ce genre d'interventions qui remettent à la mode ces quartiers.

Pour preuve, "l'inauguration de la première partie de la High Line le 9 juin a coïncidé avec l'ouverture du très attendu Standard Hotel du millionnaire Andre Balazc. A son terminus sud (Gansevoort et Washington Streets), l'extension downtown du Whitney Museum est attendue pour 2012. A quelques pas, il y a aussi le Gansevoort Plaza, ouvert depuis 2008, et le High Line Building, un immeuble d'affaire entièrement en verre.

Les architectes ne sont autres que Renzo Piano (Whitney), Jean Nouvel (immeuble d'habitation, 11th avenue et 19ème rue), ou encore Frank Gehry (siège social de la compagnie IAC, 18ème rue et 11ème avenue)."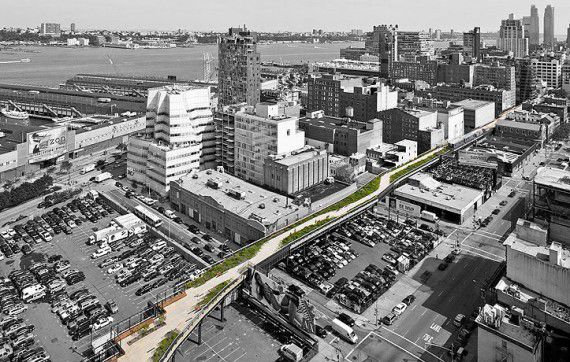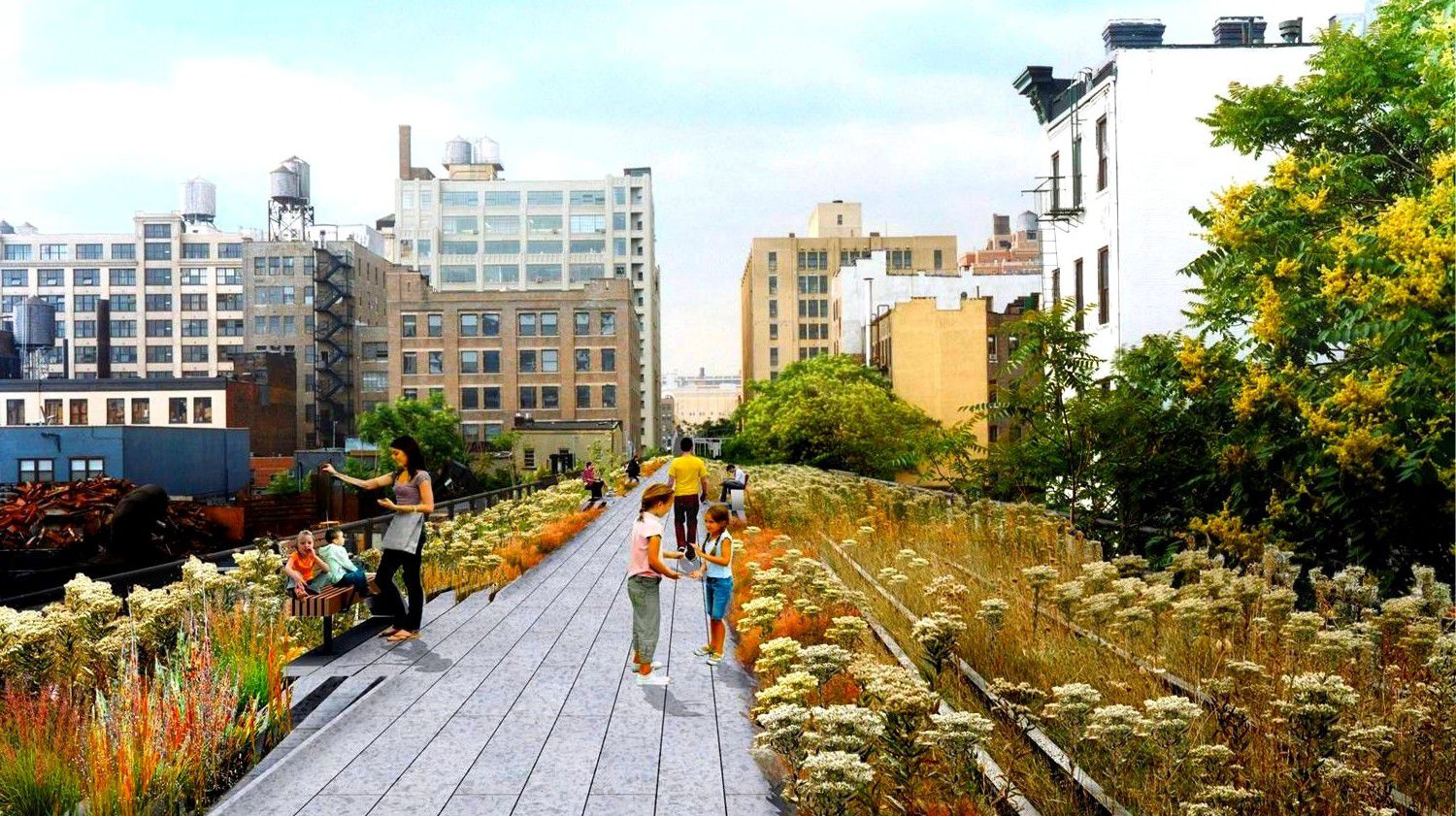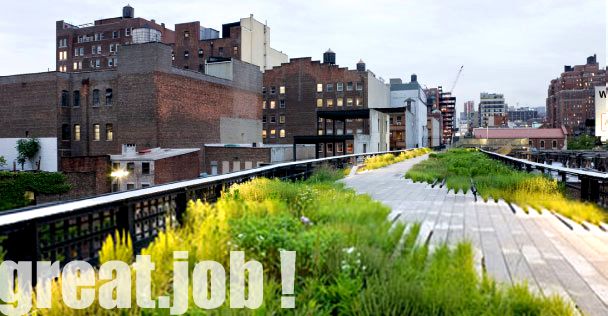 Une structure surélevée qui avait pour but de decongestioner le traffic à lépoque offre aujourd'hui une vue inprénable sur les ilots avoisinnants devevant une "promenade plantée" comme celle qui longe l'avenue Dausmenil à Paris.

" Plus qu'un serpent de verdure, la High Line est devenue un concept et un quartier. Désormais, vous n'irez plus à Chelsea ou  près de l'Hudson, mais dans le"High Line District". (...)