21 artists  61 rooms 13 countries  = hotel fox

un hotel ou chaque artiste s'est occupé de "designer" des espaces, atmospheres, des lieux singuliers et uniques ! Un design en decoule très moderne et de l'odre d'une reverie avangardiste !  qui sublime l'architecture des lieux ! Une sorte d'embelissement pictural, une seconde peau !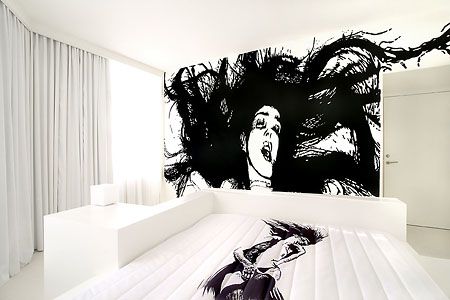 The artists commissioned to re-design the Hotel FOX were selected and curated by the acclaimed Berlin-based design publishers Die Gestalten. For Robert Klanten, head of publishing, the criteria were clear: "We wanted to put together a group of modern graphic designers and illustrators who are outstanding and innovative in their fields, and whose work is playful, positive and funky." The Hotel FOX artists are the crème de la crème of contemporary international design talent. The Hotel FOX is a high-profile showcase of specially commissioned new work from young designers at one location. It is a singular achievement.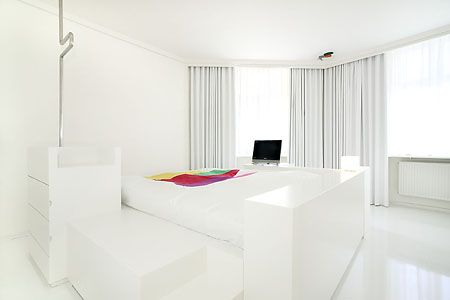 LES ARTISTES
AkimZasdBus. Germany.Antoine et Manuel. France. E-Types. Denmark. Freaklub. Spain.Friends With You. USA.Geneviève Gauckler. France.Birgit Amadori. Germany.Container. England. Benjamin Güdel. Switzerland. Kim Hiorthøy. Norway.Kinpro. Japan.Hort. Germany.Masa. Venezuela.Neasden Control Centre. England. Pandarosa. Australia.Boris Hoppek. Germany/Spain.Rinzen. Australia.Speto. Brasil. tokidoki. Italy/USA.Viagrafik. Germany. WK Interact. France/USA    http://www.hotelfox.dk/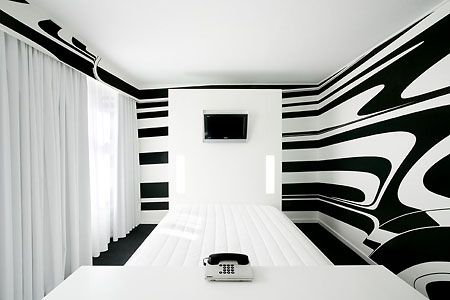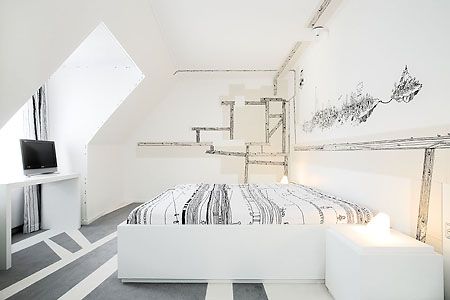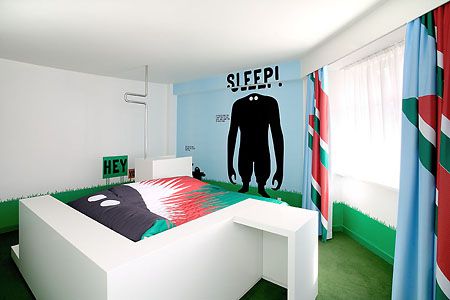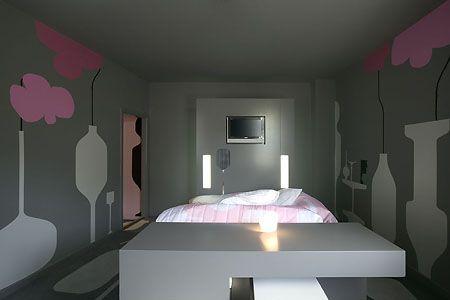 (AND MORE ..........) http://www.hotelfox.dk/
voila un projet qui met sur le devant de la scène surtout les designers, ces créatifs de mondes imaginaires, qui alliés à l'architecture de cet hotel, l'embelissent par leurs créations, tout aussi surprenantes !
On ne peut alor s'empecher de rappeler un projet quasi similair, duquel nous avons deja parlé, l(hotel puertamerica à madrid !  liens de larticle : http://ustidesigner.over-blog.com/article-832468.html .........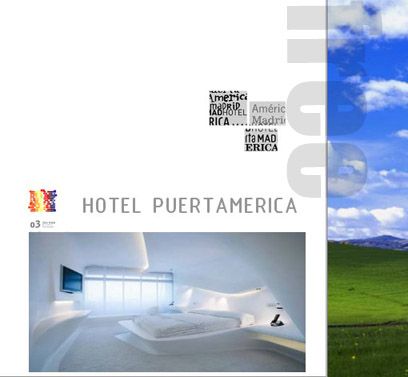 (end)