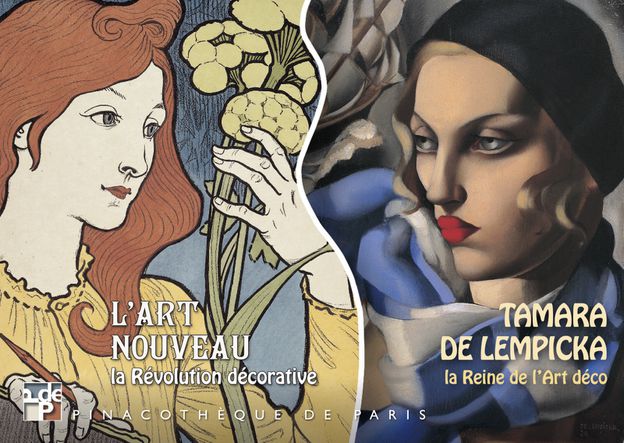 The  two exhibitions displayed simultaneously in both spaces of the Pinacothèque de Paris allow visitors to discover the first retrospective of French Art Nouveau and its evolution towards Art Déco, through one of its icons, Tamara de Lempicka.
"As a reaction to classicism, Art Nouveau did not impose any obligation on the artist. Deemed to be the art of freedom, it threw off the conventions that had hitherto restrained creativity. The codified forms, characteristic of academicism flew apart as though to make of Art Nouveau a transgressive art form within whose core eroticism became an unavoidable ingredient.
Designed as a total art form, Art Nouveau was everywhere. It covered every aspect of life. It had to be a music, a sound, a game, it was could also cover painting as well as furnishings, jewellery, architecture and glassworks, a reference to nature, to women, to plants: the interpenetration of everything within everything, provided it chased away austerity and rules.
The best-known names in Art Nouveau are among the most famous at the turn of the 19th to the 20th centuries. They are Gallé, Daum, Mucha, Majorelle, Horta, Van de Velde, Gaudí, Guimard, Lalique, Grasset, Steinlein, Ruskin, Klimt or Bugatti. They overturned life's patterns and transformed its aesthetics to make it more agreeable and decorative.
Art Nouveau was at its peak between 1890 and 1905. It rapidly became the basis for an abundant production that triumphed after the Exposition Universelle in 1900 and that became the basis for a denunciation from the "inventors" of the movement. Contemptuously qualifying Art Nouveau as a "noodle" or "taenia" style, its opponents suggested a notion of limpness within the strictly ornamental and decorative images it wished to impose.
Just before World War One, these criticisms finally led to an evolution of Art Nouveau towards a definitely less sophisticated style. It was weakened to the extent of becoming more geometrical and it finally made way for Art Deco, which took over from 1920 onward. Totally denigrated for more than ten years, it was finally the Surrealists who worked toward a rehabilitation of Art Nouveau during the 1930s.
The exhibition we are putting on today is the first French Art Nouveau retrospective in Paris since 1960. A genuine event, it shows over two hundred objects that, in all areas of life and of the arts, overwhelmed the aesthetics and the cultural mind-set of the planet that up till then had lived within the canons of classicism and academicism for over three centuries. This exhibition has focused on the founders of that movement and on its main creators, summoning in a very exhaustive manner the best of their production, except for architecture.
Thank to Paul Greenhalgh, world-renowned specialist of Art Nouveau and director of the Sainsbury Centre for Visual Arts at the University of East Anglia, Norwich, who has agreed to bring all his expertise to this project as curator. Thanks also to Mrs Gretha Arwas, wife of Mr Victor Arwas, great collector and specialized author on Art Nouveau, as well as to Mr Robert Zehil and Mrs Mucha who, thanks to their generous participation have made this exhibition possible."  © Pinacothèque     www.pinacotheque.com
ART NOUVEAU / At la Pinacothèque de Paris, from 18 April 2013 to 08 September 2013
Pinacothèque 1 - 28, place de la Madeleine - 75008 Paris / 01 42 68 02 01