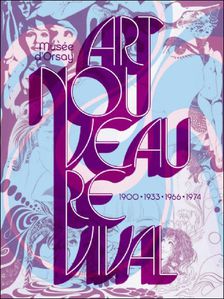 Art Nouveau Revival. 1900 . 1933 . 1966 . 1974

Oublié, voire discrédité, pendant de longues décennies, l'Art Nouveau fait l'objet au cours des années 1960 d'une réhabilitation touchant aussi bien l'histoire et le marché de l'art que la création contemporaine (design et graphisme). Les origines de ce renouveau sont multiples : hommages des surréalistes dans les années 1930, concours

Organic Design in Home Furnishings

organisé par le MoMA en 1940 ou grandes expositions montées à New York (

Art Nouveau. Art and design at the Turn of the Century

, MoMA, 1959) et Paris (

Les sources du XXe siècle

, musée national d'art moderne, 1960).

Il n'est cependant pas question de déterminer les raisons de cette renaissance, mais de confronter créations Art Nouveau et créations des années 1950-1970 afin de mettre en avant les influences qui s'expriment dans des domaines aussi variés, et parfois inattendus, que l'ameublement, la mode, la publicité, le cinéma ou encore l'esthétique psychédélique...
Commissaire : Philippe Thiébaut, conservateur en chef au musée d'Orsay INFORMATION DETAILLEE
tous droits reserves (c) Musée d'Orsay