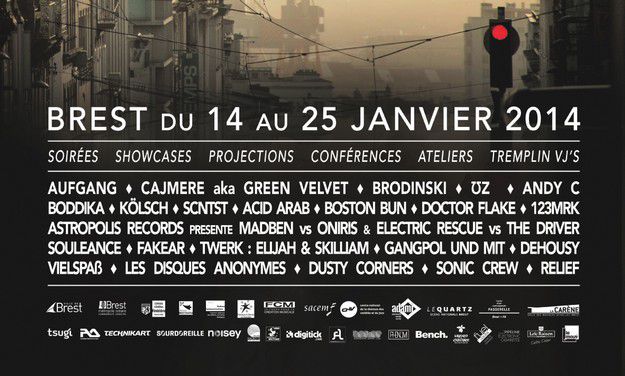 EN//  Sorry, but it would be nice that someone explains us why do the cranes and silos of Brest always look that familiar every time we saw them? And why, when our hearts and legs came close to get frozen, it is at the end of this peninsula strangely at the heart of everything that we found, again, that crazy dancing will that we maybe left behind somewhere on the danceflor last time we were here? Let's drop rationality : Brest has a direct connexion with the original smelting works, the same one that gave birth to the first TB -303 line at the end of the past millennium, and continue to feed the heart of the western clubbers, including ours. This connexion, we now have the occasion to experience it at is highest potential twice a year. Astropolis, hedonistic on summer, fusional on winter.
The pleasant thing about Brest, is that you can show up as you want to. The cloakroom of Astropolis looks like it's city, representing the human beings that we persist to be, without any proof of the contrary. The couples Manu Le Malin / Electric Rescue and Oniris / Madben, proud representatives of the beautiful Astropolis Records family, never sinned bragging themselves. The sound matter which will get out of the Vauban's sound system on January will be 100%authentic. And even besides "Astro's genealogy", there is no impostors into the "2013 vintage" (even though we search for a long time) : the detached beatmaking of the young prodigy Fakear, Aufgang and it's way to tell you " forget about all your prejudices against highbrow music ", the virtuoso but no less opened deejaying of Brodinski, contemporary dance illustrated by the inseparable hoodies Elijah and Skilliam... Boldness, honesty, and a unique way to think about clubbing. The most open and ambitious one. So you can forget about your mitten, Brest has two or three much more efficient ways to warm you up.   Mathias Riquier, Tsugi.
 + get more information about this music festival, tickets, etc via  http://astropolis.org/
FR//  Pardon, mais ça serait sympa qu'on nous explique pourquoi les grues et les silos du port de Brest nous semblent si familiers à chaque fois qu'on les revoit ? Que lorsque notre coeur et nos jambes frôlent la congélation, c'est au bout de cette péninsule étrangement au cœur de tout que l'on retrouve cette folle envie de danser, qu'on avait laissé traîner dans un coin de la piste à notre précédent passage ? Laissons tomber la rationalité : Brest possède une connexion directe avec la fonderie originelle, celle d'où la première ligne de TB-303 a émergé à la fin du millénaire précédent, et qui continue d'alimenter le cœur des clubbers ouestriens, et le nôtre également. Cette connexion, on a maintenant l'occasion de l'expérimenter à son potentiel maximum deux fois par an. Astropolis, hédoniste l'été, fusionnel l'hiver.
Ce qui est bon esprit avec Brest, c'est que tu te pointes comme tu veux. Le vestiaire d'Astropolis est à l'image de sa ville : il ressemble aux humains que nous persistons à être, jusqu'à preuve du contraire. Les couples Manu Le Malin / Electric Rescue et Oniris / Madben, en fiers représentants de la belle famille Astropolis Records, n'ont jamais péché par esbrouffe, la matière sonore qui sortira des enceintes du Vauban en janvier sera 100% authentique. Même en dehors de la "généalogie Astro", pas d'imposteurs dans la cuvée "hiver 2013" (même si on a cherché) : le beatmaking hors-cadre du jeune surdoué Fakear, Aufgang et sa façon de vous dire "oubliez vos préjugés sur la musique d'intellos", le deejaying virtuose et archi-open de Brodinski, de la danse contemporaine illustrée par les inséparables capucheux anglais Elijah et Skilliam… de l'audace, du franc-jeu, et une seule manière d'envisager le clubbing. La plus ouverte et ambitieuse qui soit. Vous pouvez oublier les moufles, donc, Brest a deux ou trois manières bien plus efficaces de vous réchauffer.  Mathias Riquier, Tsugi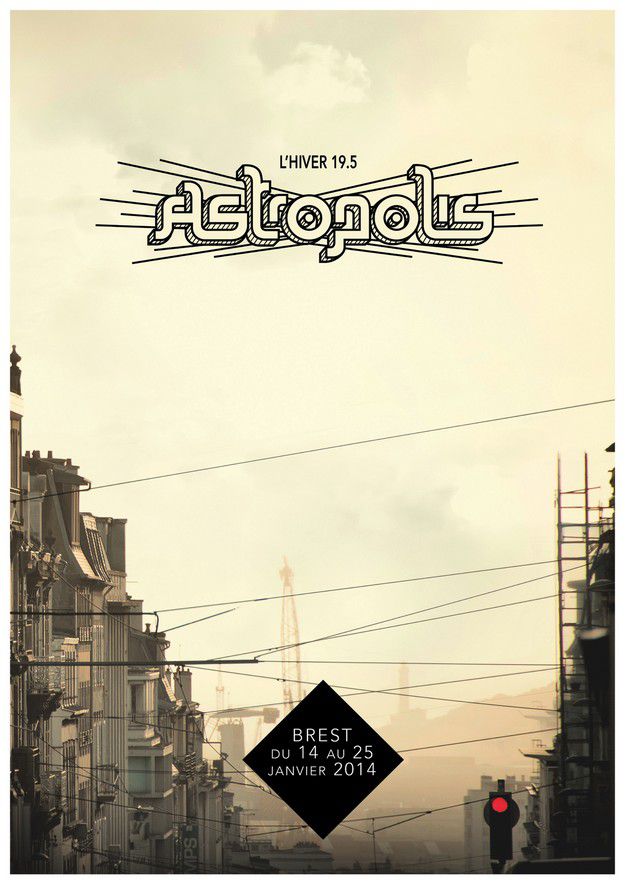 Some of the Artist present on this music festival:
AUFGANG ♦ CAJMERE ♦ BRODINSKI ♦ ƱZ ♦ BODDIKA ♦ ANDY C ♦ KÖLSCH ♦ SCNTST ♦ BOSTON BUN ♦ ACID ARAB ♦ 123MRK ♦ FAKEAR ♦ ONIRIS vs MADBEN ♦ ELECTRIC RESCUE vs THE DRIVER ♦ TWERK : ELIJAH & SKILLIAM ♦ GANGPOL UND MIT ♦ Doctor Flake ♦ Souleance ♦ DEHOUSY ♦ SONIC CREW ♦ DUSTY CORNERS