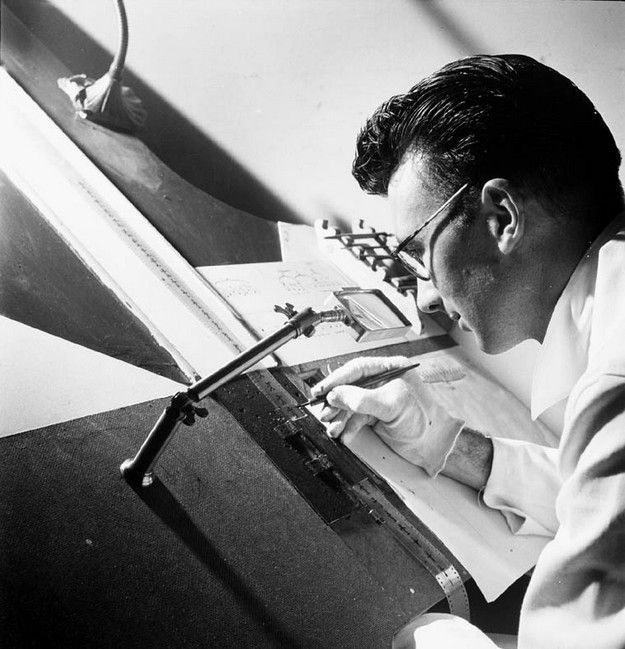 EN// McLaren Wall-to-Wall: NFB and Quartier des Spectacles Partnership issue call for projects to mark centenary of celebrated Canadian filmmaker Norman McLaren.
Norman McLaren, one of the most famous animation filmmakers in the world, would have been 100 years old in 2014. McLaren brought an energy and vision to animation filmmaking that live on to this day. To celebrate his centenary, the National Film Board of Canada (NFB) and the Quartier des Spectacles Partnership are inviting artists from around the world to respond to a call for projects entitled McLaren Wall-to-Wall.
The selected artists will create four out of a total of eight video works that will be projected onto building façades in Montreal's cultural district, the Quartier des Spectacles, from April 11 (McLaren's birthday) to June 1, 2014, as a tribute to this animation filmmaker who holds an incomparable place in the history of world cinema.
Creative artists from all disciplines—film, digital art, music, and architecture—are invited to engage in a fruitful dialogue with McLaren's work by proposing ideas for linear films three to eight minutes in length, each of which must be inspired by one of the four McLaren films below and designed to be projected onto one of the four building façades listed below. Each proposed film must also be aimed at a general audience, work aesthetically with the selected building façade, and include a synchronized sound track.

All projects that meet the criteria for this competition will be evaluated by a jury, and the winners will receive cash prizes: a First Prize of $25,000 and three additional prizes of $5,000 each. The deadline to register for this competition is 12:00 noon EST on February 20, 2014, and the deadline for submitting the final proposal is 12:00 noon EST on March 6, 2014. For more information, please visit www.mclarenwalltowall.com
FR//McLaren Mur à mur : l'ONF et le Quartier des spectacles lancent un appel de projets pour célébrer le cinéaste Norman McLaren qui aurait eu 100 ans en 2014.
L'année 2014 marque le 100e anniversaire de naissance du cinéaste d'animation parmi les plus connus sur la planète, Norman McLaren, qui a su donner au cinéma d'animation une impulsion et une orientation qui subsistent encore aujourd'hui. L'Office national du film du Canada (ONF) et le Partenariat du Quartier des spectacles invitent les créateurs du monde entier à célébrer ce centenaire marquant en répondant à l'appel de projets McLaren Mur à mur.
Il concerne la création de quatre films qui seront présentés dans le Quartier des spectacles de Montréal, du 11 avril – jour de naissance de McLaren – au 1er juin 2014, ce qui représente la moitié des huit vidéoprojections architecturales proposées par l'ensemble de ce parcours en hommage à un cinéaste d'animation occupant une place incomparable dans l'histoire du cinéma mondial.
Les créateurs provenant de toutes les disciplines – cinéma, art numérique, musique, architecture – sont invités à établir un dialogue fertile avec l'œuvre de McLaren en choisissant de une à quatre des façades proposées pour réaliser, en conséquence, de un à quatre films linéaires d'une durée de 3 à 8 minutes, chacun destiné au grand public, s'intégrant harmonieusement à la surface urbaine choisie, et assorti d'une trame sonore synchronisée.

Les propositions des candidats seront évaluées par un jury sous réserve de leur conformité aux conditions de l'appel de projets. Les lauréats des quatre œuvres choisies recevront des prix en argent : le premier prix est constitué de 25 000 $, les trois autres de 5 000 $. La date limite d'inscription est fixée au 20 février 2014, à midi, HNE. Le dépôt final doit être fait au plus tard le 6 mars 2014. Pour obtenir de plus amples renseignements, visitez le site: