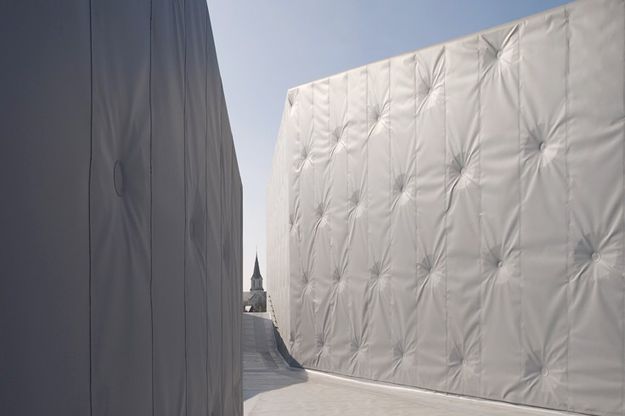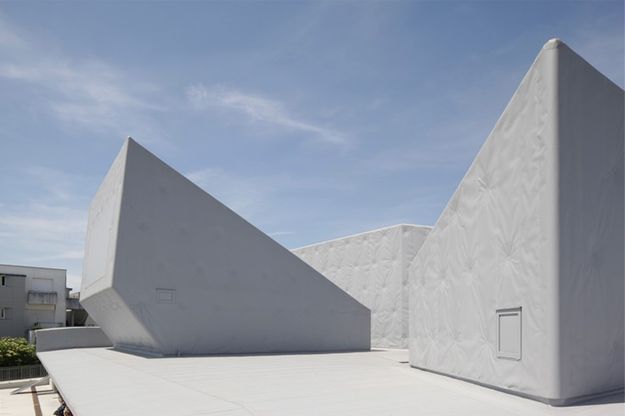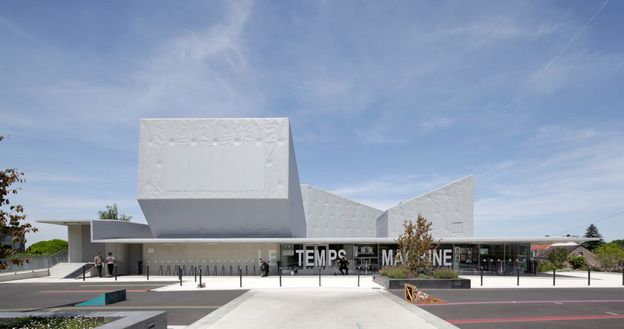 With a new envelope traitment, very interesting by his functional and aesthetic side, the old & re-made building appears now as a signal marking the urban landscape, like a singular margiela's object, a sculptural architecture that users can easily invest. Open to the area, this new building with opaque volumes affirms the cultural and festive dimension of this new equipment for the city of Joue les Tours. More infos about the project with the description of the architect here.

CURRENT MUSIC SCENE : SCENE DE MUSIQUES ACTUELLES "LE TEMPS MACHINE"
Joué-lès-Tours - 2005-2011

ARCHITECTS: Jacques Moussafir with Nicolas Hugo ( project in chief), Frédéric Chartier, Sofie Reynaert, Narumi Kang, Alexis Duquennoy, Jérôme Hervé & Virginie Prié
COLLABORATORS: Architecture & Technique (scénography), Ayda (acoustic), Batiserf engineering (structure), LBE (fluids), Bureau Michel Forgue (economist) 
CLIENT: TOUR(S) Plus
LOCATION : 49 rue des Martyrs, 37300 JOUE-LES-TOURS
PROGRAM: the MJC Joue-les-Tours SMAC restructuring, including a 650-seat room, standing room-hall with 150 seats, a resource center and three rehearsal studios with their annexes.
MATERIALS: Lazured concrete,  "FPO polyolefin" membrane without solvents or plastics by Sika Sarnafil, glossy stainless steel, "Fibracoustic" acoustic panels in wood fiber and rockwool, aluminum exterior carpentry, interior carpentry steel and wood.
COST: 5.300.000  €. H.T.
AREA: 1.753 m² SHON
BUILT BY: DV Construction (entr. générale), AMG Féchoz (scenic machinery), Bideau (scenic electricity ), VTI (stage parquet), Edmond Petit (stage curtains)
PHOTOGRAPHY: Jérôme Ricolleau & Hervé Abbadie