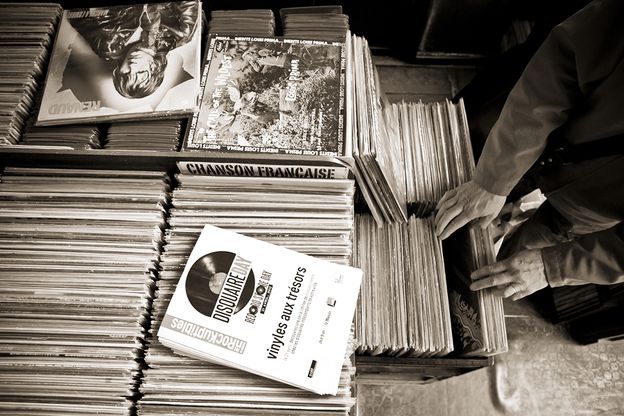 Remembering a track that i really like and defines quite weel this next event , "my life is music, and music is life" (Felix da Housecat) here the "Disquaire Day"  the next saturday April 20, 2013 in France. Be part of it ! Since 2007, the United States and the United Kingdom, created this special day for the independent record industry : the Record Store Day. Blur, Muse through Metallica, many artists have participated in the event, offering, through independent networks,  exclusive songs and unreleased records, or by investing in specific events such as meetings or mini-concerts. In 2011, the CALIF (Club Action des Labels Indépendants Français) created the french version called "Disquaire Day" and involving of course many artists, labels, distributors and of course the stores that you must visit for this special day to discover beautiful surprises. + information about the french version/event and all the stores list and more via disquaireday.fr
/ FR / Depuis 2007, aux Etats-Unis et au Royaume Uni, il s'est créé une journée spéciale en faveur des disquaires indépendants : le Record Store Day. De Blur à Muse en passant par Metallica, de nombreux artistes ont participé à cette journée, en proposant, en exclusivité dans les réseaux indépendants, des morceaux et des disques inédits, ou bien en s'investissant dans des animations spécifiques comme des rencontres ou des mini-concerts.
En 2011, le CALIF s'est donc naturellement associé au « Record Store Day » en créant sa version française « Le Disquaire Day » et en y associant tous les acteurs de la filière : les artistes, les labels, les distributeurs et bien sûr les disquaires. Pour cette édition 2012 ce sont 176 disquaires et plus de 150 artistes qui participeront à l'opération.
Le Disquaire Day – Record Store Day est organisé en France par le CALIF (Club Action des Labels Indépendants Français) en partenariat avec les organisations de disquaires indépendants américains Coalition Of Independent Music Stores et anglais Entertainment Retailers Association. Le CALIF est une association qui a été créée en 2002 avec le soutien du Ministère de la Culture et de la Communication pour maintenir et développer un réseau de disquaires indépendants relayant une offre diversifiée. Il apporte une aide financière et logistique aussi bien aux créations de points de vente qu'aux disquaires déjà existants. +  disquaireday.fr / Crédit photos: JM Vialtel